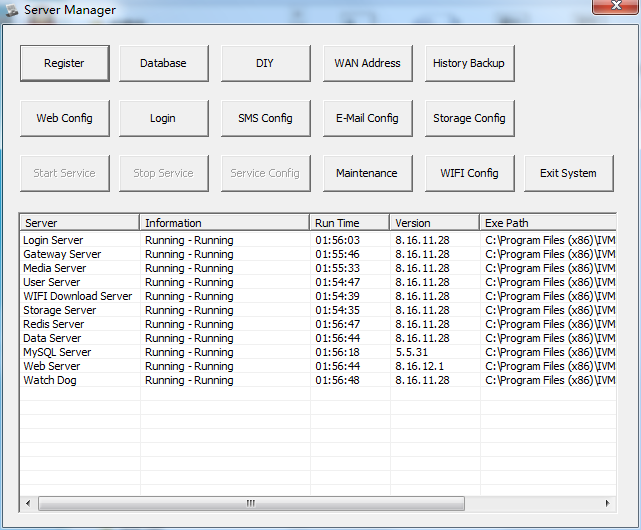 Users have the option of deploying 1 or 2 of the 7 Functional Servers stated above such as, Login Servers, Multiple Gateways Servers, Multiple Media Streaming Servers, Multiple Users Management Servers to provide Mobile DVR and Remote Client Services and features as GPS Location, Video and Alarms.
Description of Main Functional Servers
Database Server: Used mainly as Storage Server, Configuration information and Alarm events.
The database server application used is MySQL-5.5.31 - Win32.
Login Server: For registration of various servers and to coordinate and manage registered servers, Assign User Clients, Configure End Management Server, Allocation of Gateway Server for MDVR devices, User Management, Gateway Servers, Server Load Balancing.
Gateway Server: Provide vehicle access. Vehicle Gateway Server is used to establish a communication link between the MDVR device and the server, sending vehicle location and status information via this link.
Media Server: Provides media data forwarding function. Including Audio and Video, Intercom, Remote Monitoring, Remote Capture, Configuration parameters, Search and forwarding Download data.
User Server: Provides Remote Client Access
Storage Server: For storing pictures, video capture and reduce costs
WIFI Download Server: When within the assigned access point range, the WIFI enabled MDVR will automatically upload the video files onto the server.
Web Server: Provides GIS electronic map information, and provide links to the IVMS Backroom Control center, Front End management system login.
Spec Sheet Download