Mode:

JI7A(Dashcam 1080P AHD, with Built-in ADAS optional)
JA-MC933(720P AHD, in-cabin camera)
JA-MC934(720P AHD, A-pillar DSM camera)
Order Kits:
Option 1: ADAS + DSM kits
JI7A (with ADAS) + JA-MC934 (A-pillar DSM camera)

Option 2: 3 channels Dashcam (without ADAS or DSM)
JI7A + JA-M933 + 720P camera

Product Description
The AI Dashcam (JI7A) is a powerful and easy-installed 1080P AHD recorder for vehicle surveillance with remote monitoring, with ADAS and DSM function optional. This road-facing Dashcam support up to 3 channels recording, with GPS + 4G + Wi-Fi function, and extended up to 2 channels of 720P AHD in-cabin cameras. It supports H.265 / H.264 compression and decompression with Dual TF cards storage (256 GB each), recording real-time video, GPS, and alarm data.
Suitable for online car-hailing, taxis, minivans, private cars, etc.
Product Features
Hidden antennas design, without external antennas installation.

Special integrated design to the external GPS module/antenna or in-cabin camera (JA-MC933) with built-in antenna, with greater GPS signal and performance than other regular dashcam design, in order to solve the interference to the GPS signal from the recorder circuit.

Support up to 3 channels AHD cameras inputs, with 1channel 1080P AHD +2 channels 720P AHD full frame recording.

Optional with ADAS, DSM, face recognition function (if ADAS, DSM algorithm is supported, the device recording only supports 2 channels).

Dual TF cards video storage, the single card supports up to 256GB.

Compatible with H.265 / H.264 video encoding.

Built-in Wi-Fi as a hotspot, used for wireless connection between mobile phones and devices, using mobile APP settings to view device parameters, status, playback video and other functions.

Support MIC & speaker.

Built-in 1-way yellow and blue bi-colour indicator light to indicate the device's working status, hidden design avoid to interfere drive's sight.

Support an emergency alarm button.

Support an integrated 3 axis accelerometer (G-Sensor) and 3 axis gyroscopes (total 6 axis), to detect crash, harsh braking, acceleration, and cornering.

With a built-in Mini USB 2.0 for export of recorded data and equipment maintenance.

Support low voltage protection, when the voltage is lower than 8.5V, the device will automatically shut down (shutdown voltage value can be set, the default value is 8.5V).

9V-36V DC power supply.

Operating Temperature -25℃~ + 75℃,Storage temperature -40℃~+80℃.
Product Specification
JI7A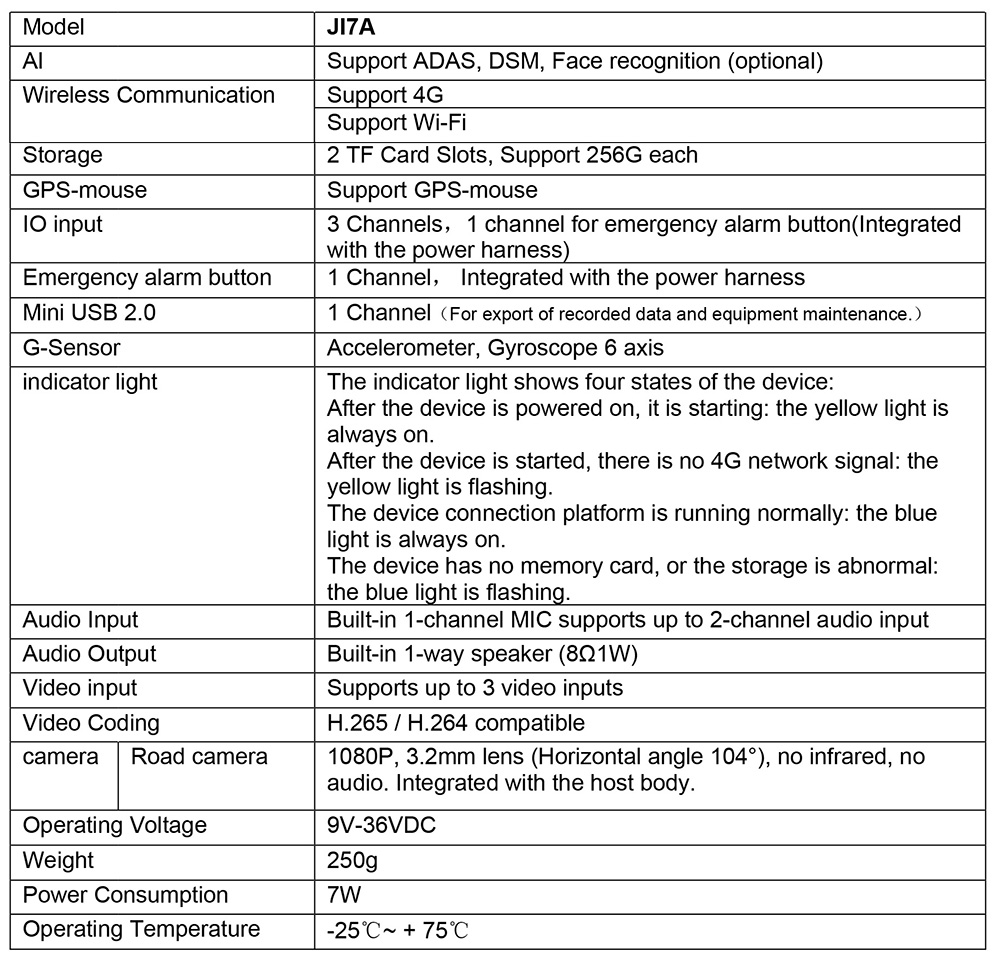 JA-MC933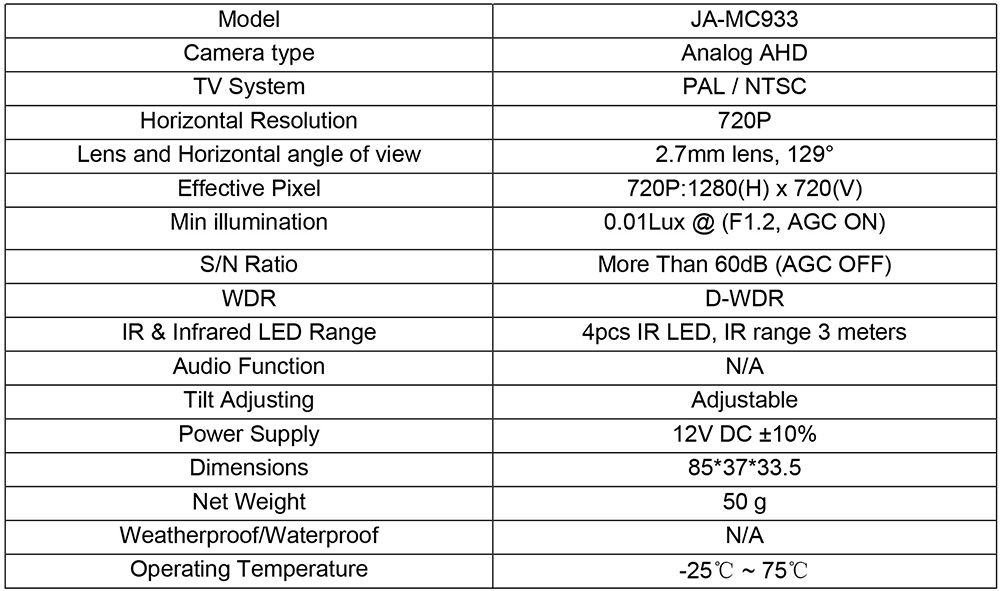 JA-MC934 (optional)