Model:

JI7A(Dash Cam 1080P AHD, with Built-in ADAS Function optional)
JA-MC933(720P AHD, in-cabin camera, with Built-in DSM Function optional)
Order Kits:
Option 1: 2 channels Dash Cam Solution (Support ADAS + DSM)
JI7A (with ADAS) + JA-MC933 (A-pillar DSM camera)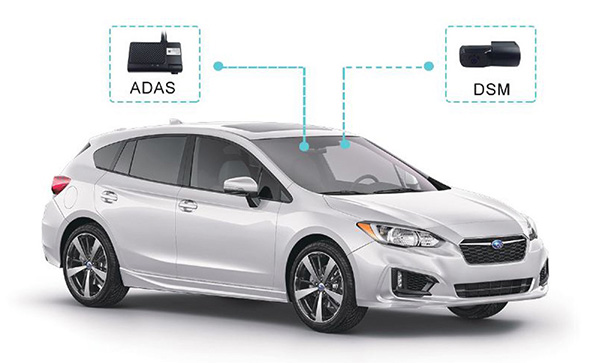 Option 2: 3 channels Dash Cam (Support ADAS + DSM + 720P)
JI7A (with ADAS) + JA-MC933 (A-pillar DSM camera) + 720P camera (optional)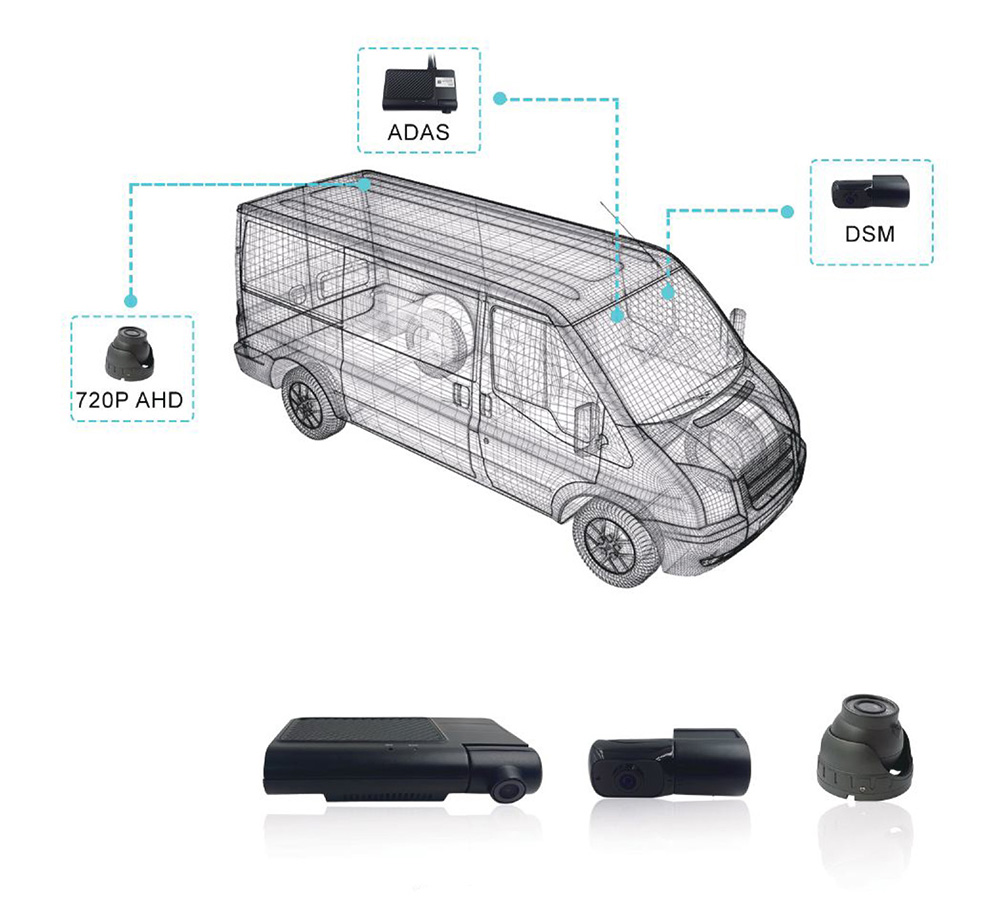 Option 3: 2 channels Dash Cam (Support DSM)
JI7A (without ADAS) + JA-MC933 (with Built-in DSM) + 720P(optional)
Product Description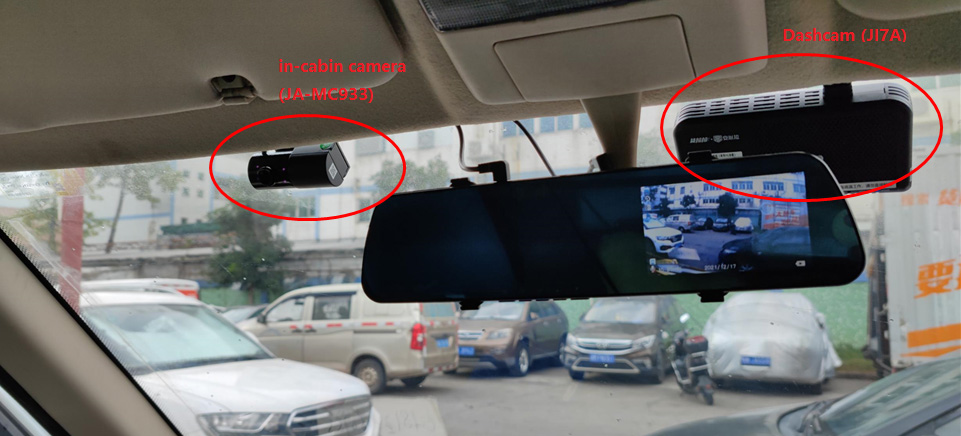 AI Dashcam (JI7A) Installation Scenario
The AI Dash Cam (JI7A) is a powerful and easy-installed 1080P AHD recorder for vehicle surveillance with remote monitoring, with ADAS and DSM function optional. This road-facing Dash Cam support up to 3 channels of recording, with GPS + 4G + Wi-Fi function, and extended up to 2 channels of 720P AHD in-cabin cameras. It supports H.265 / H.264 compression and decompression with Dual TF card storage (512 GB each), recording real-time video, GPS, and alarm data.
Suitable for online car-hailing, taxis, minivans, private cars, etc.
2022 Dashcam supporting ADAS and DSM with a new price
Note:
The Driver Status Monitoring (DSM) system is used to capture an image of the driver's face and establishes the driver's condition based on visual analysis. It detects yawning, eyes closing, smoking, making phone calls, distraction. It alerts the driver of the potential danger by giving a real-time sound warning when the driver has above abnormal behaviours, which can reduce the accidents to a certain extent.
Learn more about DSM, click here:
Why is Driver Status Monitoring(DSM) System helpful to prevent fatigued driving?
How to Effectively Manage The Taxi Fleet?
Product Features
Hidden antenna design, without external antenna installation.

Special integrated design to the external GPS module/antenna or in-cabin camera (JA-MC933) with built-in antenna and provides better GPS signal and performance than other regular Dash Cam designs, avoid the interference to the GPS signal from the recorder circuit.

Support up to 3 channels AHD camera inputs, with 1 channel 1080P AHD +2 channels 720P AHD full-frame recording.

Support ADAS, DSM, face recognition function (optional).

Dual TF cards video storage, the single card supports up to 512GB.

Compatible with H.265 / H.264 video encoding.

Built-in Wi-Fi as a hotspot, used for wireless connection between mobile phones and devices, using mobile APP settings to view device parameters, status, playback video, and other functions.

Support MIC & speaker

Built-in 1-way yellow and blue bi-color indicator light to indicate the device's working status, hidden design avoids interfering with the driver's sight.

Support an emergency alarm button.

Support an integrated 3-axis accelerometer (G-Sensor) and 3-axis gyroscopes (total 6 axis), to detect a crash, harsh braking, acceleration, and cornering.

With a built-in Mini USB 2.0 for export of recorded data and equipment maintenance.

Support low voltage protection, when the voltage is lower than 8.5V, the device will automatically shut down (shutdown voltage value can be set, the default value is 8.5V).

9V-36V DC power supply.

Operating Temperature -25℃~ + 75℃, Storage temperature -40℃~+80℃.
JI7A Dash Cam Product Advantage Comparison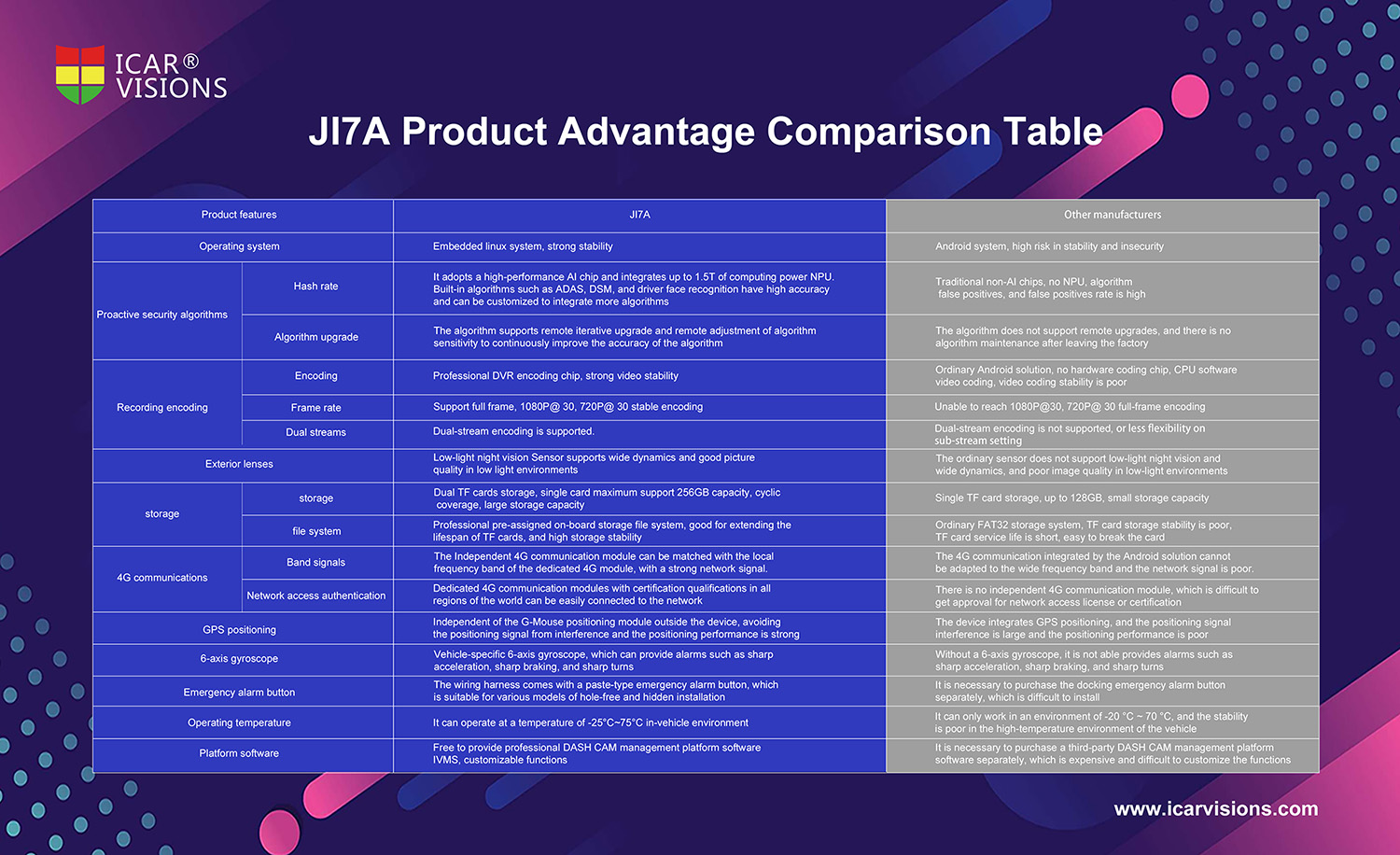 Product Specification
JI7A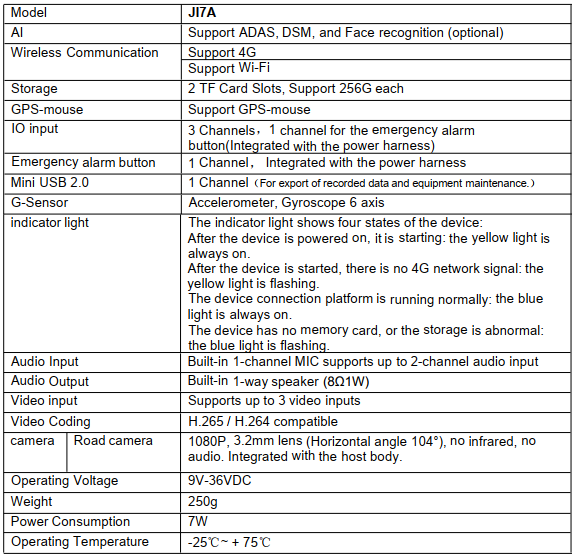 JA-MC933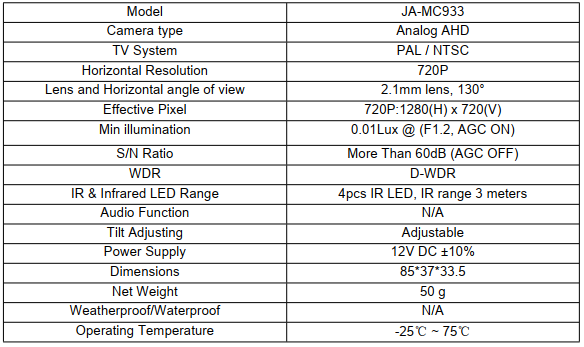 Accessories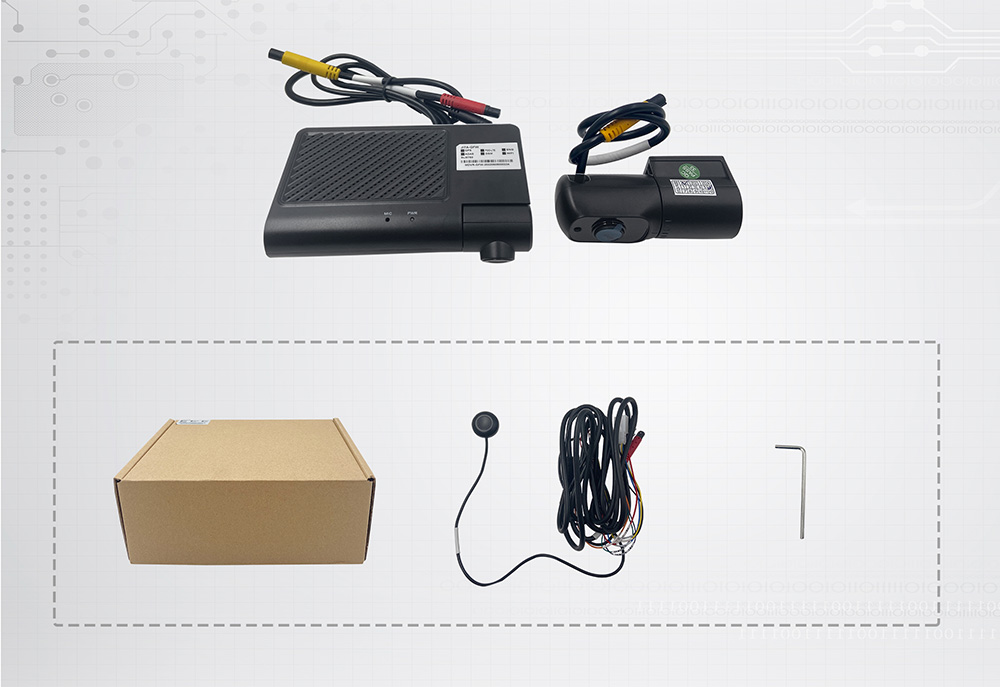 FAQ
Q1:
What is the difference between (2-SDW) and (4-FCW)?
The functions of ADAS include 4 types of alerts:
1-Pedestrian Collision Warning (PCW)
2-Safe Distance Warning (SDW)
3-Lane Departure Warning (LDW)
4-Forward Collision Warning (FCW)
A:

The difference is that they have different triggering conditions based on varying distances between vehicles.

2-Safe Distance Warning (SDW), Detection Range: During driving, it triggers at a following distance of approximately 110 meters.

4-Forward Collision Warning (FCW), Detection Range: 150 meters during daytime, 120 meters at nighttime.

Therefore, (2-SDW) will be more easily triggered than (4-FCW) in terms of frequency.
Spec Sheet Download