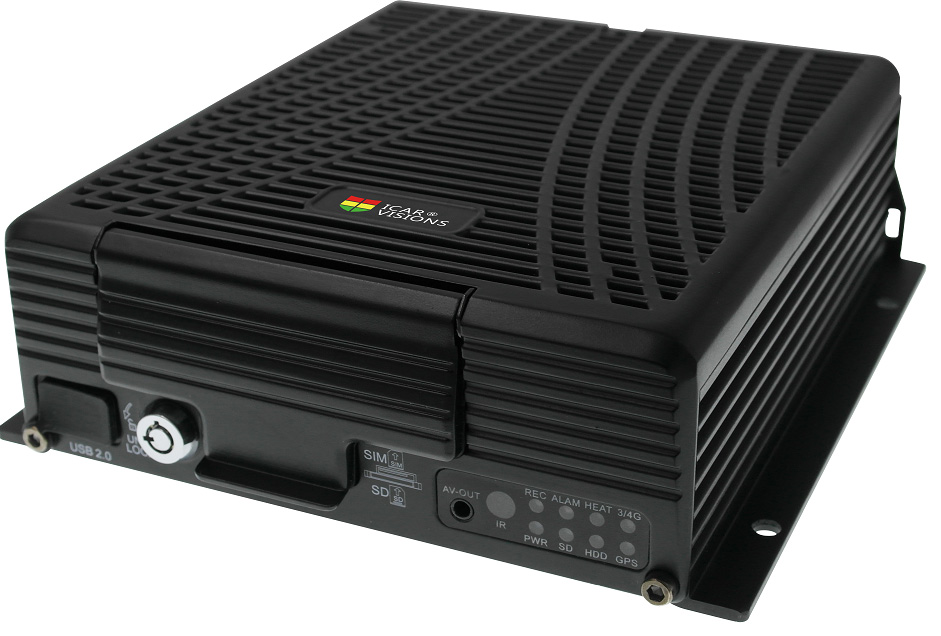 Mobile NVR Model: JH4-HYBRID-GFN (GPS+4G)
Product Features:
4 x IPC(720P1080P) + 4 x 720P AHD / 960H / D1 / HD1 / CIF , support 960P AHD camera

Built-in Switch 4 x POE(12V) Ethernet Ports

HDMI Video Output

accept HDD/SSD up to 2 TB Storage, and 1 SD card (up to 128GB) for backup(at 3G/4G/Wi-Fi model option)

Internal G-Sensor, with GPS and 4G FDD

Anti-Vibration and Anti-Shock under acceleration of 40G ( MIL-STD-810G standard)

Hard drive automatic heating startup in -40℃ weather

On board UPS 8 seconds delay power-off for data protection

Operating temperature -40℃ ~ +80℃

8V-36V wide voltage power supply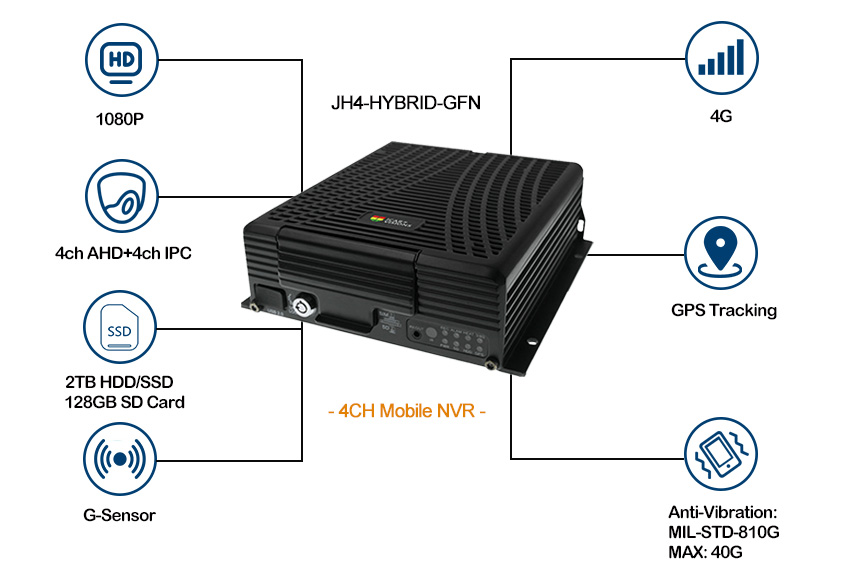 Product Description
Mobile DVR / Car DVR (with 3G, 4G, GPS, Wi-Fi) for vehicle real time monitoring, applied with Car Cameras used for vehicle monitoring in bus, taxi, school bus, truck, police car, tour bus, tanker truck, escort car etc. Operated with Client Software IVMS (Intelligent Vehicle Management Software) to realize fleet management online, and achieve a full range of car monitoring functions such as real time video & audio monitoring, GPS, car tracking, GEO-Fence, voice intercom, car temperature, alarms customized , driving route record, PTZ control, fuel volume detection, video search and download, generating reports, etc. APP <icarview> is available for mobile phones in Android and iOS system.

Order model
with 3G / 4G, GPS, WiFi modules optional, according to different demands.

GPS: For map, location and route tracking

3G / 4G: For real-time video and monitoring

Wi-Fi: For automatically downloading video file
Product AccessoriesMobile Network Video Recorder for Truck Picture4" alt="2TB HDD Mobile Network Video Recorder for Truck Picture4" word_img="file:///https://www.icarvisions.com/zb_users/accessories/jh0-accessories.jpg" style="background-image: url("https://www.icarvisions.com/zb_users/plugin/Neditor/i18n/zh-cn/images/localimage.png"); background-position: center center; background-size: initial; background-repeat: no-repeat; background-attachment: initial; background-origin: initial; background-clip: initial; border: 1px solid rgb(221, 221, 221);">

| | |
| --- | --- |
| Order Model | Description ( Module optional ) |
Our rugged, high quality mobile NVRs are ideal for monitoring a wide range of vehicles:
It's designed for various vehicles management, and widely used in buses, coaches, car, construction machinery, taxis, lorries, fire trucks, ambulances, passenger vehicles, etc.

Spec Sheet Download