ICARVISIONS (SHENZHEN) TECHNOLOGY CO., LTD. is a global leader in Vehicle surveillance, Telematics & Video processing services. We are specializing in vehicle-related product development, manufacturing and offering a wide range of Mobile Digital Video Recorders (MDVR) and Mobile Network Video Recorders (MNVR) solutions integrated with world-leading Ai technologies like ADAS, face recognition and Big Data which empower us became the pioneer of Telematics industry.
1. Our scale
ICARVISIONS has dedicated to this industry for more than 12 years, we now have 12 branch offices across China, with a factory of production capacity up to 50K per month.
2. Our certificates
(1) Company Certificates
ISO9001 Global Quality System Certification
National High-tech Enterprise
IATF16949-2016 Automotive Quality Standard
ISO14001 Environmental Management System
OHSAS18001 Occupational Health and Safety Management Systems

(2) Product International Certificates

(3) Product Certificates in China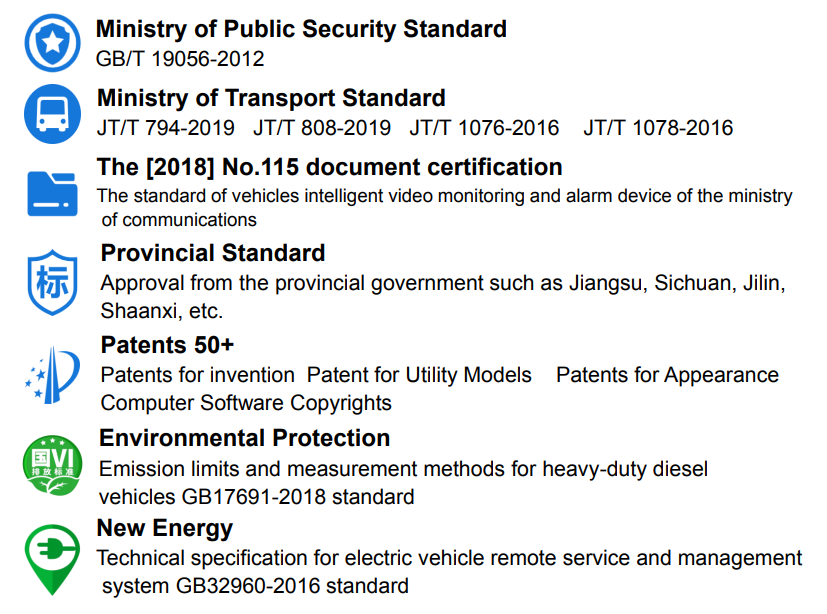 3. Strong technical team
We have a R&D team over 100 people (R&D quality 43%,Sofware 42%,Hardware 15%), which occupies nearly 30% in our team. The strong team can guarantee the development of new products as well as server software compatibility and platform reliability.

4. Self-developed products providing free license and life-time free maintenance and upgrade.
We develop the software, firmware and hardware all by ourselves. If any assistance is needed, our team can take action immediately. And there is not extra cost for license, firmware and software can be upgraded whenever needed.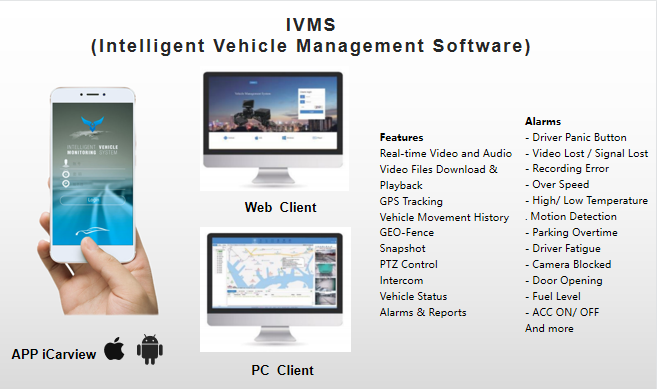 5. Core Competence Technology
Equipment reliability and environmental adaptability

Vehicle power supply and battery compatibility

HDD anti-shock & anti-vibration

Heat dissipation, high and low working temperature, IP67, small in size
Video & Picture Analysis
Telematics Information
Vehicle motion analysis (acceleration, sharp turn, harsh braking and other 6-axis analysis and alarms)

24 types of installation methods to the G-sensor value correction algorithm
6. Rich Experience in worldwide projects and large market share
We have rich experience in worldwide projects over 40 countries to date, such as Taxi project in UAE (>25,000 units), logistic project in UK (>40,000 units), Taxi project in Nanjing China (>12,000 units), Taxi project in Turkey (>11,000 units), etc.
7. Reliable after sales team
Whatever problems you might encounter,our technical team is always here for you. You can contact us via email, whatsapp, skype, wechat or any other ways. Usually issues can be responded within one workday. Also, after-sales team will visit our customer for on-site support each year on demand.
8. Strong IVMS platform
IVMS platform can support 100,000 vehicles and provides good stability.
9. More advantages of our MDVR

Hard drive automatic heating startup in cold weather

Anti-vibration and anti-shock standard for HDD MDVR is MIL-STD-810G, which is a US military specification.

10. Security of data on Mobile DVR

There is a electric lock in the front panel of the MDVR. It minimizes the risk of the HDD/ SD card being taken out by an unauthorized person or any deliberate sabotage of the data.

Our MDVR's support on board UPS 8 seconds delay power off, for the purpose of data protection- a complete video clip can still be recorded.

Password is required when entering into the MDVR operation interface. So only those who are authorized can access to the MDVR.

Encryption: AES-256 video encryption of MDVR device, and SSL between the server and our client software IVMS.

As outdated software could easily be the target of hackers, our team regularly updates our operating system and surveillance software to eliminate unnecessary vulnerabilities. And we provide the software updates to our customers as a safeguard measure of improving the security of their mobile DVR system.