The Blind Spot Detection (BSD) function can keep the video record as evidence of accidents caused by blind spots. But also can reduce the risk of accidents which may be caused by blind spots.
Click here to learn Blind spot monitor Wiki
Auxiliary effects on driver's decision.
When the driver activates the turning (right / left) button of the vehicle MDVR will automatically switch to the BSD channel and display the live video on a full 7-inch screen. ( triggered through i/o sensor which connected to the signal line of vehicle in advance when installing the MDVR).
So the driver can instantly observe from the display whether there is a moving person or vehicle in the blind area before he decides to perform the steering wheel action.
Anti-speeding technology - The Blind Spot Detection

Warning effect on pedestrians:
The BSD alarm buzzer will emit a sound and flash alarm immediately if a person or a vehicle detected in the blind area. So the people in the blind area obtains the vehicle's steering information in advance thus to avoid accidents caused by blind spots.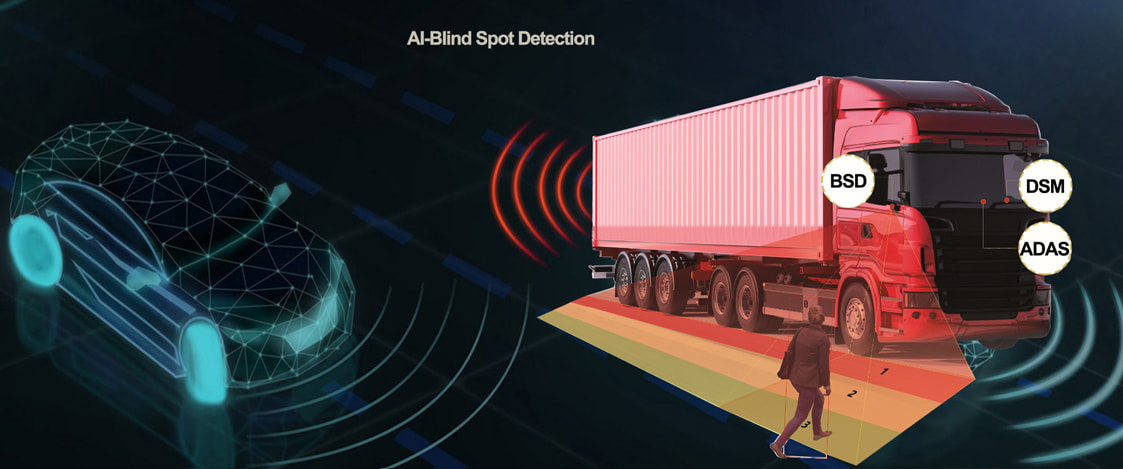 360-degree Panoramic View & Video recording: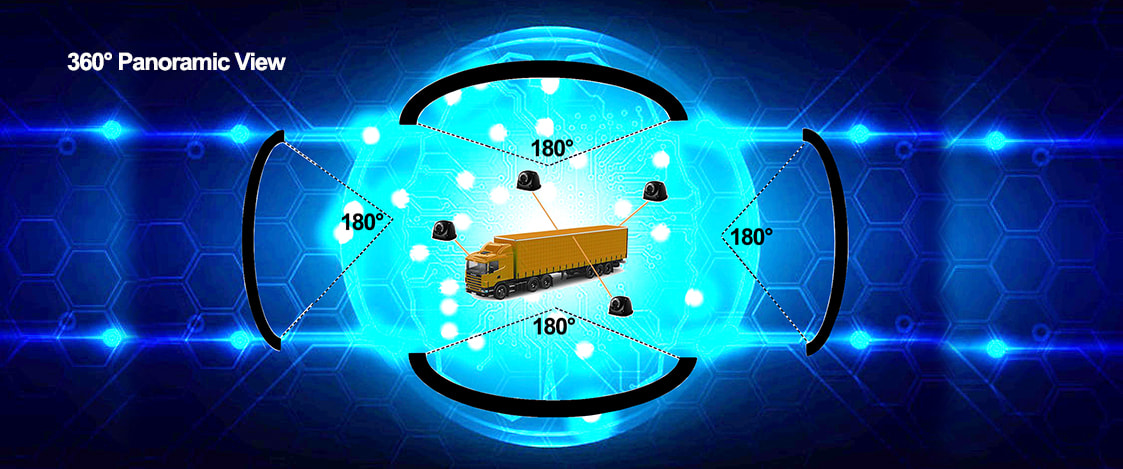 Most of the regular 360-degree panorama products from the market have a low resolution like VGA 640x480 or 700tvl only. And the images of 4 cameras are separate without the function of video recording storage. Our AI-MDVR's 360 view function with 4 pcs 180-degree wide-angle 1080p AHD cameras so it can provide a full view of the situation around the vehicle on the monitor. It also allows real-time video recording with the help of AI-MDVR. User can also set up each channel to display on the monitor automatically according to different vehicles. Because AI-MDVR with 8 sensors i/o trigger.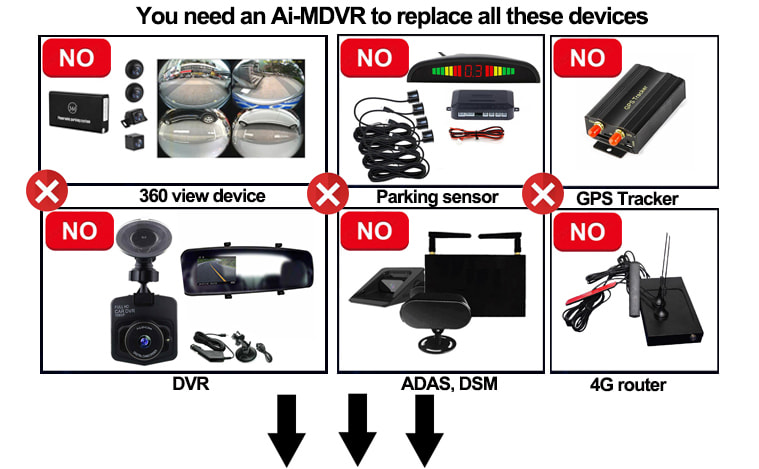 Click here to JH8AN-HD-GFW AI MDVR
JH8AN-HD-GFW AI MDVR can support H.265 / H.264.It is a 8 CHs HDD MDVR Built-in ADAS+DSM AI ALG & Internal G-sensor & HDD Auto-heating Startup functions. The AI MDVR with channel mode of 2CH 1080P (DSM & ADAS) + 6CH 1080P AHD + 1CH IPC (720P /1080P).
How to install the 360-degree Panoramic camera and set up on MDVR?
It could be a headache when you have to make a selection from a wide range of consumer products such as 360 view device, Parking Sensor, GPS tracker, DVR, 4G router, ADAS. What's more, it is also boring to spend so much time and money on the installation of these devices. Now the AI-MDVR provided by iCar Visions can let you have all these functions you need. And also helped you save money and time on installation. AI-MDVR is an industrial-grade with a high-quality product. Below is about the360 panoramic AI-MDVR set up.
Image setting:
1. Press the remote control to enter "General Settings" -> Screen flip
Set the horizontal rotation of CH6 and CH9 to "ON" -> save -> confirm and restart the MDVR.
Steps to trace:
1. Choose the right camera resolution (720P (1280*720) or 1080P (1920*1080), and set up the image size.
2. Turn the panoramic stitching switch: "ON" and restart MDVR.