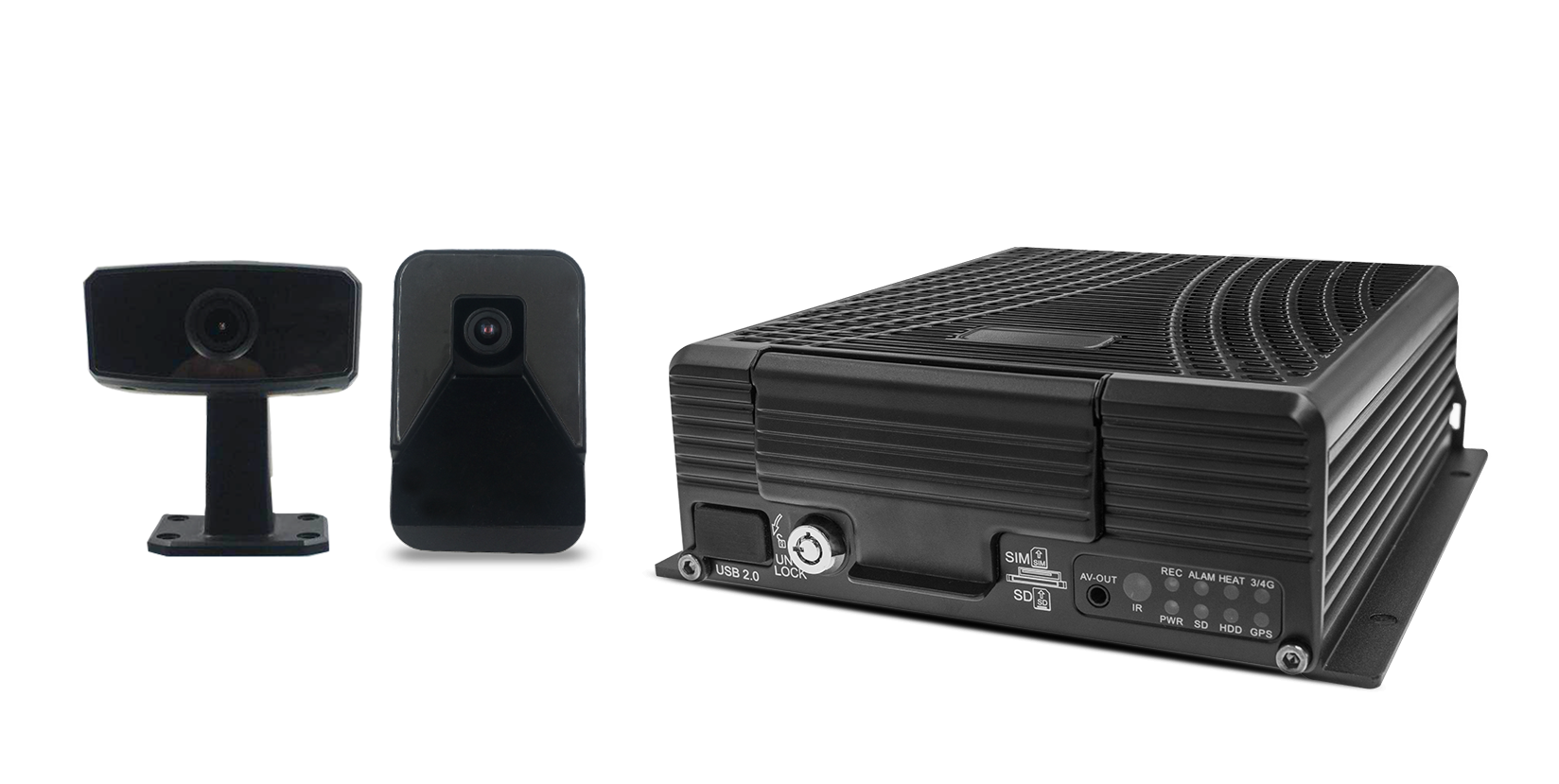 Model: JH8AN-HD (GPS+4G/5G+WiFi)
Product Description
An excellent vehicle Telematics device! Not to be missed!
JH8AN-HD AI MDVR: Comprehensive monitoring, supports up to 8CH 1080P AHD, with expandable 4CH IPC (Need switch). Powerful AI features (ADAS, DSM, BSD) can significantly reduce the occurrence of accidents. Alert data is uploaded to the IVMS platform for comprehensive analysis, which can significantly improve fleet management efficiency. This DVR is the perfect device for fleet management solutions.

This remote viewable Mobile DVR makes use of cellular 4G/5G data networks and Wi-Fi hotspots, via a SIM card and Ethernet connections for remote monitoring of live audio and live and recorded video.
The JH8AN-HD auto detecting and matching for all analog cameras. Footage records onto an included 4TB hard disk with backup recording (512GB) onto 1 SD card.
8 channel AI MDVR and Calibration AI cameras
Related solutions
Vehicle monitoring System Solution For Coach/Tour bus
Order model
with 4G / 5G, GPS, WiFi modules optional, according to different demands.

GPS: For map, location and route tracking

4G / 5G: For real-time video and monitoring

Wi-Fi: For automatically downloading video file
| | |
| --- | --- |
| Order Model | Description ( Module optional ) |
| JH8AN-GFW | GPS+4G+WIFI |
| JH8AN-GFW (5G) | GPS+5G+WIFI |
| JH8AN-GFN | GPS+4G |
| JH8AN-GFN (5G) | GPS+5G |
| JH8AN-GNW | GPS+WIFI |
| JH8AN-GNN | GPS |
| JH8AN-NNN | Recording Only |
Auto detecting & matching for all analog cameras


Option1: Support 2 channels 1080P AHD (DSM & ADAS) + 6 channels 1080P AHD / 960P AHD / 720P AHD / 960H /D1 /CIF + 1 channel IPC (720P /1080P) Video input

Option2: 8 channels 1080P AHD / 960P AHD / 720P AHD / 960H /D1 /CIF + 1 channel IPC (720P /1080P) Video input, expandable with 4 IPC channels (requires switching)

Support ADAS+DSM (optional)

Support Blind Spot Detection cameras (optional)

Accept HDD/SSD up to 4 TB Storage, and 1 SD card (up to 512GB) for backup(at 4G/5G/WiFi model option)

Support an integrated 3 axis accelerometer (G-Sensor) and 3 axis gyroscope, to detect crash, harsh breaking, acceleration and cornering


WIFI automatic download

Anti-Vibration and Anti-Shock under acceleration of 40G ( MIL-STD-810G standard )

Hard drive automatic heating startup in -40℃ weather

On board UPS 8 seconds delay power-off for data protection

Operating temperature -40℃ ~ +80℃

8V-36V wide voltage power supply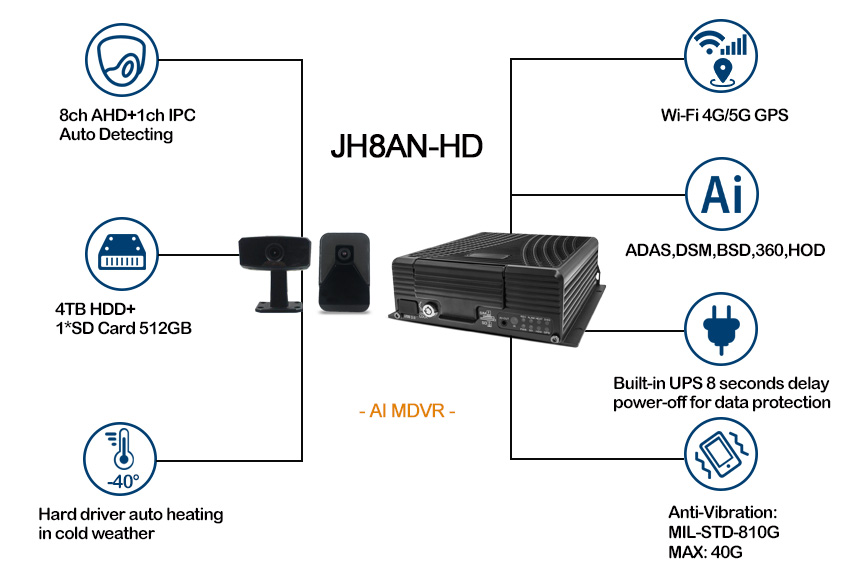 Why do we require ICARVISIONS' 8CH AI MDVR?
Have you ever been troubled by these questions?
Where can you find the ideal fleet management solution?

How to monitor anomalies in people, vehicles, and roads?

How to swiftly provide evidence in the event of an accident or theft?
......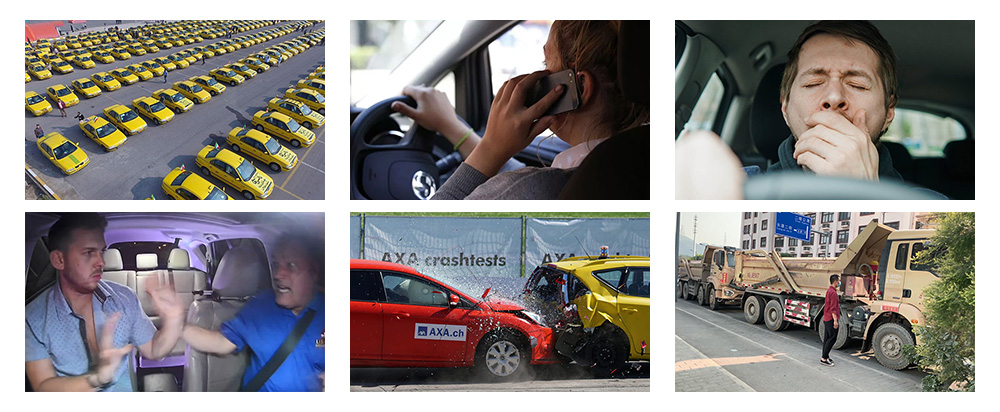 ICARVISIONS AI 8-channel MDVR, multiple optional features, solves your worries!
The MDVR includes algorithms such as ADAS, DSM, and BSD. Its main goal is to offer dependable vehicle management solutions for various types of vehicles, including school bus, public bus, high-speed train, tour bus, tanker truck, and more. It ensures both customer safety and significantly enhances operational efficiency.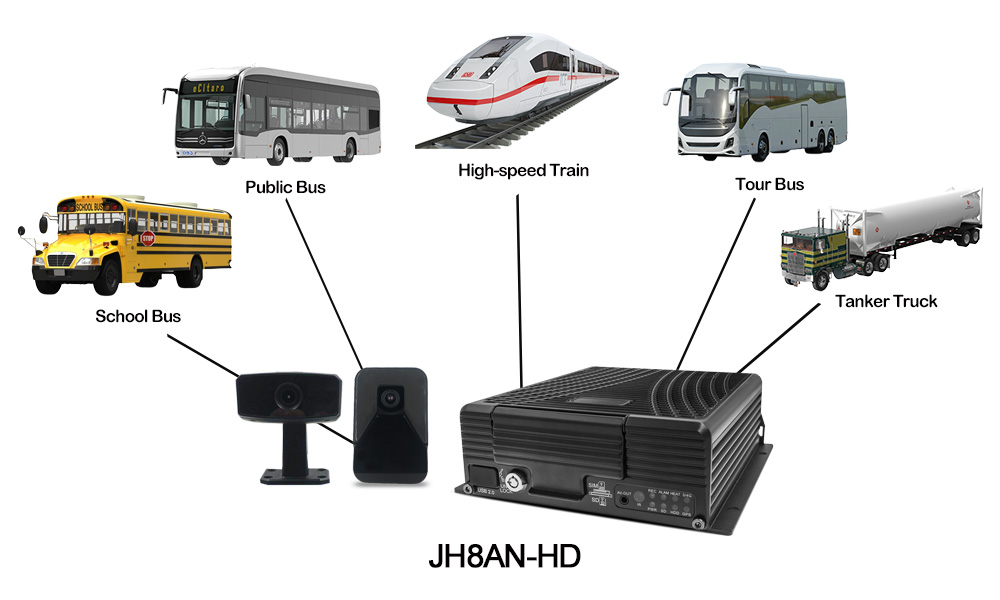 1. ADAS (Advanced Driver Assistance System) & DSM (Driver Status Monitor) Function
The driver assistance safety warning system, built upon cutting-edge deep learning technology, combines forward collision prevention alerts with driver behavior monitoring to reduce traffic accidents and potentially save lives for the fleet.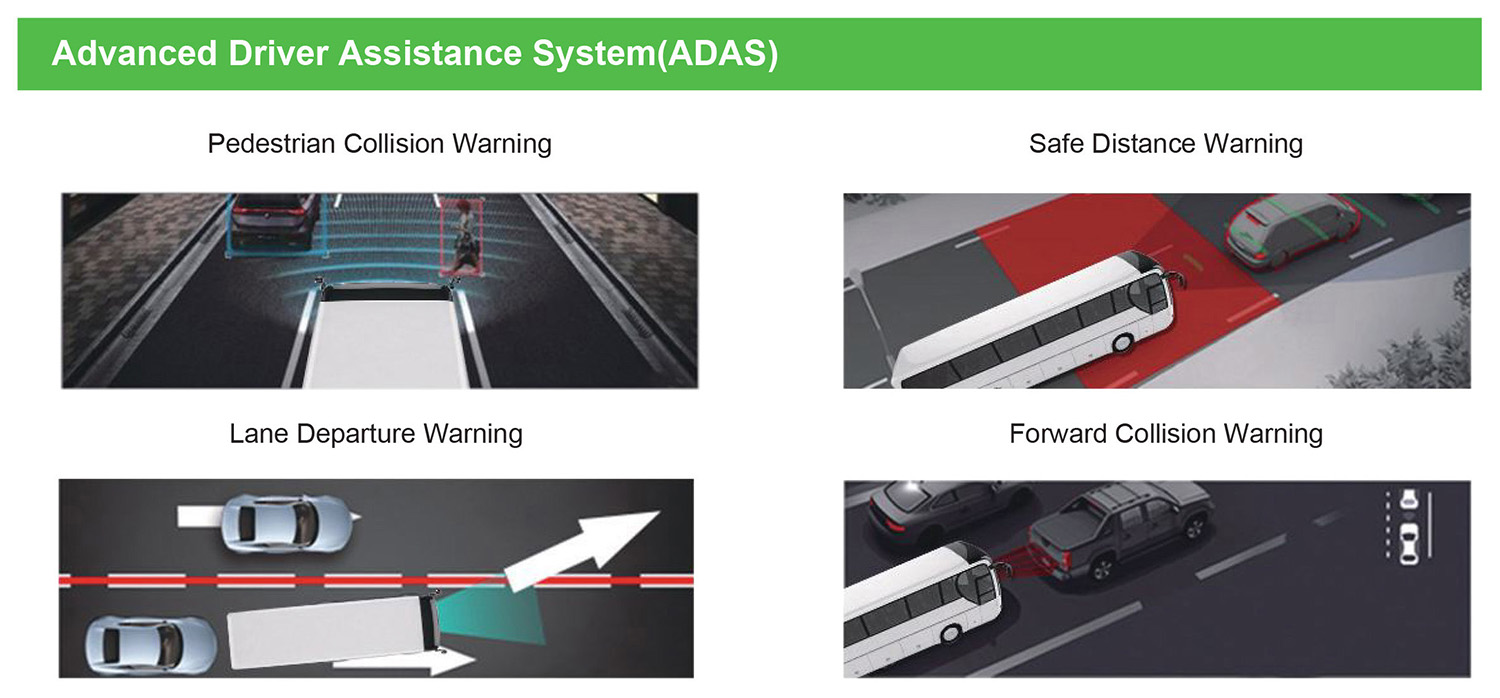 In the event that the forward-facing ADAS camera identifies potential collision risks with vehicles or pedestrians ahead, insufficient following distance, or lane deviation, the ADAS system will use warning sounds to remind the driver to take timely measures.
ICARVISIONS and Anti-speeding technology: ADAS
With the internal-view DSM (Driver Status Monitor) camera, it is possible to detect and signal driver fatigue, distracted driving, including activities like smoking and making phone calls, and other irregular driving behaviors. This feature enhances safe driving and streamlines fleet management.

In addition, the driver's driving condition will be uploaded to the IVMS (Intelligent Vehicle Monitoring System) software platform in the form of video, allowing management personnel to view it remotely, provide timely reminders to the driver, and take further measures such as training to strengthen management and reduce the probability of accidents.

ICARVISIONS Anti-speeding technology: Driver Status Monitoring
2. BSD (Blind Spot Detection) Function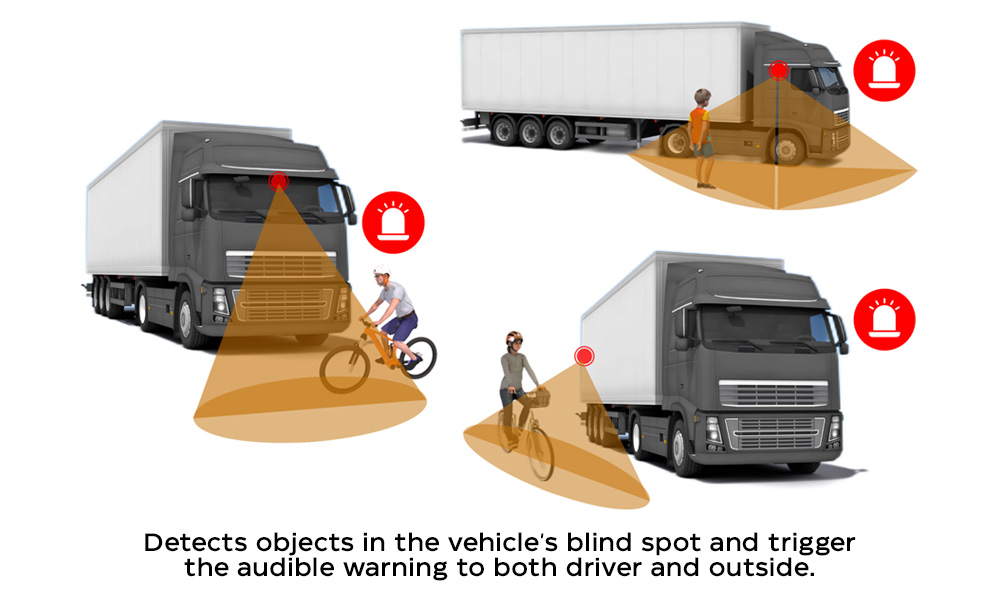 When the BSD (Blind Spot Detection) blind spot monitoring camera detects potential collision risks in the front or right blind spots, the AI intelligent algorithm within the device's host analyzes the alert level (Level 1, Level 2, Level 3) and alerts the driver with warning sounds to take timely action.
Anti-speeding technology - The Blind Spot Detection
3. IVMS Software Platform
When ADAS, DSM, or BSD warning events are triggered, it is possible to directly upload images or videos of the critical moments to the platform through terminal devices. This not only helps reduce traffic accident rates but also enables drivers to conduct in-depth analysis of warning data, thereby enhancing the operational efficiency of the fleet.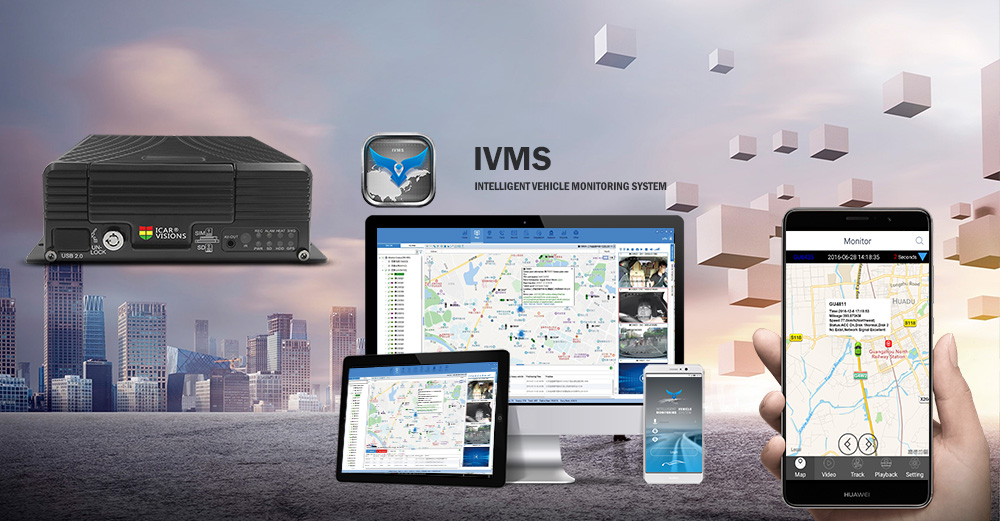 Intelligent Vehicle Monitoring Management (IVMS)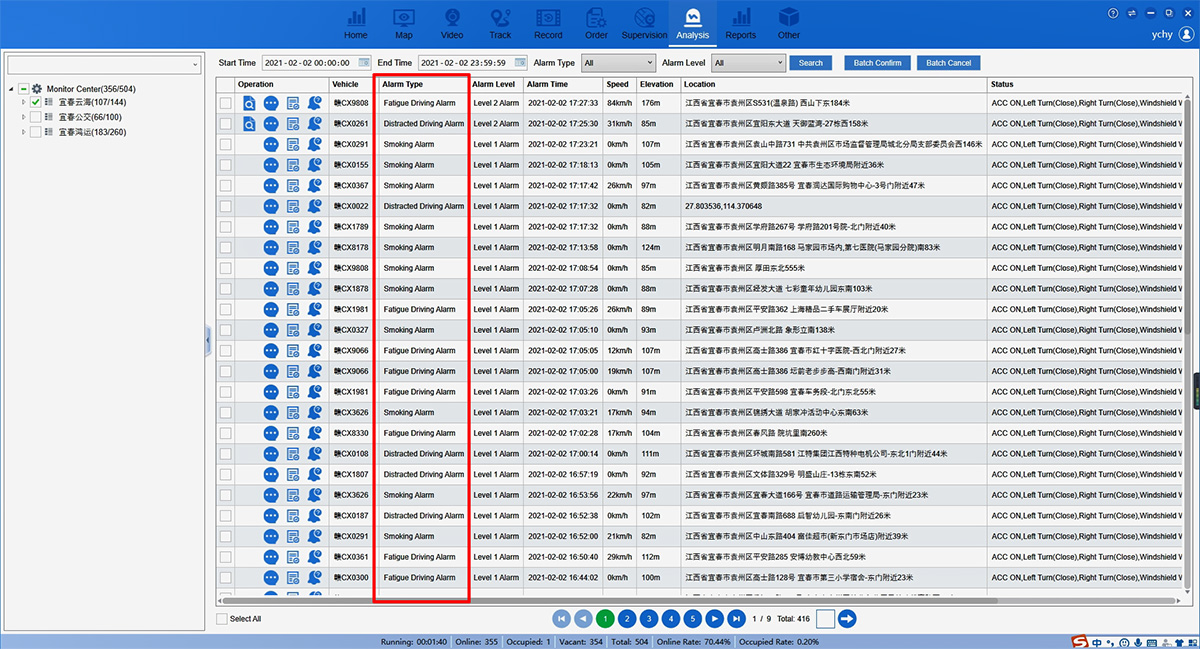 IVMS ADAS DSM BSD warning data
Packaging box accessories

Other accessories (optional)