Vehicle mobile DVR keeps an eye on fleet assets while also recording crucial evidence from all-important road events. Icarvisions vehicle mobile DVR systems are designed to be modular and fit the exact needs of our customers. Not only do we provide a whole lineup of hardware solutions, but our software is configurable to your specific recording and data needs.
Icarvisions provide a hybrid mobile DVR system, consisting of a mix of analogue and network/IP cameras in place. Currently, onboard cameras become more common. Besides, real-time usage of video surveillance is viewing the video live (monitoring) or using live video as a tool during an incident. Additionally, video analyzing can be added to support the detection of an incident. The vast majority of respondents is using video footage for investigation and evidence collection. HD Image quality is a key criterion for video surveillance, in this case, to ensure any evidence is valid in court. Each vehicle installs 4-8 cameras (HD 1080P), real-time monitor front of the vehicle, driver, goods, vehicle inside and reversing rearview to protect driving safety.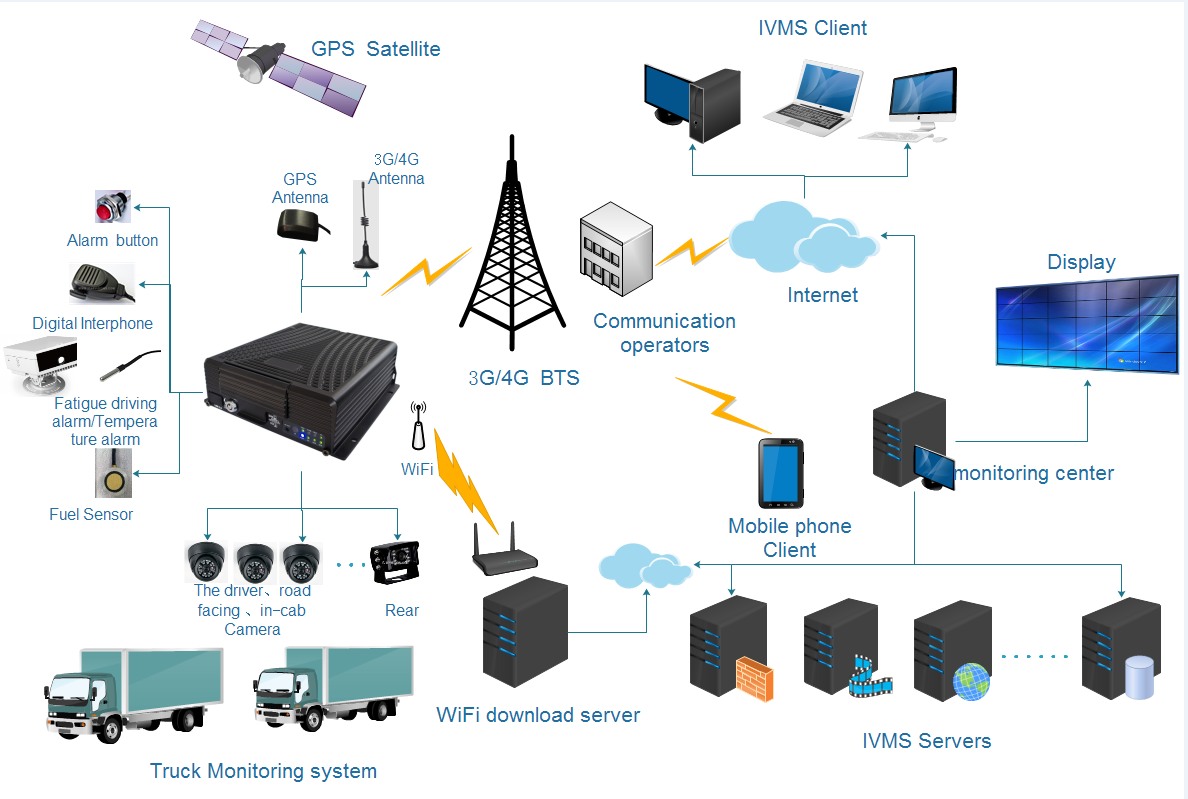 How does the whole system work?
The driver can trigger the alarm button in case of an emergency incident and the signal will be transmitted to the monitoring control centre.

Support JPEG format image capture remotely through IVMS platform and pictures will be stored on the server.

Support GPS position with higher positioning accuracy.

The command centre can operate the vehicle at any time by using 3G/ 4G.

Support max 2TB hard disk recording, no need format. Plug and play.

The supervisor can master vehicles running status in all directions and eliminate all kinds of security risks effectively through monitoring management platform.

Can extend fuel consumption statistical instrument,statistical fuel consumption status. Monitoring oil stealing phenomenon effectively.

Full HD1080P video surveillance makes logistics and transport chain clear and transparent. It also can strengthen emergency trace-ability to prevent goods loss effectively.

Can extend Tire Pressure detector, real-time monitor tire pressure and temperature variation, preventing tire burst and air leakage, protecting driving safety.

Can extend magnetic switch, real-time monitor tail stock door open or closed status, preventing opening door on halfway, protecting goods safety.

ADAS&Driver status monitor alert system can be an option to realize real-time detect fatigue and distraction status of drivers, meanwhile, it has different functions to reduce traffic accidents so that we can keep drivers safe driving and lower operation companies cost.
What are the benefits of installing a vehicle mobile DVR?
Meeting all relevant legislation and compliance without disrupting fleet operations.

Minimizing accidents while driving or loading vehicles.

Protecting cyclists and other vulnerable road users in congested inner cities.

Reducing the costs of downtime and insurance premiums through personal injury claims and accident investigations.

Reducing the overall cost of running a fleet in driving route, fuel consumption and driver behaviour.

Minimizing the risk of theft and vandalism of company assets.
Why choose Icarvisions?
Has been specializing in mobile DVR/NVR only for about 10 years.

Rich experience in large projects of 1000-12000 units.

With patent in anti-vibration technology, passed MIL-STD 810G 514.6C-3 standard

With CE, FCC, E-mark and EN50155 certificates.

15 months standard warranty +6 months shipping back and less than 1% defective rate. Learn more about warranty

2600 square meters fully owned factory with ISO9001 certified.

8 bilingual(Chinese and English) technical support engineers to support you 7/24.

82 R&D engineers, available to provide customized software and hardware.

The technical support engineer can be on-site whenever you need.