Public buses, being a major part of public transportation system, is closely related to the safety of the people's lives and the development and stability of the social economy. Nowadays it is also a public social security issue that is highly valued. We ICarVisions, based on more than a decade of experience in developing and implementing video surveillance for public transportation, have developed a wide series of powerful solutions that can solve many potential issues which had troubled the fleet operators, drivers, and passengers, to offer a more secure, more efficient and more profits environment for the whole society.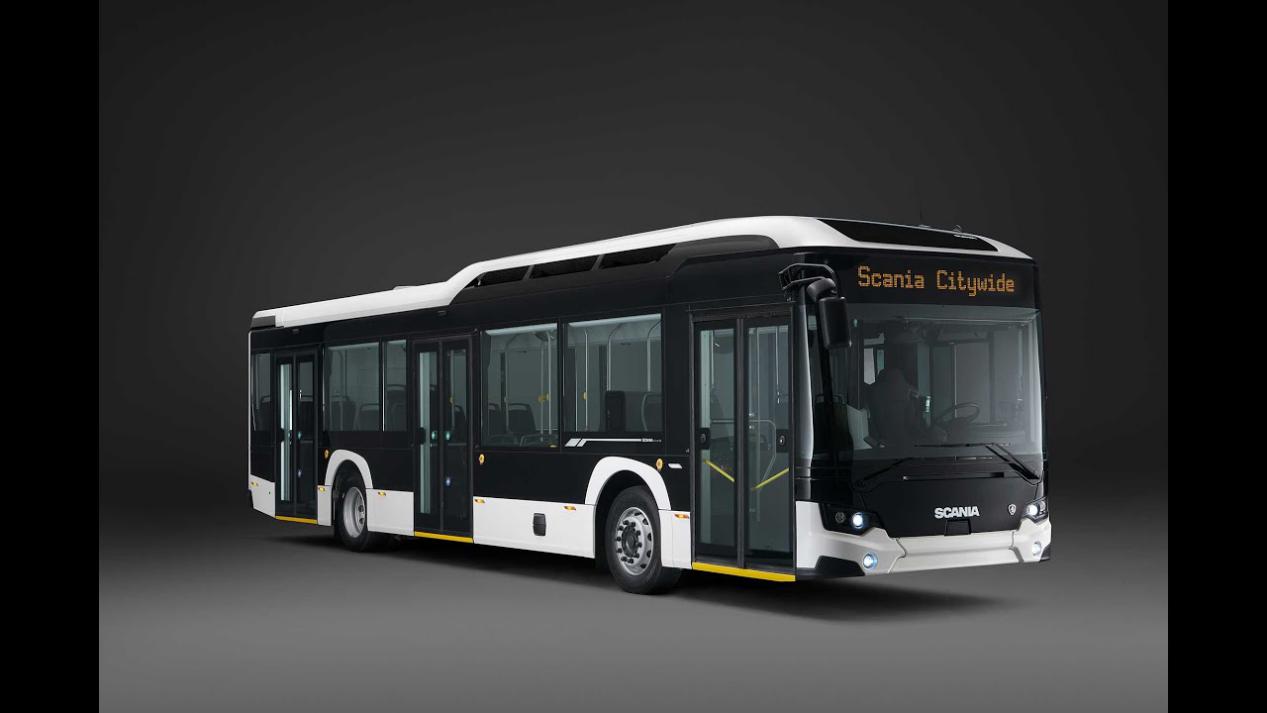 What challenges our mass transit solutions can solve?
Support all-around real-time monitoring with up to 8 cameras to ensure passenger safety.

Monitor abnormal driving behaviors such as driver fatigue and distraction, issuing timely warnings to prevent accidents.

Advanced Passenger Counter Cameras accuracy rate > 98%, for the number of passengers boarding and alighting the BUS, supporting 1-3 doors.

Simplify management with comprehensive data reports and analysis. Optimize operations to enhance efficiency and save costs.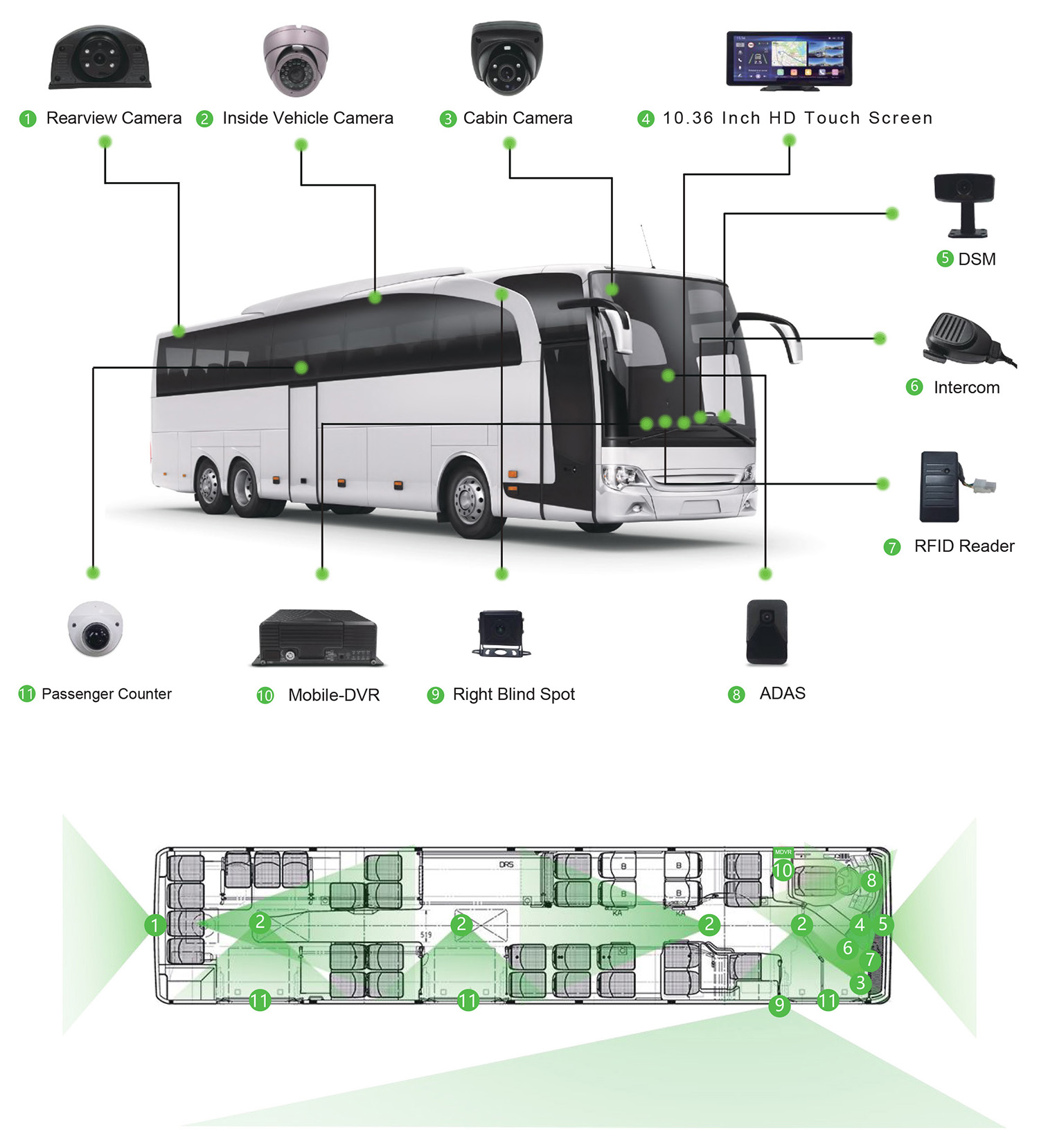 Public bus surveillance solution
Mass Transit Solution System Device Layout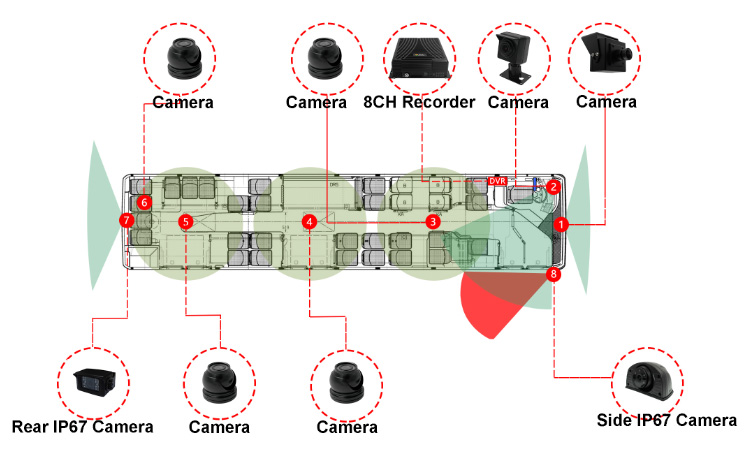 Real Case Installation Photos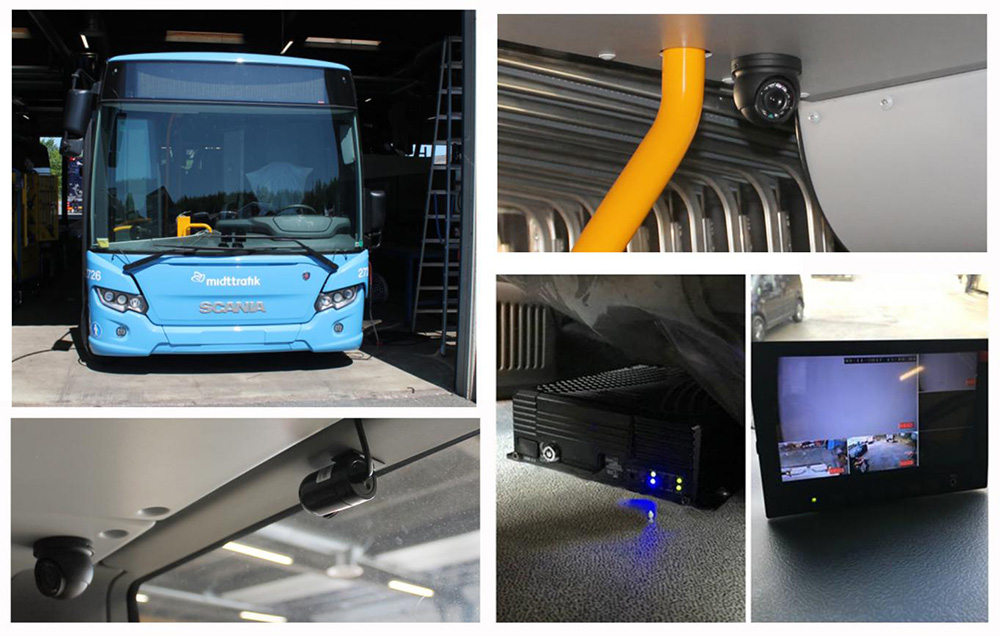 How does the system work?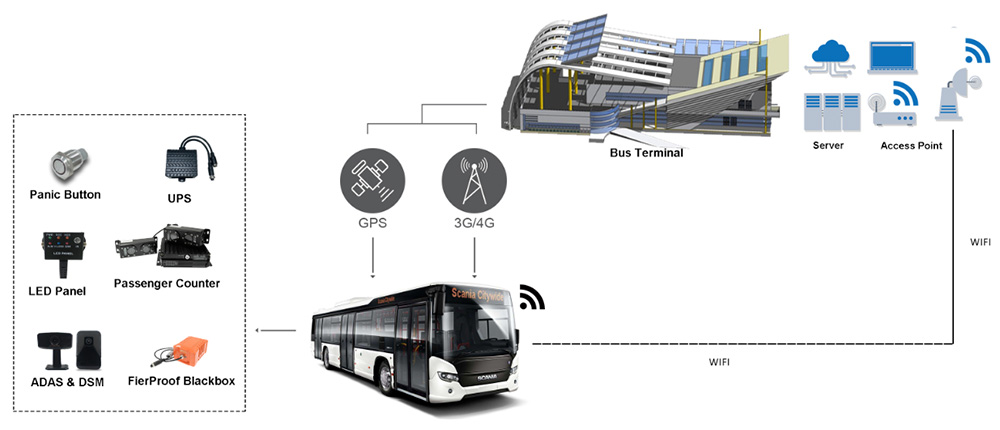 Real-time data from recorder installed on each vehicle will be transmitted to the central server system via 3G/4G when the bus is running on the road. People can have access to the recorder real-time data remotely via the Intelligent Vehicle Monitoring System (IVMS) platform and App.

The central server ( including the WiFi downloading server where the recorded files will be uploaded ) is installed at the facility where the vehicles return and park overnight. And a wireless network is set up at this place which has configured to connect to the central server and provide access points in the bus lot.

When a vehicle returns to the facility and is in the wireless network range, the Wi-Fi radios on each vehicle automatically connect to the access points - directly transmitting any scheduled, automatic event-based, or end-user requested video contents to the WiFi downloading server wirelessly and cost-effectively.
Computers connected to the server via Cellular/Wi-Fi and using the IVMS client software or MDVRPlayer playback software can quickly and easily search the video database on selected criteria. Besides the basic video contents, end-users can also get extensive email alerts and MDVR system reports like the mileage report, alarm reports speed report, etc., recorder health reports based on the operator's requested.
Solution Details

Key Features
8x 720P AHD / Analog cameras + 1 x 1080P IP camera Input, totally 9 channels Input

Store up to 2TBs of high definition recorded video

One 128GB SD card slot for backup

Internal G-sensor to detect vehicle collision or crash accident

GPS, 3G /4G, dual 5.8Ghz Wi-Fi antenna optional

A built-in VGA port for higher definition video output

Standard Ethernet Port for one extra IP camera or network connection

8 x alarm IO ports, 2 x RS232 ports, 1 x RS485 port and 2 x USB ports

8V ~ 36V wide voltage power supply, compatible with all kinds of vehicle power.

AHD Series Cameras



Super mini front view camera with dust-proof design

1.3Megapixel 960P AHD high resolution

2.8mm lens, horizontal angle of view 92°

Support D-WDR technology

Vibration-proof and tamper-resistant enclosure

Easy installation with a solid 3M sticker



Metal-cased mini housing internal camera

1.3Megapxiel 960P AHD High resolution

2.8mm /3.6mm lens optional with 12pcs IR LED

Support IR cut and infrared LEDs to record day & night image

Vibration-proof and tamper-resistant enclosure

Easy installation to ceiling or wall



Metal-cased IP67 waterproof back up camera

1.3Megapixel 960P AHD High resolution

3.6mm lens with a wide field of view

Support IR cut and infrared LEDs to record day & night image

Heating and anti-fog with hardened tempered glass

Vibration-proof and heavy-duty rugged housing



Metal-cased IP67 double-layer of aluminum alloy for double insulation

1.3Megapxiel 960P AHD high resolution

Mirror optional

Innovative design with 2.1mm lens and 2.8mm lens optional without dark corner

Side camera with 2.8mm lens to offer 92°view angle

Rearview back up camera with 2.1mm lens to offer >120°view angle

Ultra-clear and bright image in night vision with laser lights, IR range >20meters

Support D-WDR technology

Vibration-proof and tamper-resistant enclosure

Easy installation to ceiling or wall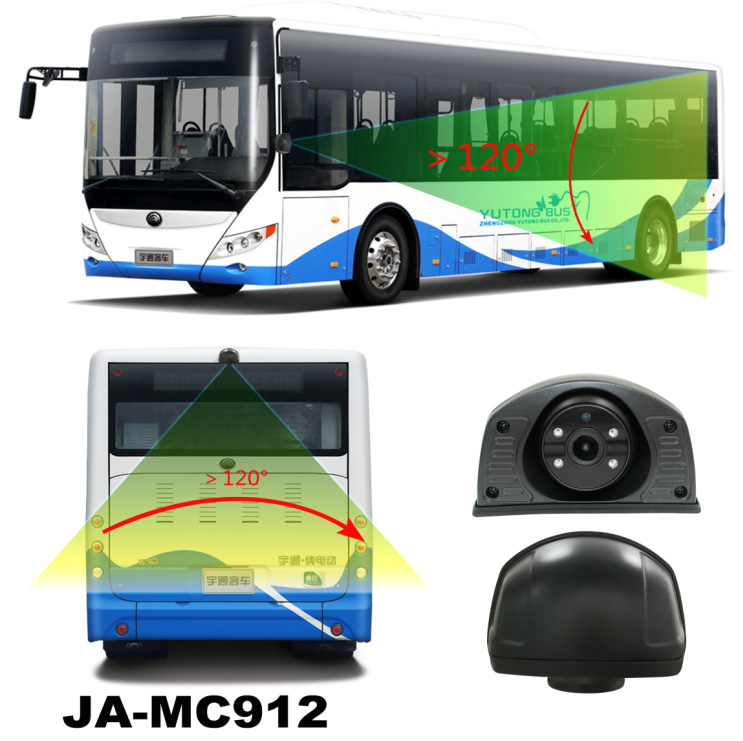 System Accessories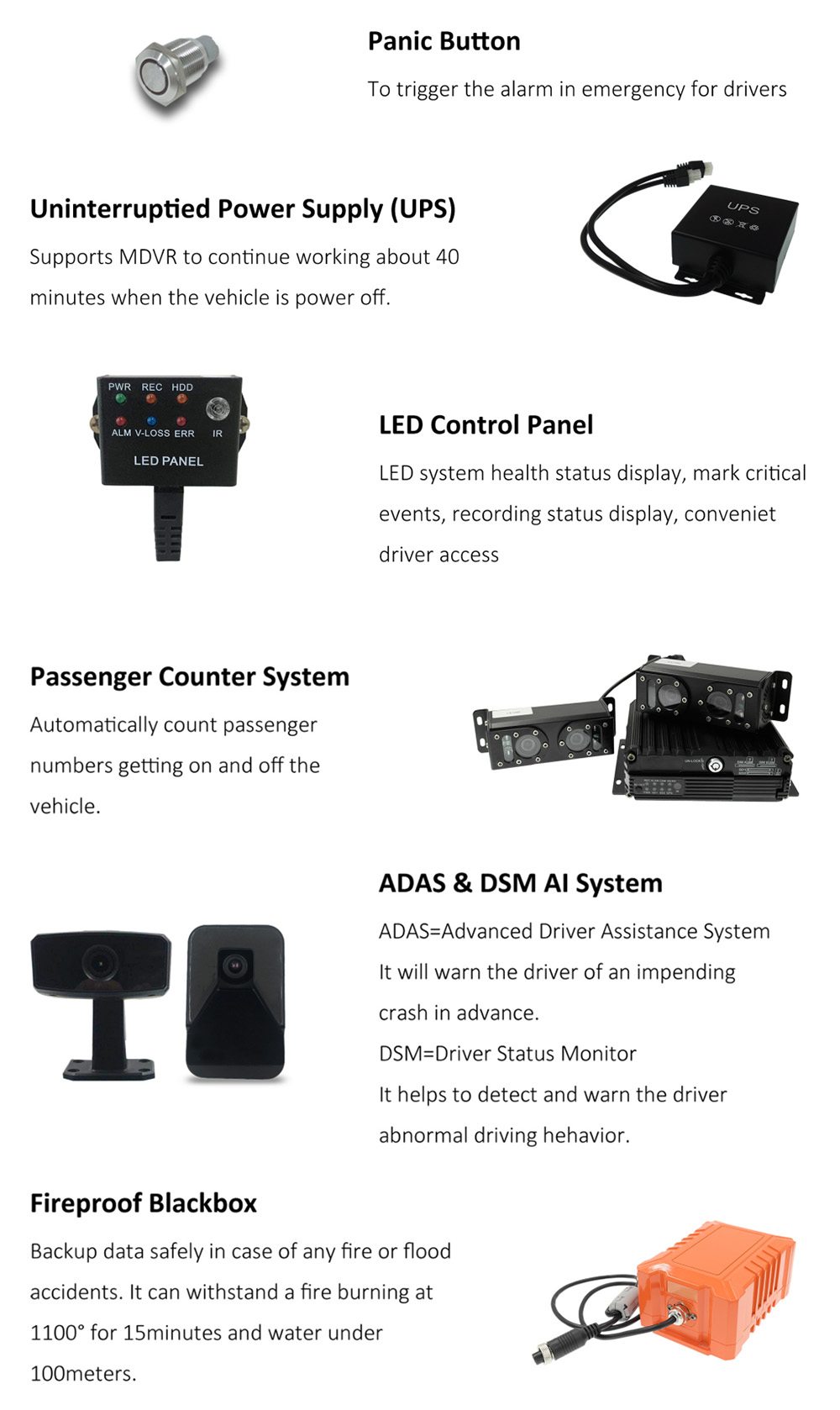 Software System
Recording Playback Software
ICarVisions' mobile DVR system saves recordings with their private protocol so the recording files can only be played back by MDVRPlayer software which developed by their own RnD team. After log in the software with a correct account name and password, then you will be able to playback the recordings, along with the vehicle GPS tracking history on the map.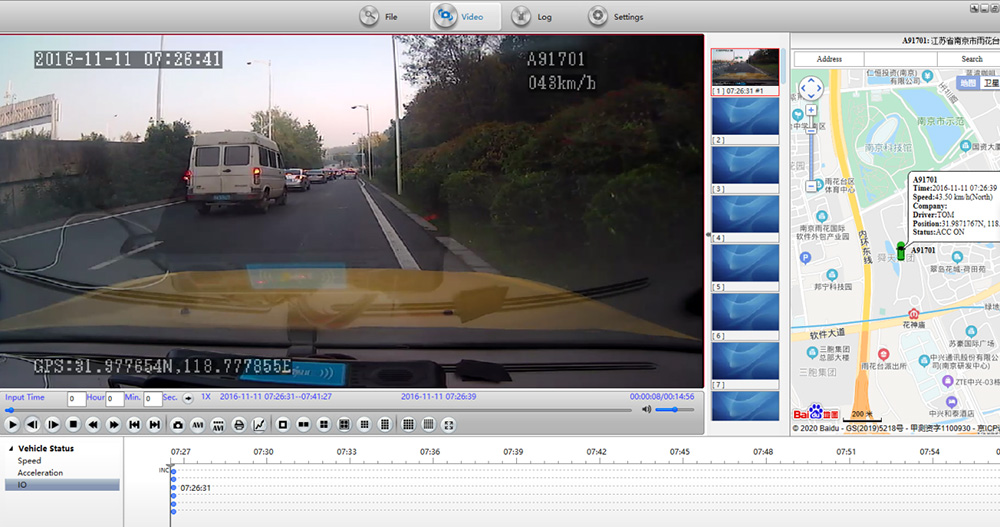 Besides the basic playing back recording function, other main features of this software support:
Merge and split recording files according to your own needs;

Converter the original special AVI format to standard AVI /MP4 format;

Choose single or multiple channels to faster / slow-off browse videos.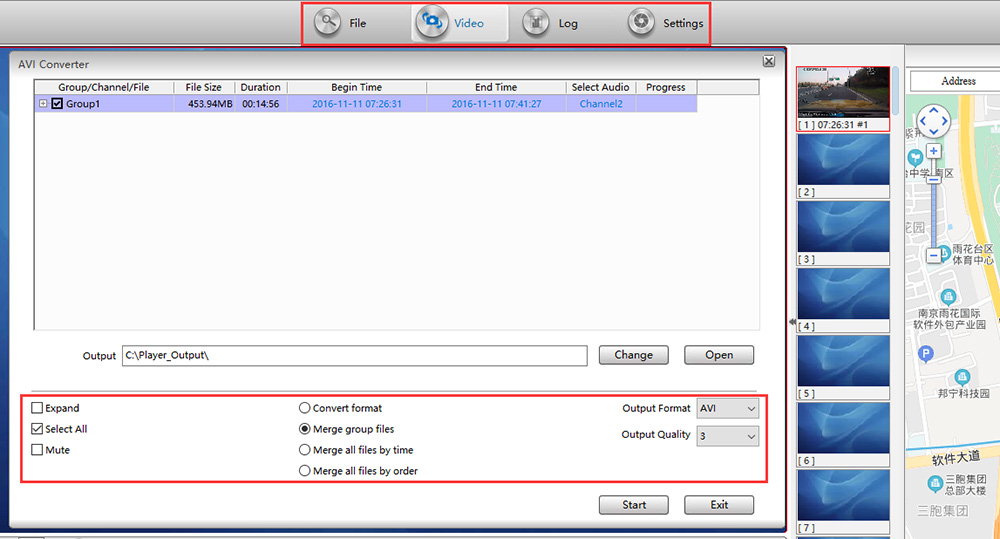 IVMS ( Intelligent Vehicle Management Software )
The newest IVMS V7 software system is designed and developed by our ICarVisions RnD team independently with our own complete independent intellectual property rights, which includes the new IVMS server software, new IVMS V7 PC, and web platform.
The IVMS server system consists of several cluster sub-servers, they are login server, gateway server, streaming media server, user server, WiFi download server, storage server, database server, and the web server.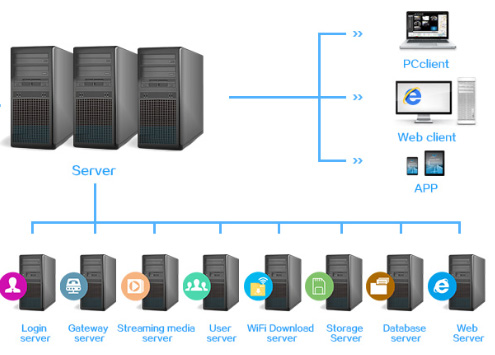 The IVMS cluster server system is designed for providing constant and uninterrupted application service for users to access to server-based resources in case any sub-server failed and the other sub-server server programs can continue working well without any affecting.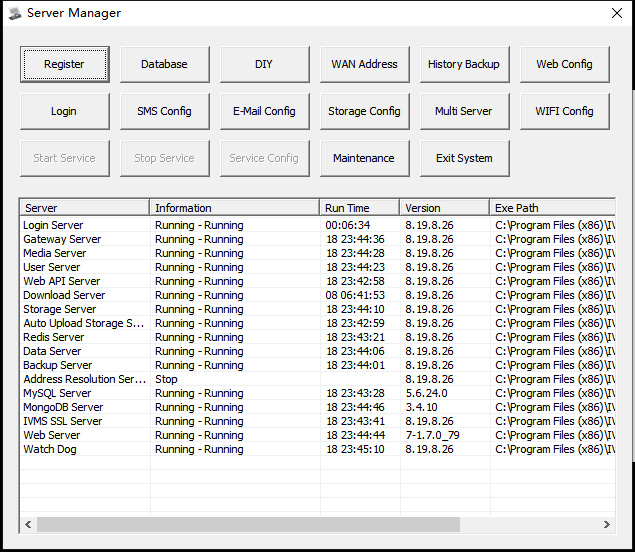 IVMS V7 PC client, web client, and mobile application are designed to enable users to have access to vehicle real-time video and tracking data 24/7/365 from mobile DVR system directly and easily.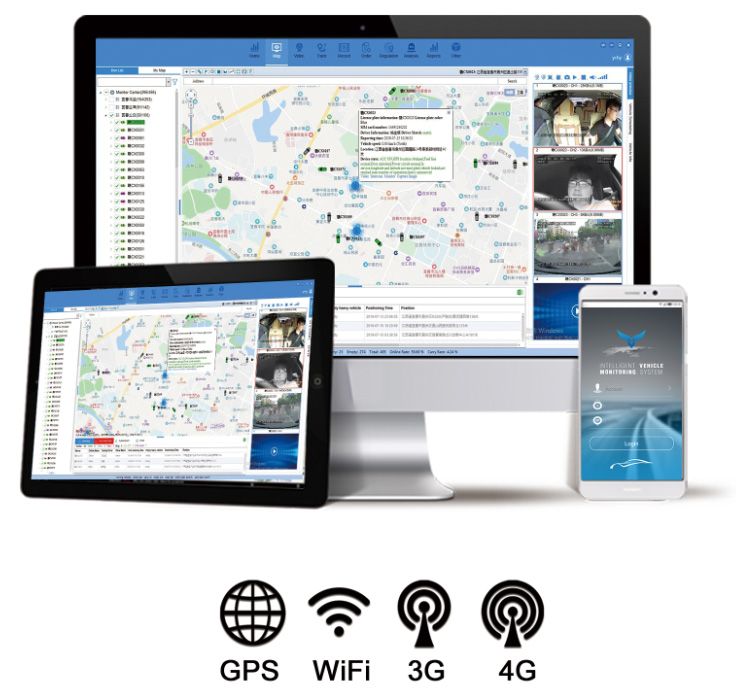 Besides the basic function to provide real-time video and audio, the IVMS platform can also support other multiple features and functions: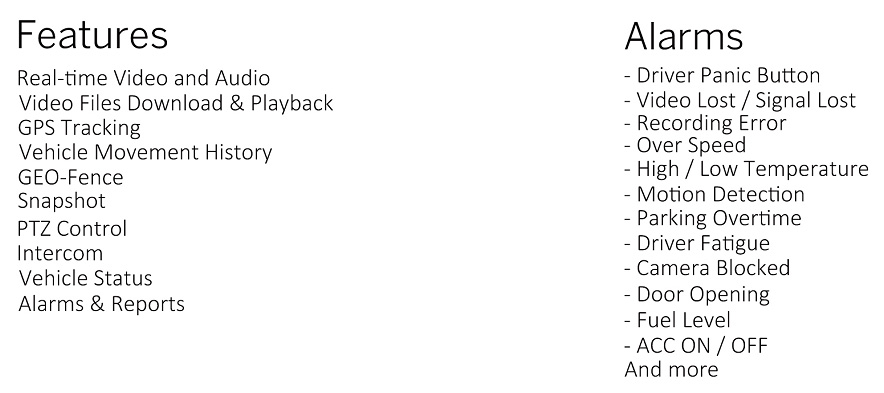 More importantly, all the software will be provided for users as free, and they can also enjoy lifetime server license maintenance service and software upgrading service.
Examples of IVMS Client Snapshots
IVMS Web client
IVMS Web client currently is compatible with Chrome and Mozilla Firefox browser.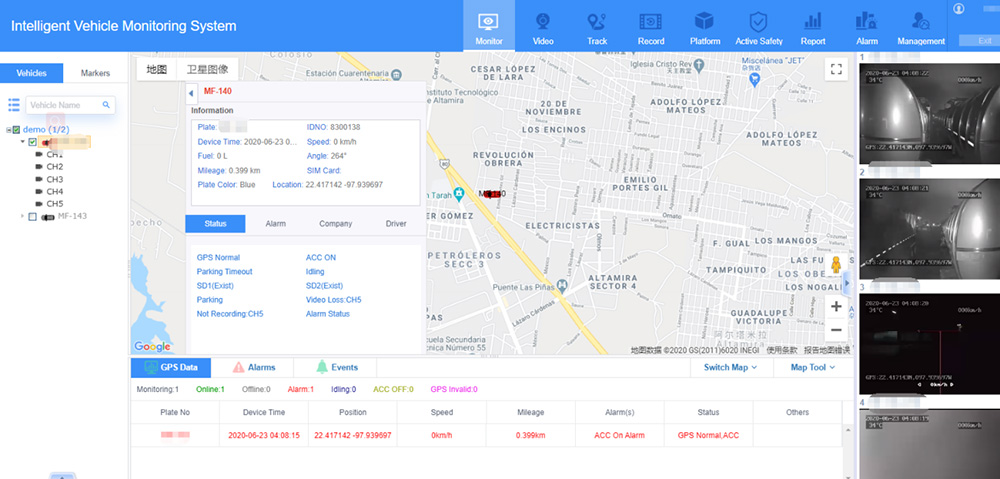 IVMS V7 PC Client
IVMS V7 PC client currently is compatible with Windows 7 and higher ( 32bit /64bit) version computer system.