Ai enabled surveillance solution for School Bus with telematics MDVR
With the development in CCTV technology, the solution of school bus has become more and more comprehensive, from merely transporting children to the vehicle which has been installed the security devices like Mobile DVR and cameras monitoring system. Location-based tracking, attendance assurance and real-time video surveillance of both interior and exterior of the vehicle are among the most discussed requirements for school bus safety, due to the risks regarding behavioural concerns of drivers and students while in transit. With the safety concerns in mind, educational organizations are adopting the newest security technologies like AI in their school buses to ensure the safety of driver and children.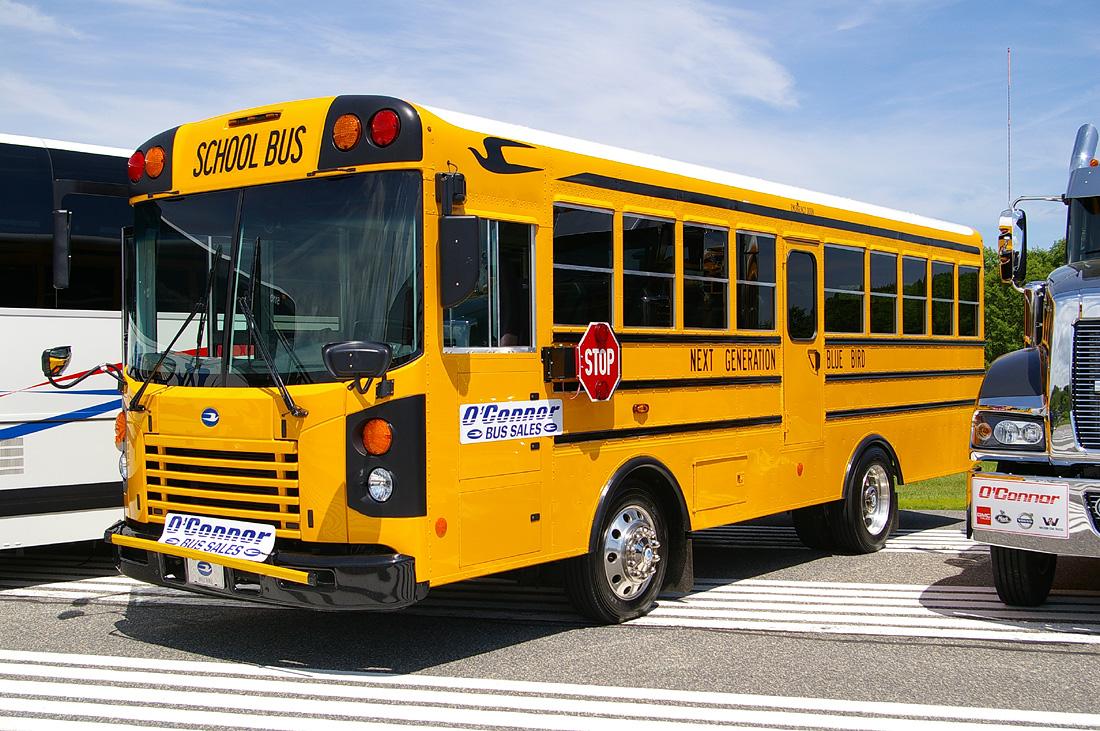 ICARVISIONS, as China's leading manufacturer and solution provider of vehicle surveillance device like Mobile Digital Video Recorder (MDVR) & Mobile Network Video Recorder(MNVR) & telematics platforms, we've been focusing in the vehicle surveillance industry for more than 10 years, we know how important the safety of school bus meant to all parties especially the parents, we've launched the new-generation product "all-in-one" JH4AN-HD, which has combined the AI technology and has been developed to enhance the safety when driving.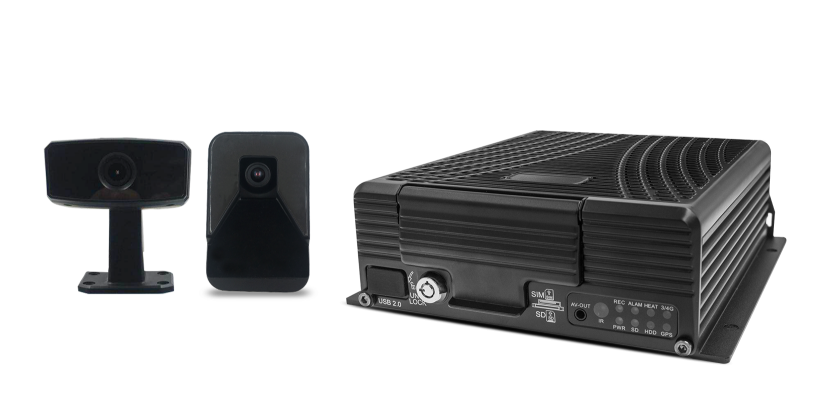 1. The functions of the mobile DVR surveillance solution for school bus:
The whole set including a MDVR with built-in AIBOX function for video signal analysis/streaming/storage + ADAS camera for the road ahead monitoring + DSM camera for the driver status monitoring + rearview camera for the school bus' rear side monitoring + inside vehicle camera for the school bus' inside area monitoring + in-cab camera for the school bus' in-cab area monitoring + drive panic button + RFID reader for student attendance monitoring + other optional accessories, this is a new product still in development, so more functions to be expected.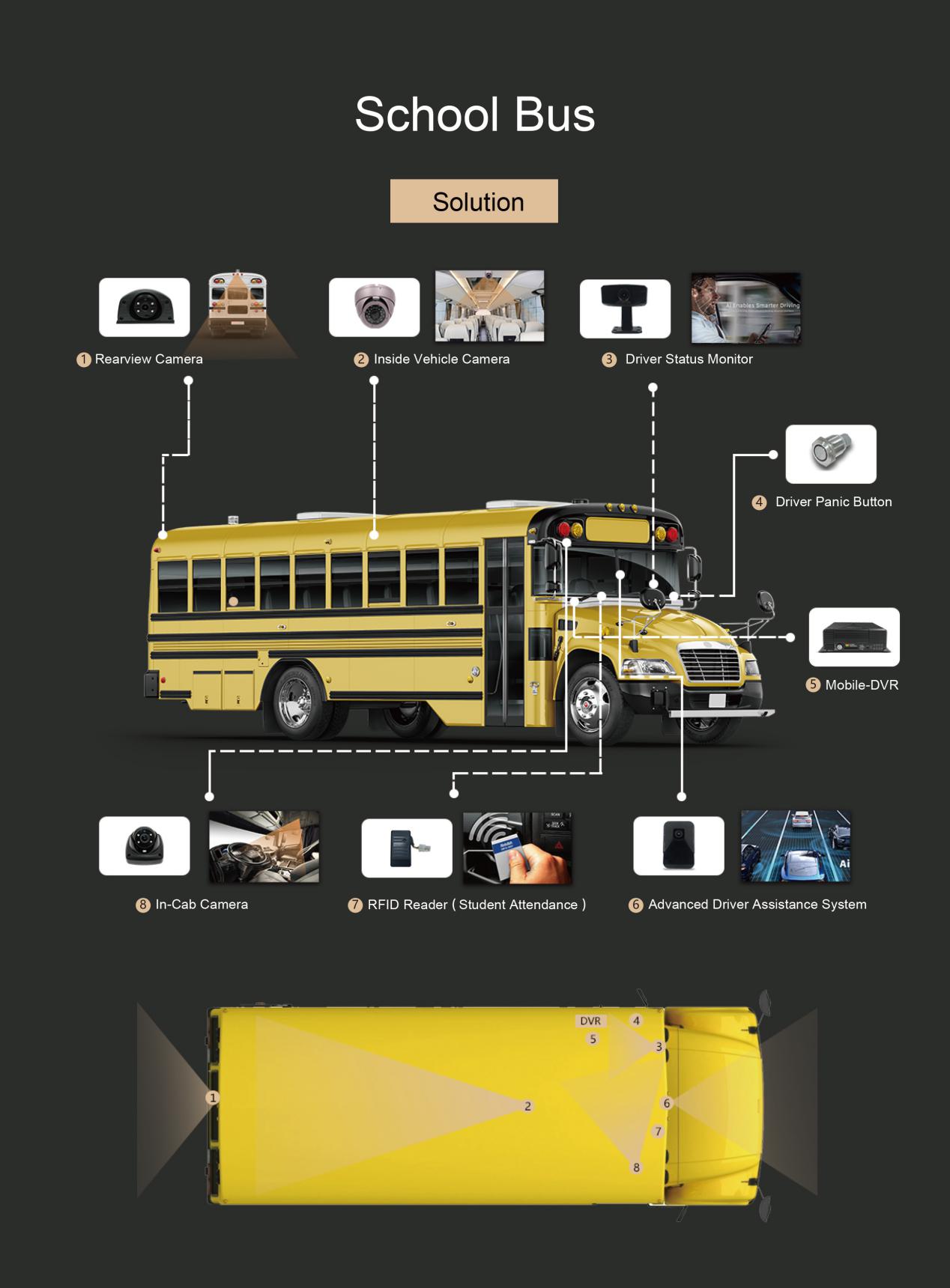 2. The main features of the mobile DVR surveillance solution for school bus:
AI:
DSM (JA-MC921):
Yawning Detection
Eyes Closing Detection
Smoking Detection
Making Phone Calls Detection
Distraction Detection
Driver Absence Detection
Camera Covered Detection
Wearing Glasses Detection
ADAS (JA-MC920):
Safe Distance Warning
Forward Collision Warning
Pedestrian Collision Warning
BSD (Optional):
Support 2 channels Blind Spot Detection cameras (front / right / left)
360° Panoramic Viewing System (Optional):
Install with 4 specific cameras (front, back, left, right)
Video-Input: support 2 channels 1080P AHD (DSM & ADAS) + 2 channels 1080P AHD /960P AHD /720P AHD /960H /D1 /CIF + 1 channel IPC (720P /1080P) Video input

Video Output: 3 Channels (Front Panel 3.5mm Jack, Rear Panel on 24pin I/O Port & VGA 1080P)

Audio Input: 4 Channels

Audio Output: 2 Channels (Front Panel 3.5mm Jack, Rear Panel on 24pin I/O Port)

Alarm Input: 8 Channels, Select Trigger for either less than 1VDC or greater than 5VDC

Alarm Output: 1 Channel, 12V output

Storage: Up to 2TB HDD/SSD and 1 SD card for backup(at 3G/4G/WIFI model option)

Internal G-Sensor + Gyroscope, with GPS, 4G FDD and Wi-Fi (5.8 GHz)

Anti-Vibration and Anti-Shock under acceleration of 40G (MIL-STD-810G standard)

Hard drive automatic heating start-up in cold weather

On-board UPS 8 seconds delay power-off for data protection

Operating temperature -40℃~80℃

8V-36V wide voltage power supply
3. The working theory of the mobile DVR surveillance solution for school bus:
The ADAS camera can alert the driver in advance before the collision, effectively preventing and alleviating the fatal traffic danger; the DSM camera analyzes the fatigue state and the distracted state in real-time by recognizing facial expression features and promptly alerts the driver. The core technology comes from independent research and development, with an international level of visual recognition algorithm engine, which is accurate and reliable.
When the ADAS camera detects the potential collision risk with the vehicle front, the vehicle distance is too close or the unconscious lane deviation, the system will remind the driver to take timely measures through the warning tone; the DSM camera can identify driver's fatigue driving, distracted driving, smoking, making phone calls, and other abnormal driving behaviour.
When the ADAS or DSM warning event is triggered, the warning information is transmitted to the Intelligent Vehicle Monitoring Management Platform (IVMS). Through the collected warning data of the driver and making in-depth driving behaviour analysis, it reduces the traffic accident rate, improves the operational efficiency for the school bus, and eases the burden for the educational supervision department.
Our goal: keep school children SAFE & give PEACE of MIND to parents & school.