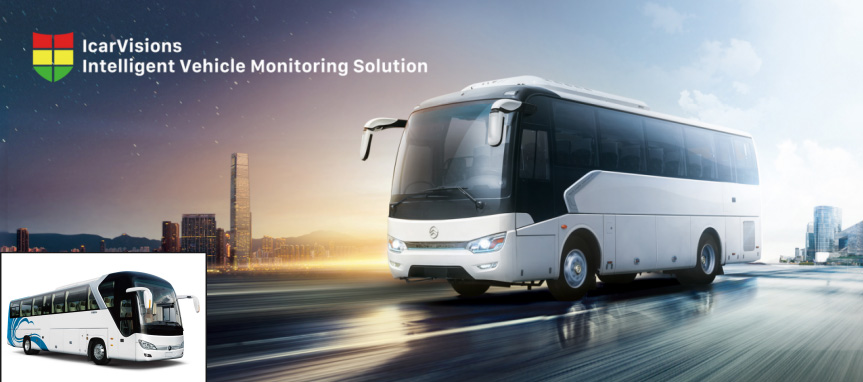 We ICARVISIONS
Based on more than ten years of dedication in vehicle surveillance industry and such brilliant achievement on multies practical applications, ICARVISIONS won a real higher reputation in this vehicle security supplying market compare to 99% of competitors, our standard mobile dvr systems are exclusively designed aim at dealing with mainstream requirements from transport industry.
With leverage of strong R&D power as being manufacturer, all our hardwares, firmwares and softwares are designed by our own invention patents, besides,we never stop provide customizable solutions to meet customers various specified needs.
Industry status and needs
With an increasingly prosperous from bus transport industry in modern times, it pose a big pressure on interior management of transport company and traffic administration of social security scope.

Originally, simple device -GPS positioning were mounted onto tour bus just for location tracking, without any surveillance data relevant with fatigue attention, collision warning, speed control, overload supervising, dispatch from center, thievery, midway emergencies and other kinds of accidents. Therefore the tendency is bringing obvious breakthrough for advanced solutions supplement which with the purpose of replace of that stereotyped solution.
Under the circumstances of 4G high speed wireless transmission, extensive applications have been covered, the crucial parts include real-time monitoring of video/audio, remotely supervise all activities from center,checking oil volum and record counting of passengers, timely alarm trigger and upload to server when emergency happen etc. All are with objective to create safe travel environment and to improve scheduling capabilities for vehicle management.
Overview of the solution
This industrial system is based on 1080P high definition hard disk mobile dvr recorder with 4 channels surveillance which embedded Hisilicon 3520 chipset, mainframe was designed with anti-vibration solid shell and high industry level internal structure which operated by advanced linux GUI system.. It is being powerful comprehensive solution by combine of solid hardware group ( MDVR, Vehicle Camera, vary functional accessories etc), high performance firmware and powerful platform for access data.
As being security system, all applications are linked with two main mission: prevention and emergency handle. All storage data will be evidence for any accidents analyse prior to power off, to prevent the occurrence of unnecessary dispute cases and to boost safety index from transportation environment.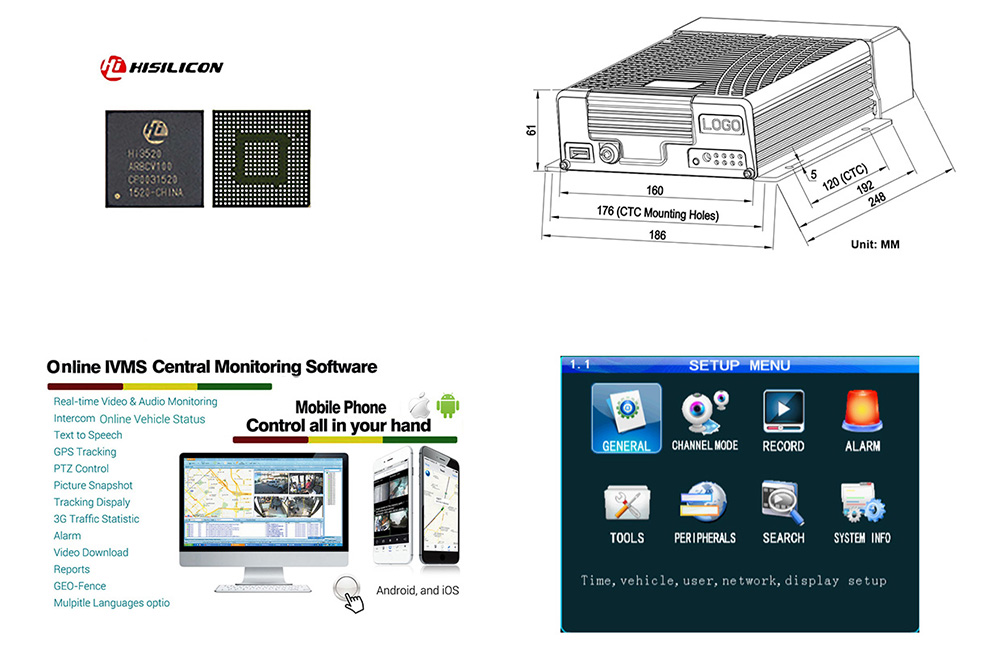 System setup diagram
The whole system is divided into three part of contents :
Front end device for surveillance data input

Server & networks for data transmission

Management platform for access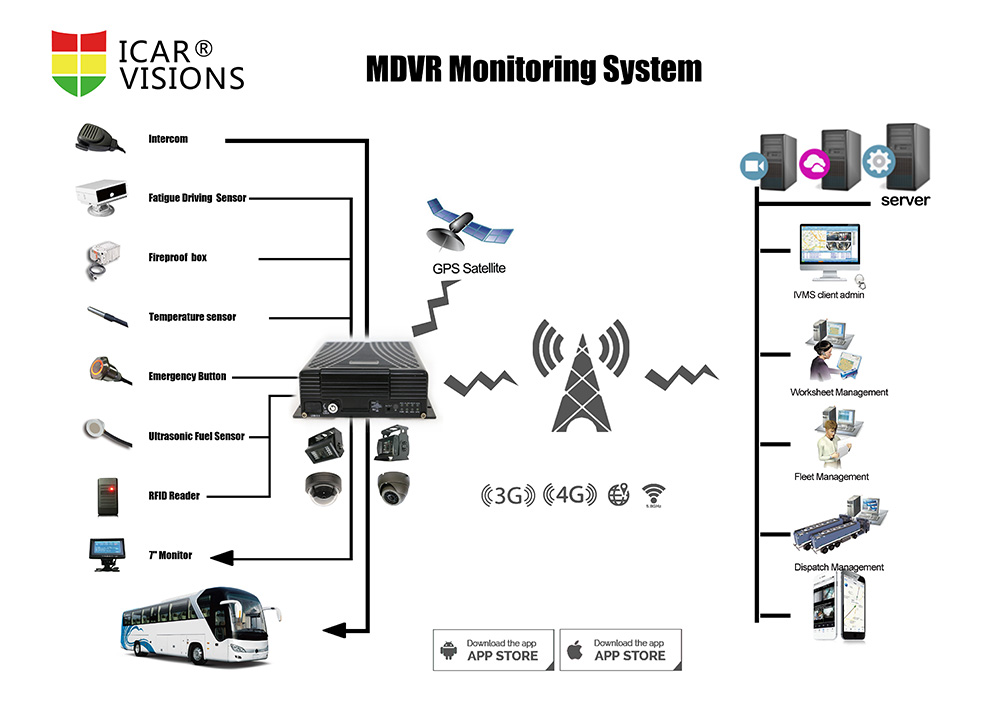 1.MDVR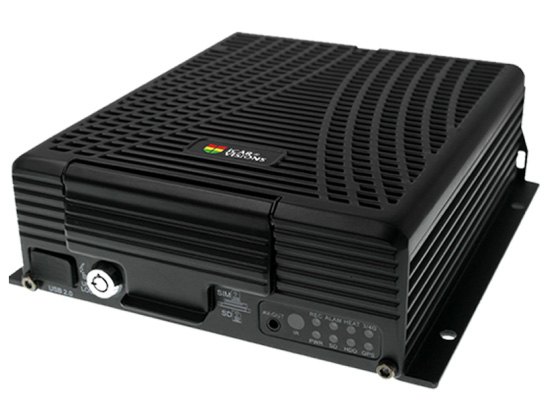 Hot sale solution for vehicle surveillance –
High level HDD Mobile DVR with sturdy shell –model JH4-HD-GFW
Key features:
Support 4 channel 1080P AHD camera with addtional 1channel 1080P IP camera input;
Support hard disk slot up to 2TB with 128G sd card backup;
Support 4G/3G/WIFI optional for real time GPS tracking &monitoring;
with 1 port for RS485, 2 ports for RS232 for sensors integration, with 1RJ45,2 USB;
With 8 channels alarm input & 1 channel output.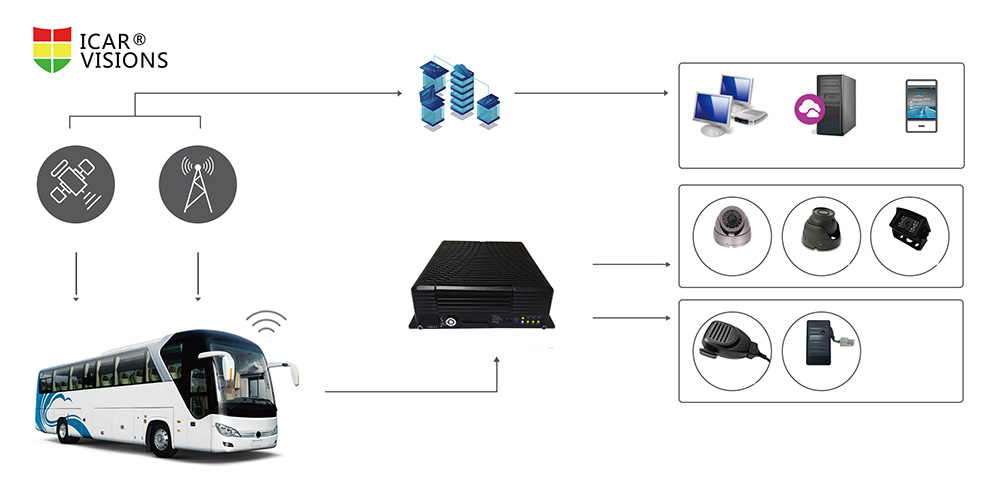 Outstanding functions:
Can connect additional one channels 1080P IP camera;

Support multi peripheral docking functions including fireproof blackbox, UPS, fuel sensor, temperature sensor, LED panel, RFID, panic button, intercom handle etc;

With safety locking design for hard disk protect and anti-shock feature.
2.Camera and main sensors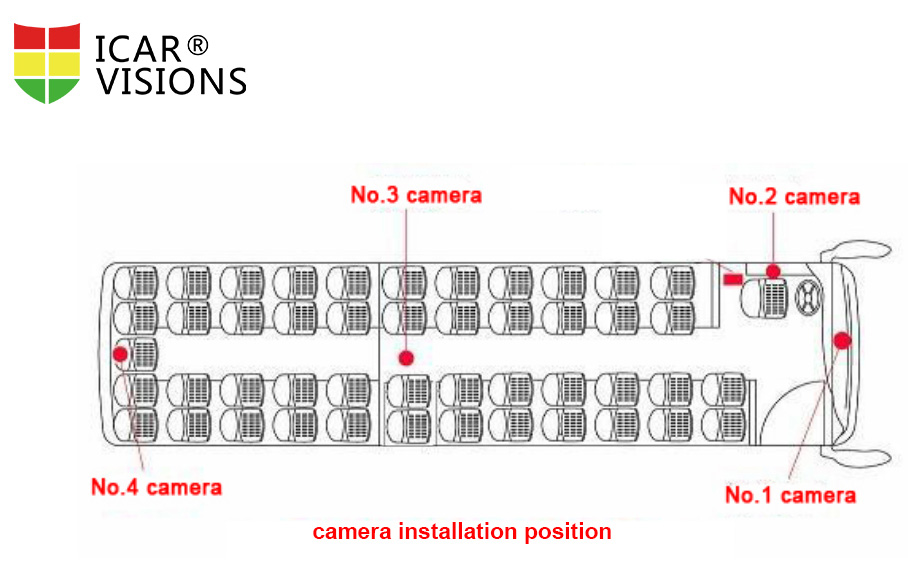 Dome IR camera for driver monitor and inside of vehicle
Key Features:




1.NVP2431H + 1/3" CMOS AR0130 image sensor,1280X1080=2.0MP Active pixels;

2.Metal-cased mini housing with standard fixed lens;

3. 3.6 / 2.8 mm lens optional ;

4.Support IR function,infrared LED range 10~15m;

5.Easy installation to ceiling or wall;

6.Support 12V DC ±10%,Low power consumption
MINI camera without IR for front view avoid reflect onto windshield



NVP2431H + 1/3" CMOS AR0130 image sensor;

Dust-proof design,without IR;

Millions of Analog high-resolution(1.3 Mega pixel);

4.Support D-WDR,Video effects can be optimized;

F2.8mm wide angle lens,horizontal angle of view 92°
Rear camera for backward monitor
Features:




1.NVP2431H + 1/3" CMOS AR0130 image sensor,

2.Metal-cased mini housing with standard fixed lens;

3. IP67 Waterproof & Vandalproof;3.6mm / 2.8mm lens optional ;

4.Support IR function,infrared LED range 10m;

5.Easy installation to ceiling or wall;

6.Support 12V DC ±10%,Low power consumption.
LED control panel
This accessory will be extended to a specific location for quick and convenient viewing of major working states of the device to prevent loss of surveillance data which caused by these actions, including power supply, video recording, hard disk, alarm, infrared, video loss and abnormal status.

This Fireproof Black Box connects to MDVR, withstand a fire burning at 1100℃ for 15 minutes and water under 100 meters. Vehicle crashes sometimes result in fires. With this fire resistant design, the data could be recorded safely in the fire or flood, to prevent the subsequent crash investigation from getting much more difficult and less productive.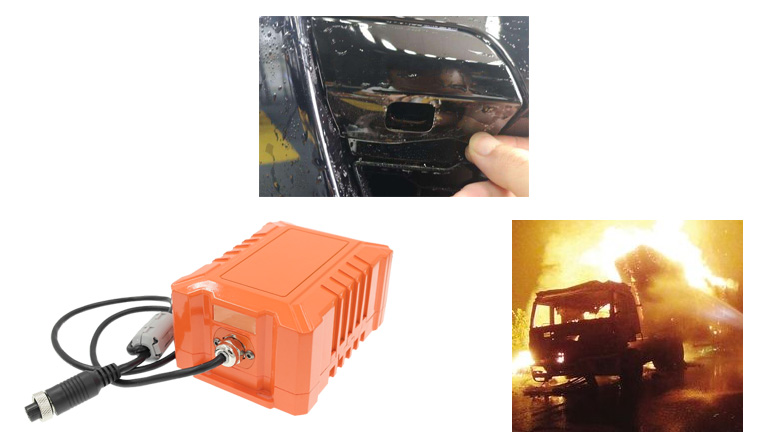 Disaster Resist
Fire

Shock

Extrusion

Flood

Electric magnetic

Freezing temperature
Features
---
Fireproof (1100℃-15min) and Waterproof (100M)

With super speed USB2.0 port

Fit for Aviation Round Connector M12-5PIN

Solid state eMMC memory core

To connect with PC, DVR, EDR, T-BOX

Easy data recover after disaster
Fuel sensor for oil management

——> Advantage of Ultrasonic fuel level sensor

High accuracy:

Resolution of sensor's measurement for fuel height is 0.1mm.And its measurement accuracy is ±0.5%. It keeps higher accuracy even in highest or coldest outside environment.
Excellent stability:
Being different from direct-contact measurement like float-type,pressure-type,magnetic sliding-type, untrasonic fuel level sensor adopts non-contact measurement, which can avoid pollution and corrosion from fuel and keep stability in a long period of time.
Easy installment and maintenance:
Users only need to install the sensor probe on lower surface of fuel tank,don't need to change its original measurement system or punch hole for it. Its original fuel meter operates as usual.
——> Technical parameters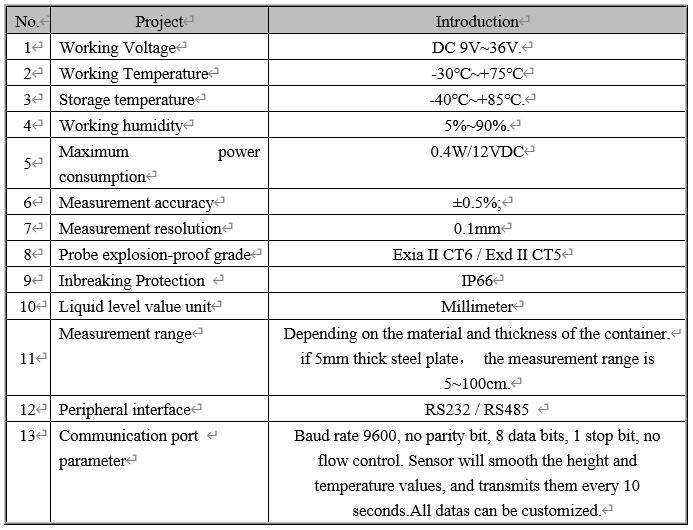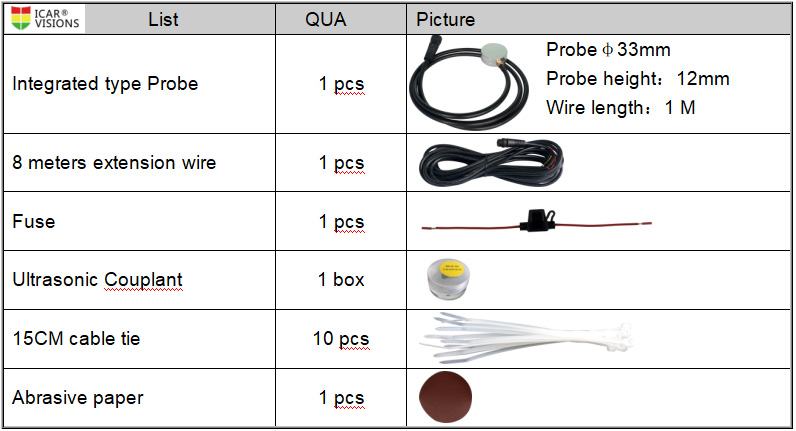 ——> Application range
The ultrasonic fuel level sensor is used for digital recording vehicle refueling, to prevent driver stealing oil , avoid the waste of resources, improve operational efficiency, and improve the traffic safety, strengthen the operation and management level.
This sensor is applicable to various types of vehicles ,especially for long-distance buses/coach/
Tour bus.
——> Installation of Ultrasonic Fuel Sensor and Mobile DVR
Cable connection===>client software setting==> device setting of mdvr==>monitor data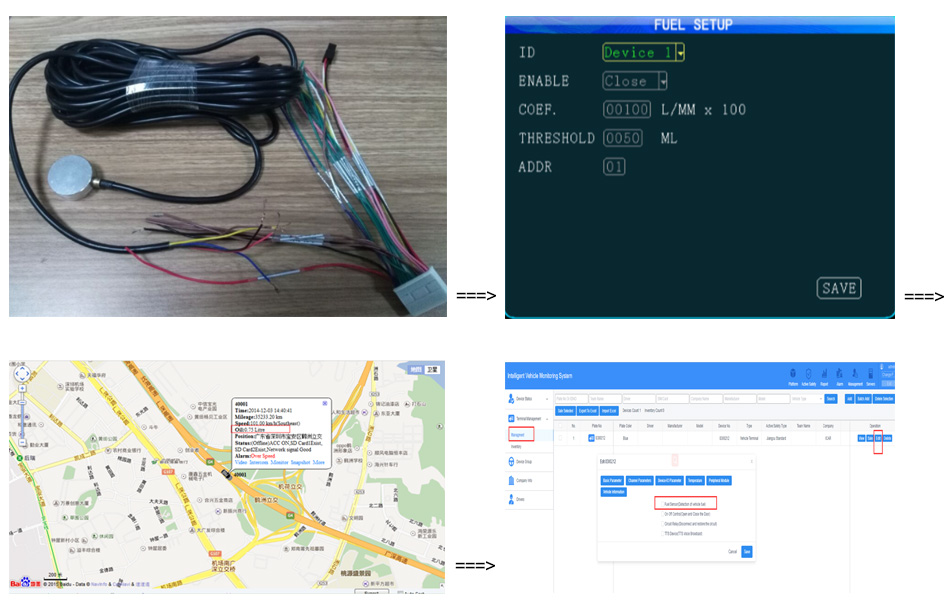 3.Monitoring from PC and mobile based on server setup
Intelligent Vehicle Monitoring System (IVMS) is a centralized management, monitoring and high-level system on a wireless network based on proprietary protocols and mini-label protocols. Based on high-quality, high-efficiency centralized and distributed network management, IVMS is based on network transmission of multimedia information such as video, audio and data, and performs real-time monitoring, GPS positioning, video storage, vehicle scheduling and alarm warning for users.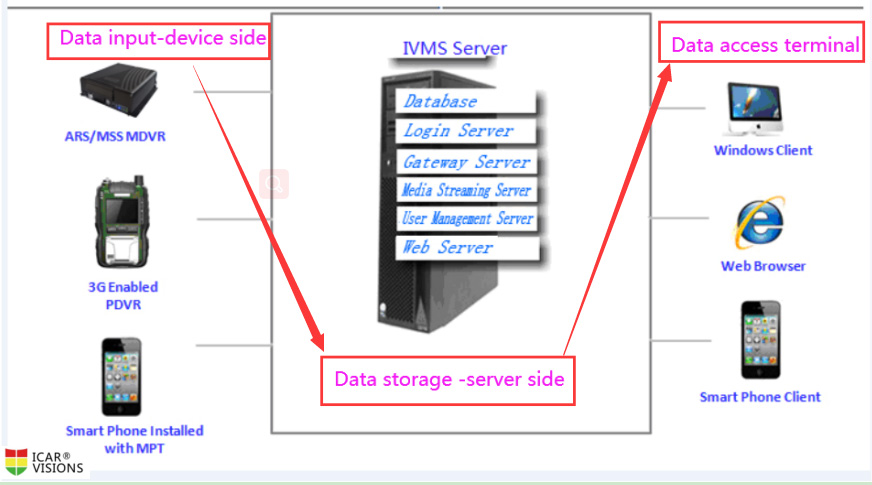 The IVMS Server Network can support up to 50,000 vehicles monitoring,covering all following functions:
Vehicle information management system

Quickly locate and track vehicles quickly via GPS information, displays real-time vehicle status display online and statistical interpretation of data collected

Alarms and Alerts information statistical functions

Real-time remote audio and video surveillance

Real-time vehicle front end image capture function

Two-way voice intercom, vehicles broadcast function

Pan Tilt Zoom (PTZ) remote control function

Vehicle's historical tracking playback function

Remote video search, download and playback capabilities

Depending on the configuration program, the storage server automatically snap pictures, automatic recording, occur after alarm linkage, automatic SMS and mail to notify the user Alarm Linkage (Emergency button alarm, Video signal alarm, Unauthorized unlock alarm, Hard disk-error alarm, Over speed alarm, Motion detection alarm, Long idling time alarm, Temperature alarm, GPS signal lost alarm, IO alarm (custom), Electronic map lock alarm.

Assets Report Description

iPhone and ANDROID mobile smart phone Client Support
Multi wifi download for data from different parking spots
Application: Multi-wifi feature is used for freely download video data by using local WIFI links when coaches arrive at different stopping spot during the journey, so as to facilitate timely management of vehicle safety data.
Configuration: After Log in the user of admin and add a new download site. (The download site is unique), Add WIFI download Server. (Set your IP correct).
If server did map port (6601-6612) and the new WIFI download server in the same LAN, user need to map the 6610&6609 ports to the IP of WIFI download server. If the main server and WIFI download server in different network, then need to set "LAN Address, WIFI Address(Device), Address(Device)2" according to WIFI download server.