What you may think about when talking about school bus? As parents, you may wonder" Whether my kids are safe? What are my kids doing?" Like school, you may care" if the students are in a safe environment? If the driver is driving properly without fatigue driving or drunk driving?" If unluckily an accident happens on a school bus, the police may ask"whether the school bus has record of over speeding and overloading, is there any evidence are kept?" Installing a 4G Mobile DVR could clear all those doubts and provide all parties a convenient way to access what's happening in the school bus.
Icarvisions offers a wide range of mobile DVR to meet different customers' needs. No matter the size of your fleet, or the type of your vehicles, you can always find a tailored solution from us. In this article, you will get a clear understanding of the school bus monitoring with our 4ch high resolution 4G Mobile DVR-JH4-HD.
JH4-HD series are 4CH hard drive Mobile DVR with GPS, 3G/4G and Wifi optional. It c support 4CH 720P AHD cameras +1CH 1080P IPC. The maximum memory of the hard drive can reach 4TB. With 3G/4G and the compatible IVMS software, it offers a live video streaming of the inside and outside of school bus.
1. Main features of Icarvisions 4g mobile DVR:
4 x 720P AHD / 960H / D1 / HD1 / CIF + 1 x IPC (720P / 1080P) , support 960P AHD camera

Built-in 1 x POE(12V) Ethernet Port

Accept HDD/SSD up to 4 TB Storage, and 1 SD card (up to 128GB) for backup(at 3G/4G/Wi-Fi model option)

Internal G-Sensor, with GPS, 4G FDD and Wi-Fi (5.8 GHz)

WIFI automatic download

Anti-Vibration and Anti-Shock under acceleration of 40G (MIL-STD-810G standard)

Hard drive automatic heating start-up in cold weather

Onboard UPS 8 seconds delay power-off for data protection

Operating temperature -40℃ ~ +80℃

8V-36V wide voltage power supply
2. Main features of our IVMS software:
Real-time video & audio monitoring,

GPS, car tracking,

GEO-Fence,

Voice intercom,

Driving route and status record,

PTZ control,

Fuel volume detection,

Video search and download

Generating reports
3. What can be achieved from the whole system:
Real-time video monitoring
From IVMS, parents and monitoring centre can get live video of the inside and outside of school bus
Voice monitoring
Vehicle-mounted with DVR can do voice recording 4 Channels(up to five channels)
GPS information
From IVMS, the monitoring centre can easily access school bus status, route, fuel, speed, location, parking and driving, etc.
2-way voice speaking
Through the intercom, the driver can talk with control centre at any time.
Online help via the emergency button
If there is an emergency, driver can press SOS button to ask for help. The alarm message will be sent to monitoring centre at once.
Video data storage
All video and voice data are stored locally on DVR either by SD card or HDD. When necessary, the user can download videos remotely through IVMS software and store at computer.
Generating reports
The system also provides users with accurate data analysis and detailed data report, which can be exported by the need of different parties.
4. How does the whole system work?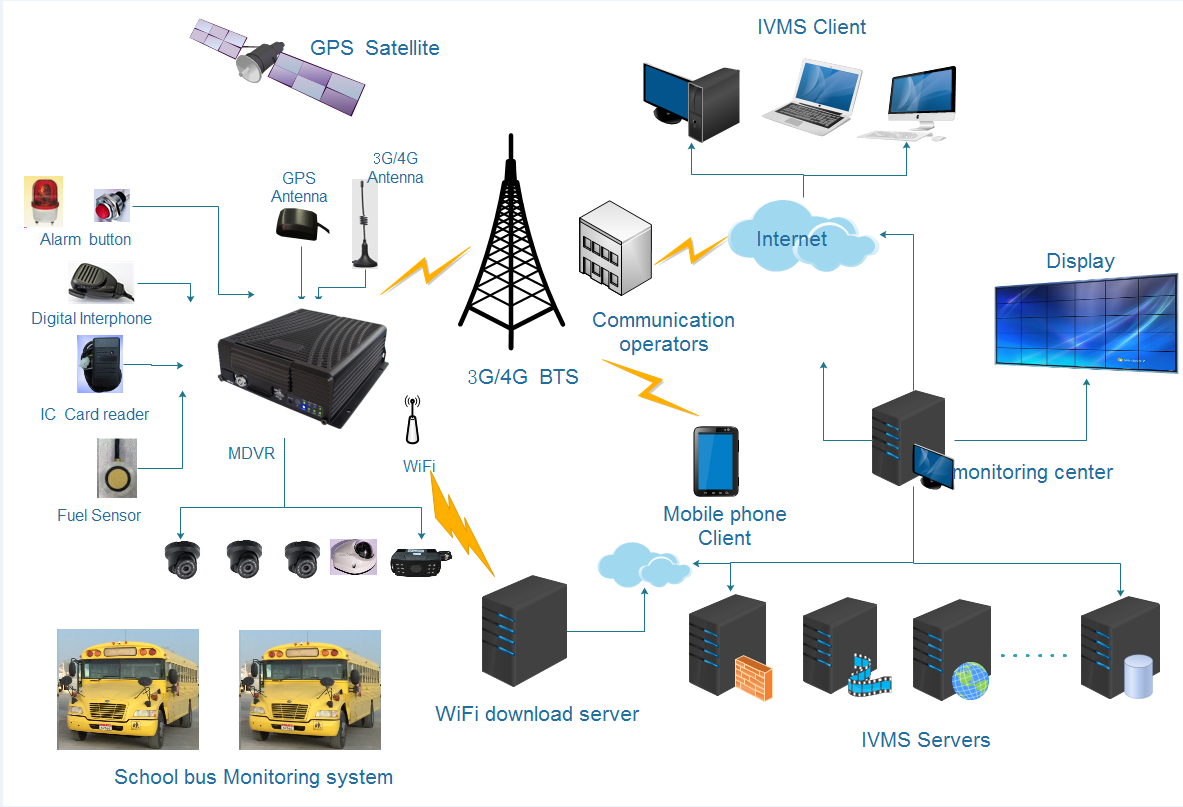 5. Detailed cameras layout