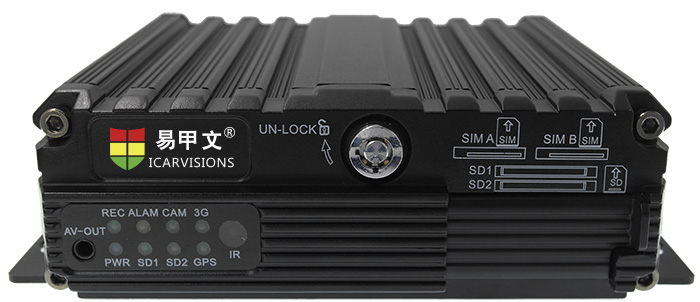 Mobile DVR Model: JS2-HD-GWW (GPS+3G+5.8G WIFI)
Product Features:
4 channels synchronized A/V recording and playback

Channel - 4 x 720P AHD or 4 x 960H / D1 / HD1 / CIF + 1 x IPC (720P / 1080P) ,Can connect & record up to (5) five cameras simultaneously

Secure Recording to Lockable 2 SD Cards - up to 512GB each

Built-in GPS - records location and driving route

Network - Support 3G and Wi-Fi (5.8 Ghz )

WIFI automatic download

On board UPS 8 seconds delay power-off for data protection

Click here to view our Mobile DVR cameras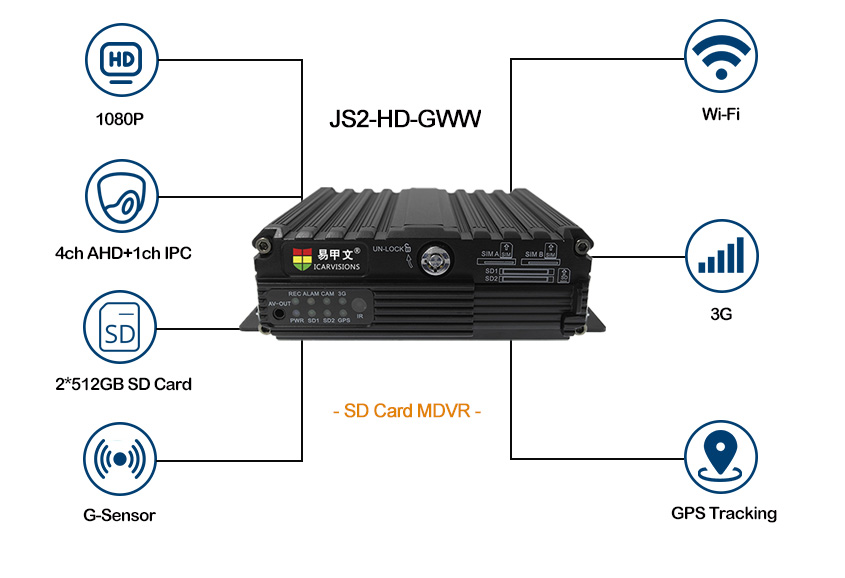 Product Description
ICARVISIONS JS2-HD-GWW Mobile DVR / Car DVR (with 3G, GPS, WiFi) for vehicle real time monitoring, applied with car cameras used for vehicle monitoring in bus, taxi, school bus, truck, police car, tour bus, tanker truck, escort car etc. Operated with Client Software IVMS (Intelligent Vehicle Management Software) to realize fleet management online, and achieve a full range of car monitoring functions such as real time video & audio monitoring, GPS, car tracking, GEO-Fence, voice intercom, car temperature, alarms customized , driving route record, PTZ control, fuel volume detection, video search and download, generating reports, etc. APP <icarview> is available for mobile phones in Android and iOS system.

Product Video
JS2-HD : Your next H.265 SD Card Mobile DVR
Accessories

Related solutions
Cargo Van Vehicle monitoring System Solution
Order model
with 3G / 4G, GPS, WiFi modules optional, according to different demands.

GPS: For map, location and route tracking

3G / 4G: For real-time video and monitoring

Wi-Fi: For automatically downloading video file
| | |
| --- | --- |
| Order Model | Description ( Module optional ) |
Our rugged, high quality mobile DVRs are ideal for monitoring a wide range of vehicles:
It's designed for various vehicles management, and widely used in buses, coaches, car, construction machinery, taxis, lorries, fire trucks, ambulances, passenger vehicles, etc.

Spec Sheet Download
JS2-HD Spec Sheet
PDF
Excel