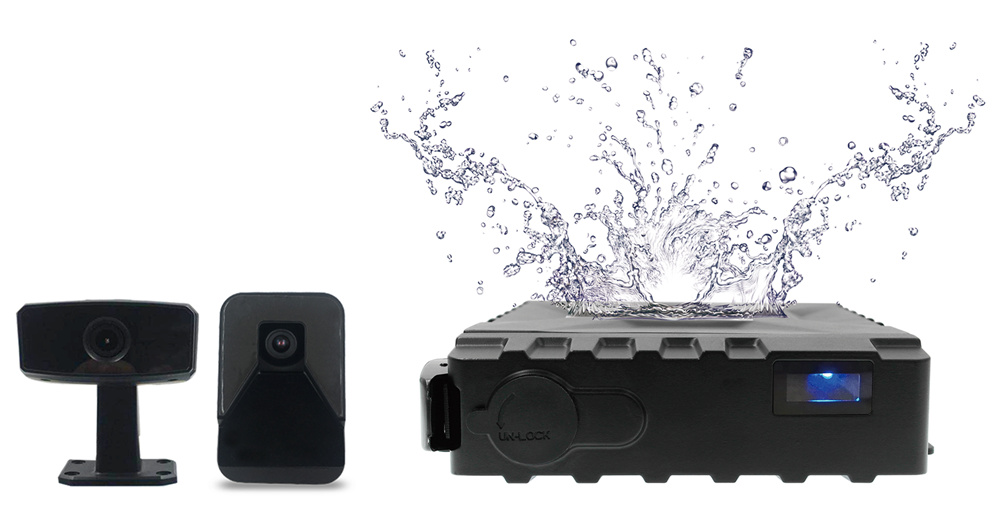 Model: JH0AN (GPS+4G/5G+WIFI)
Product Features:
Waterproof & Dustproof IP67.

Hand-size Dimension: 38 * 146 * 155 mm.

Up to 5 channels A/V recording, 4 x 1080P AHD + 1 x 1080P IPC.

Support SSD and SD card (up to 512 GB) storage.

On board UPS 8 seconds delay power-off for data protection.

Built-in an integrated 3-axis G-SENSOR + 3-axis gyroscope (a total of 6 axes), to detect and trigger.

the alarm of rapid acceleration, harsh braking, crash and sharp cornering.

8V~36V wide voltage power supply.

Click here to view our Mobile DVR cameras.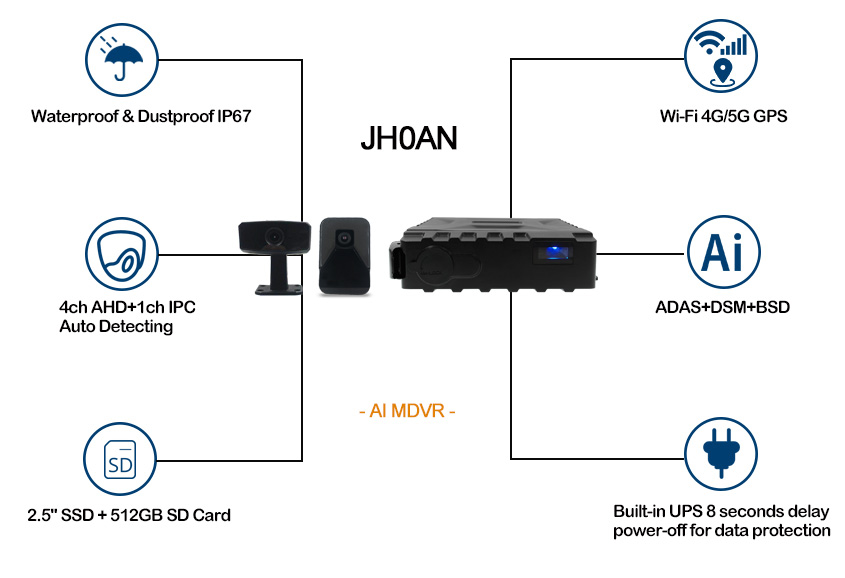 Product Images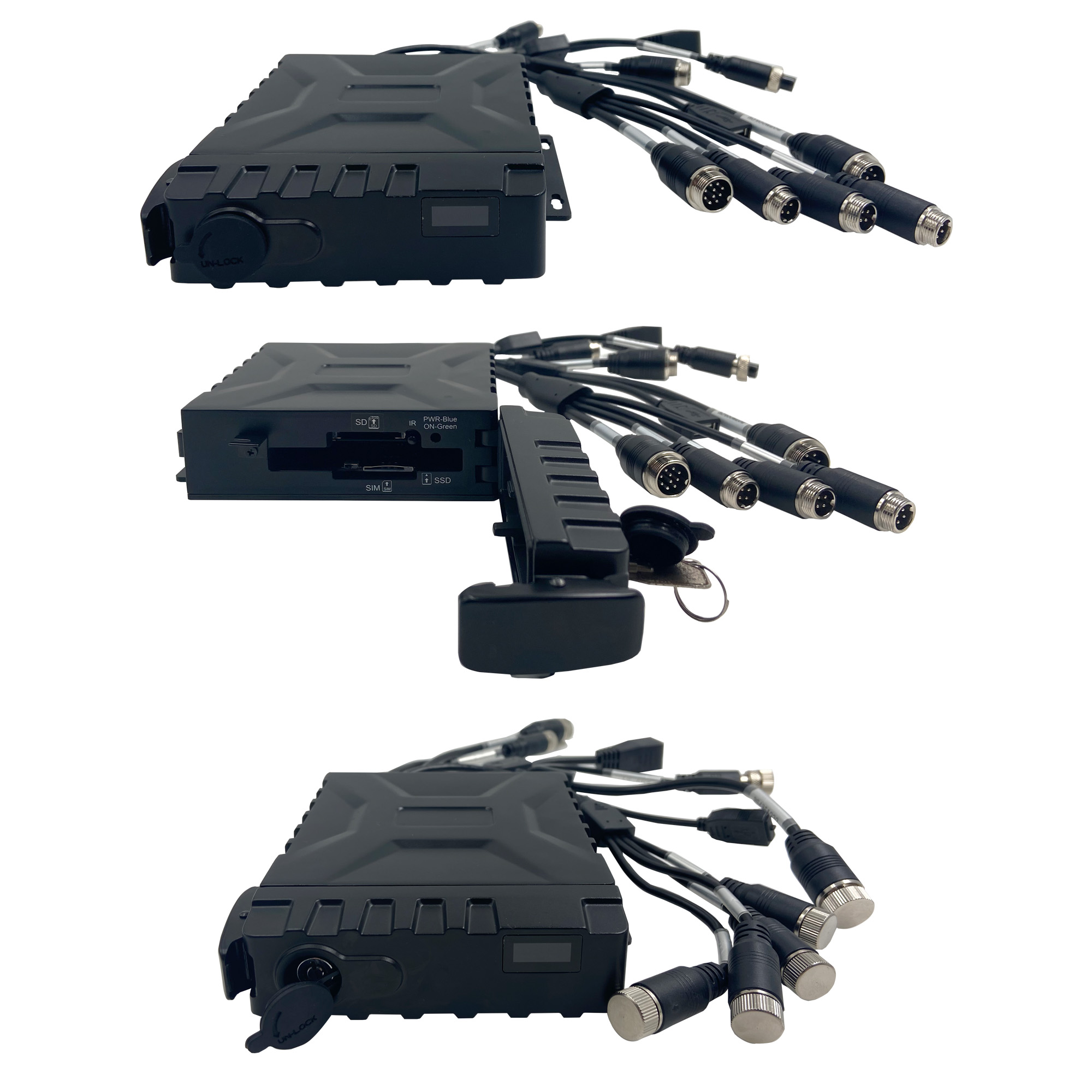 Product Description
ICARVISIONS introduced the new H.265 Mobile DVR JH0AN (telematics system) that supports AI (ADAS & DSM &BSD), multiple scenarios with emphasis on IP67 Waterproof & Dustproof and its mini-sized design.
JH0AN intelligent video terminal all-in-one is a smart device with high cost performance and high functional scalability that integrates vehicle-specific HD hard disk video recorder, driving record, ADAS, DSM, and BSD. It can be connected to 4 channels of 1080P/960P/720P AHD analog HD + 1 channel of IPC (720P/1080P) network camera.
The product uses a quad-core high-speed AI processor, a built-in Linux embedded operating system, and combines the most advanced H.265/H.264 video codec, 4G/5G network, GPS positioning, WiFi and other technologies in the IT field. Electric protection technology, and vehicle wide voltage design all in one.
When the forward-looking ADAS camera detects the potential risk of collision with the vehicle in front, the vehicle is too close, or the unintentional lane departure, the system will remind the driver to take timely measures through a warning sound; the internal-view DSM camera can identify the driver's fatigue driving and distracted driving, Smoking, making phone calls and other abnormal driving behaviors.
When the BSD blind spot monitoring camera detects that there is a potential collision risk in the front and right blind spots, the AI intelligent algorithm in the device host analyzes the alarm level (level 1, level 2, and level 3), and reminds the driver to take timely action through a warning tone Measures.
When an ADAS, DSM, BSD early warning event is triggered, the picture or video of the dangerous moment can be directly uploaded to the platform through the terminal device; while reducing the traffic accident rate, the driver can conduct in-depth driving behavior analysis through the collected early warning data To improve operational efficiency for the fleet.
New H.265 Mobile DVR, supports Mining Truck and Ferry (Waterproof & Dustproof)
ADAS (Advanced Driver Assistance System)
Monitor and record the front road safety: Lane Departure Warning, Safe Distance Warning, Pedestrian Collision Warning, Forward Collision Warning, etc.
ICARVISIONS and Anti-speeding technology: ADAS
DSM (Driver Status Monitor)
Supervising and recording driver's behaviour: Smoking, Sleepy, Phone call, etc.
ICARVISIONS Anti-speeding technology: Driver Status Monitoring
Click on information to learn more about ADAS&DSM:
How does ADAS help drivers drive safely?
Why is Driver Status Monitoring(DSM) System helpful to prevent fatigued driving?
BSD (Blind Spot Detection)
Detects objects in the vehicle's blind spot and trigger the audible warning to both driver and outside.
Click on information to learn more about BSD:
Why we need AI-MDVR with BSD and 360 Panoramic View for Vehicle Surveillance?
Anti-speeding technology - The Blind Spot Detection
About usage scenarios, JH0AN supports Mining truck and Ferry.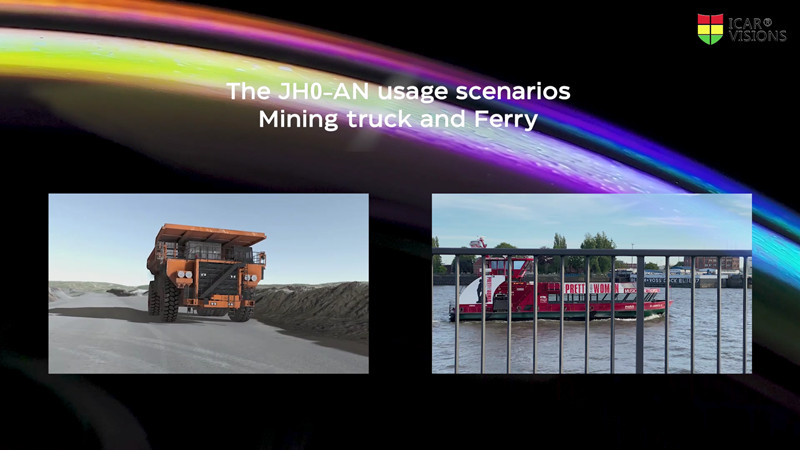 Order model
with 4G / 5G, GPS, WiFi modules optional, according to different demands.

GPS: For map, location and route tracking

4G / 5G: For real-time video and monitoring

Wi-Fi: For automatically downloading video file
| | |
| --- | --- |
| Order Model | Description ( Module optional ) |
| JH0AN-GFW | GPS+4G+WIFI |
| JH0AN-GFW (5G) | GPS+5G+WIFI |
| JH0AN-GFN | GPS+4G |
| JH0AN-GFN (5G) | GPS+5G |
| JH0AN-GNW | GPS+WIFI |
| JH0AN-GNN | GPS |
| JH0AN-NNN | Recording Only |
Our rugged, high quality mobile DVRs are ideal for monitoring a wide range of vehicles:
It's designed for various vehicles management, and widely used in buses, coaches, car, construction machinery, taxis, lorries, fire trucks, ambulances, passenger vehicles, etc.

Spec Sheet Download
JH0AN Spec Sheet
PDF
Excel