Model: JS2AN-HD (GPS+4G+WiFi)
Product Description
The JS2AN-HD is a highly functional SD Card AI MDVR designed for on-board vehicle recording. The supports AI (ADAS & DSM &BSD), It has four ports to record upto four cameras simultaneously and an ethernet port to connect an IP camera.
The product uses a quad-core high-speed AI processor, a built-in Linux embedded operating system, and combines the most advanced H.265/H.264 video codec, 3G/4G network, GPS positioning, WiFi and other technologies in the IT field.
The footage records onto two SD cards each with a 512GB capacity giving you a total of 1024GB of storage capability. With a solid and compact build, the JS2AN-HD is vibration-proof, installation-friendly and combines powerful functions together with a stable performance.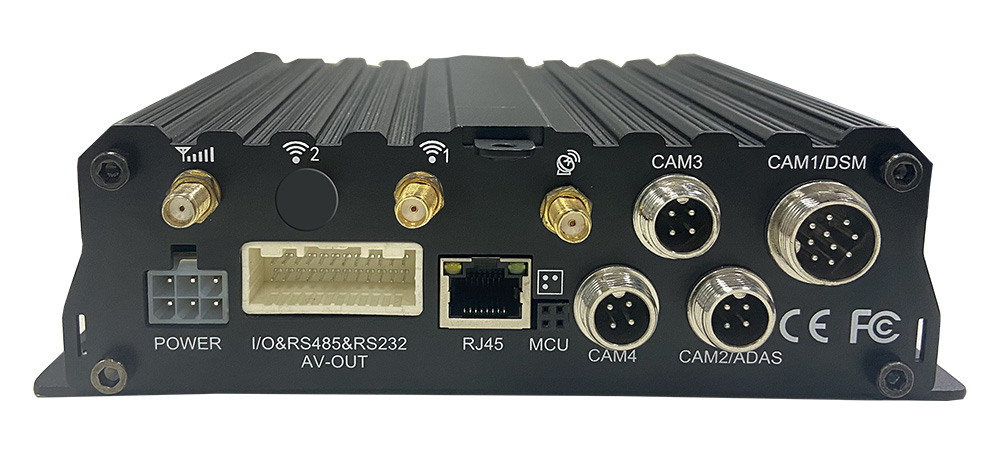 Related solutions
Cargo Van Vehicle monitoring System Solution
Order model
with 3G / 4G, GPS, WiFi modules optional, according to different demands.

GPS: For map, location and route tracking

3G / 4G: For real-time video and monitoring

Wi-Fi: For automatically downloading video file
| | |
| --- | --- |
| Order Model | Description ( Module optional ) |
| JS2AN-HD-GFW | GPS+4G+WIFI |
| JS2AN-HD-GFN | GPS+4G |
| JS2AN-HD-GNW | GPS+WIFI |
| JS2AN-HD-GNN | GPS |
| JS2AN-HD-NNN | Recording Only |
4 channels synchronized A/V recording and playback

Option1: Support 2 channels 1080P AHD (DSM & ADAS) + 2 channels 1080P AHD / 960P AHD / 720P AHD / 960H /D1 /CIF + 1 channel IPC (720P /1080P) Video input

Option2: 4 channels 1080P AHD / 960P AHD / 720P AHD / 960H /D1 /CIF + 1 channel IPC (720P /1080P) Video input

Support ADAS+DSM (optional)

Note: User need Wi-Fi module to calibrate DSM & ADAS

Support Blind Spot Detection cameras (front & right, optional)

Secure Recording to Lockable 2 x SD Cards - up to 512GB each

Built-in GPS - records location and driving route

WIFI automatic download

On board UPS 8 seconds delay power-off for data protection

Click here to view our Mobile DVR cameras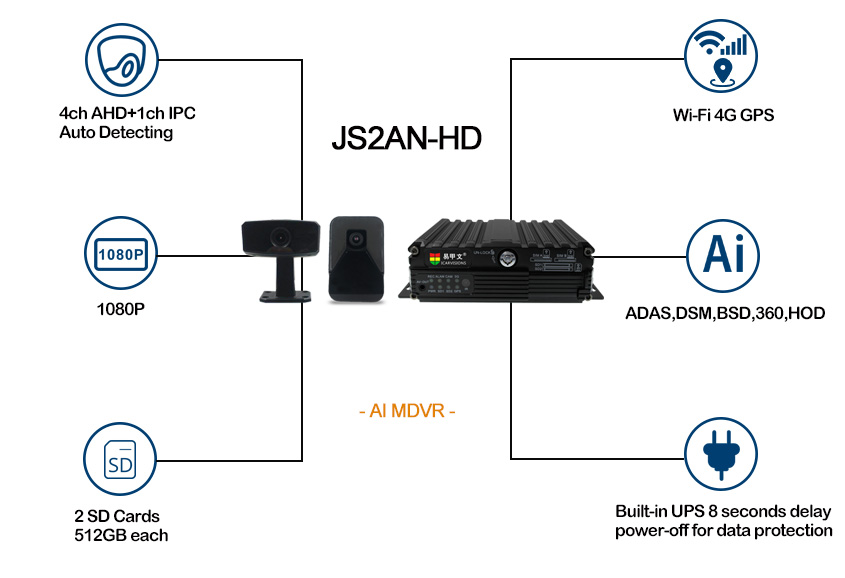 Why do we need this AI SD CARD 4CH MDVR from ICARVISIONS?
Have you ever been troubled by these questions?
Where to locate the ideal fleet management solution?

How to monitor anomalies in people, vehicles, and on the road?

How can we swiftly furnish proof in the event of accidents or thefts?
......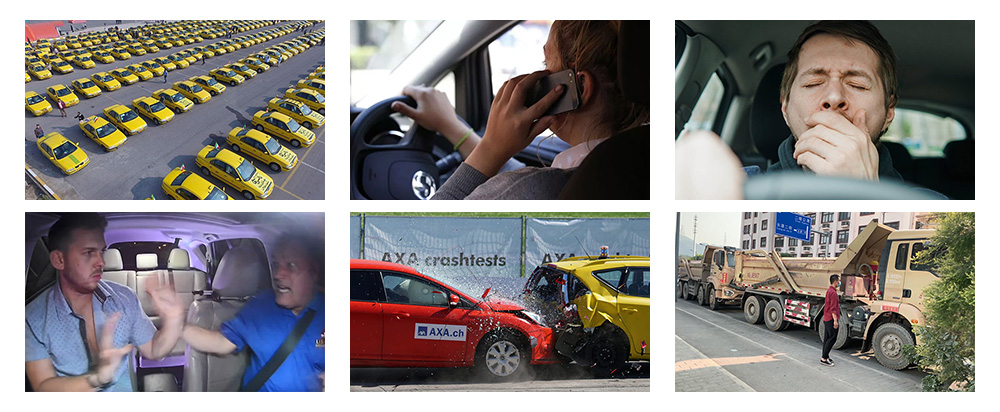 ICARVISIONS' AI 4-channel SD CARD MDVR, with multiple optional features, addresses your concerns!
Included in this MDVR are algorithms such as ADAS, DSM, BSD, and others. Its primary objective is to provide reliable vehicle management solutions for various vehicle types, including small cargo vans, minibuses, private cars, ambulances, taxis, law enforcement vehicles, fire trucks, and more. This guarantees safety and greatly enhances operational efficiency for our esteemed customers.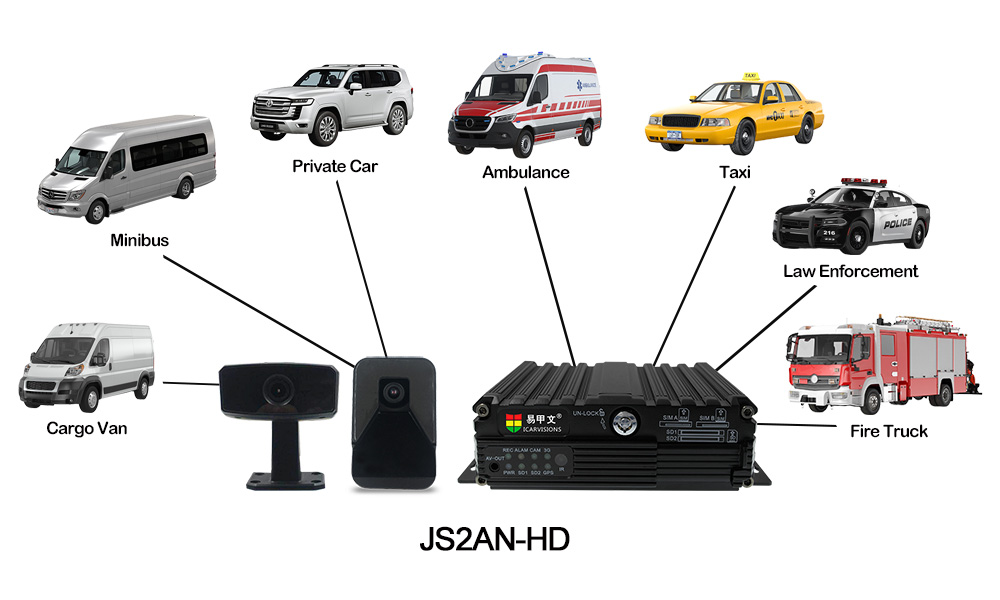 1. ADAS (Advanced Driver Assistance System) & DSM (Driver Status Monitor) Function
The driving assistance safety early warning system is based on leading deep learning technology, and has both forward anti-collision warning and driver driving behavior monitoring functions to reduce traffic accidents and save lives for the fleet.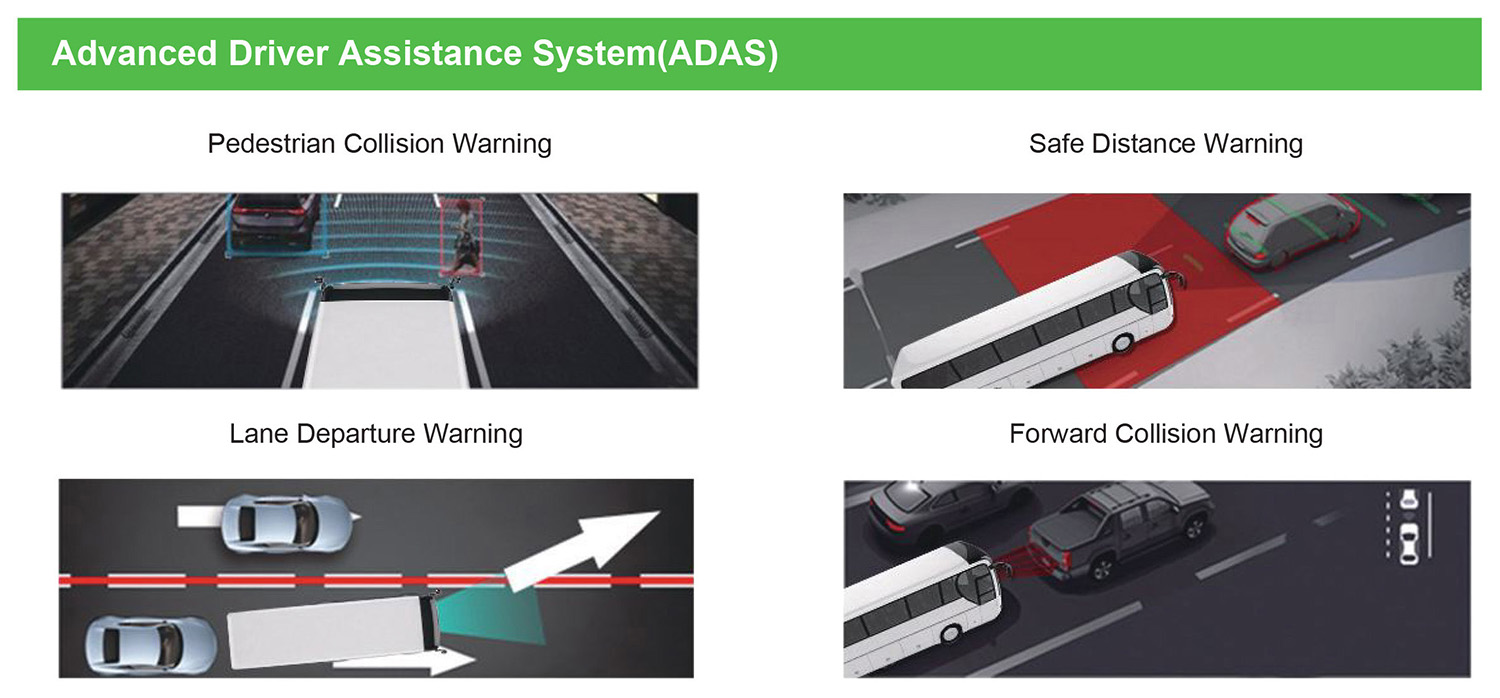 When the forward-looking ADAS camera detects the potential risk of collision with the vehicle or pedestrian in front, the vehicle is too close, or the unintentional lane departure, the ADAS system will remind the driver to take timely measures through a warning sound.
ICARVISIONS and Anti-speeding technology: ADAS
The internal-view DSM(Driver Status Monitor) camera can detect and alert the driver's fatigue driving and distracted driving , Smoking, making phone calls and other abnormal driving, contributing to safe driving and effortless fleet management.


In addition, the driving state of the driver will be uploaded to the IVMS (Intelligent Vehicle Monitoring System) Software platform in the form of video, so that the manager can view remotely, remind the driver timely, and take further training and other measures to strengthen the management, to reduce the probability of accidents.

ICARVISIONS Anti-speeding technology: Driver Status Monitoring
2. BSD (Blind Spot Detection) Function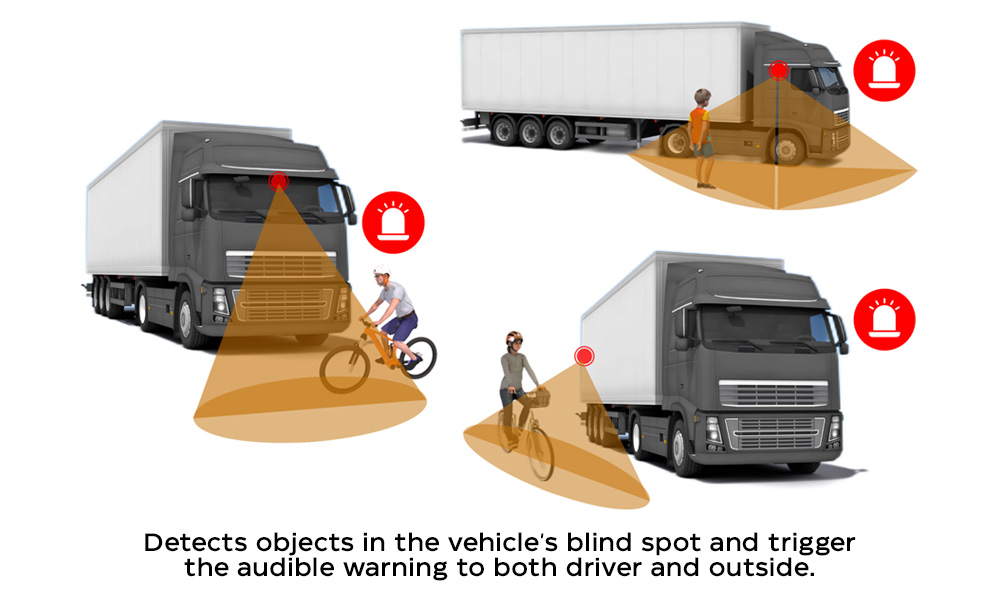 When the BSD(Blind Spot Detection) blind spot monitoring camera detects that there is a potential collision risk in the front and right blind spots, the AI intelligent algorithm in the device host analyzes the alarm level (level 1, level 2, and level 3), and reminds the driver to take timely action through a warning tone Measures.
Anti-speeding technology - The Blind Spot Detection
3. IVMS Software Platform
When an ADAS, DSM, BSD early warning event is triggered, the picture or video of the dangerous moment can be directly uploaded to the platform through the terminal device; while reducing the traffic accident rate, the driver can conduct in-depth driving behavior analysis through the collected early warning data To improve operational efficiency for the fleet.