1. What is the main difference between SD card MDVR & HDD MDVR ?
The main function of a Mobile DVR is to record video and store the data in storage medium. So we design SD card Mobile DVR and HDD Mobile DVR according to the data medium. SD card MDVR JS2-HD model can support 2pcs SD card (each 256 GB Max) olny. But HDD Mobile DVR can support HDD / SSD but also can support 1 pc SD card.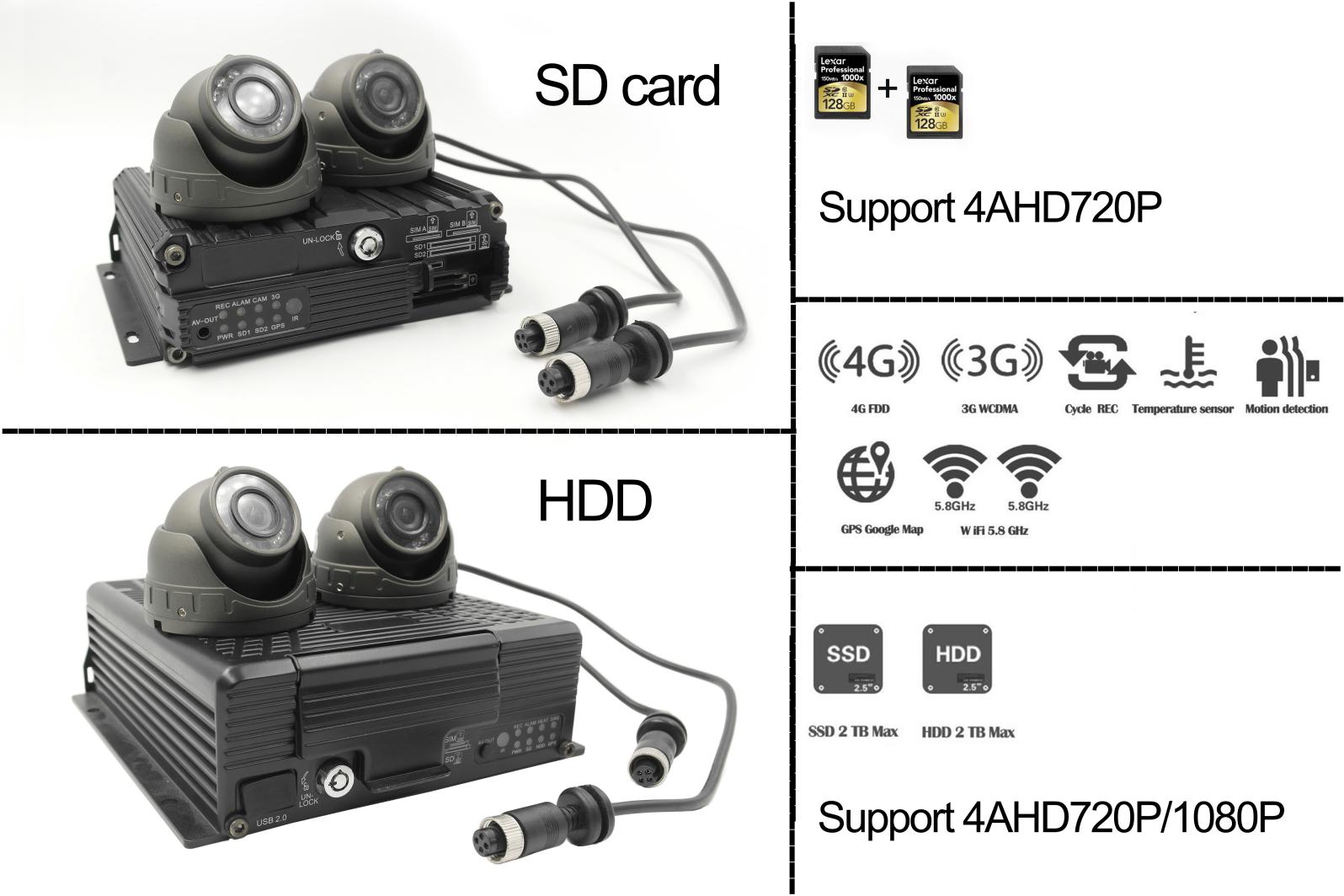 2. The difference video restore capacity for HDD MDVR & SD card MDVR
HDD MDVR can support 4 channels 1080P video input at least. SD card MDVR people would like to use 4 channels 720P video input olny. Usually 1 hour video from a camera will take around 900 MB space. So if we install 1 TB hard disk for a HDD Mobile DVR it can store the video for about 290 hours with 4 cameras. 256 GB SD card Mobile DVR can store the video around 72 hours with 4 cameras. So the client can choose what they need according to the difference application from difference vehicles.

3. What kind of vehicles may need HDD Mobile DVR or SD card Mobile DVR ?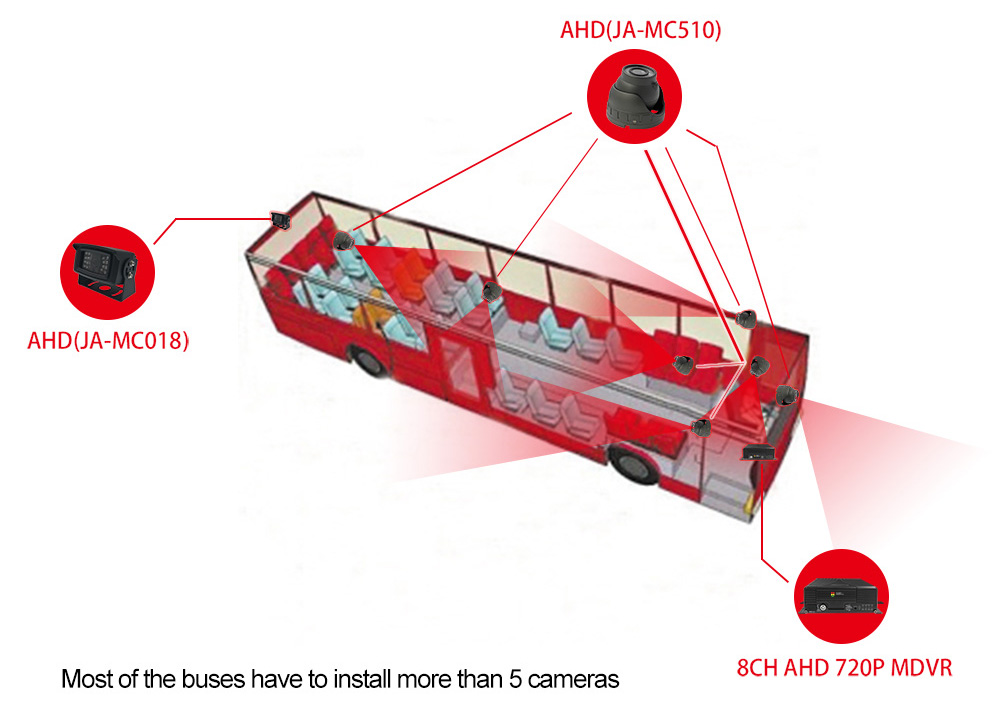 Usually HDD Mobile DVR use for bus projects. Because we have 4 channels ~ 16 channels HDD Mobile DVR for clients to make selection. Most of the buses have to install more than 5 cameras ( Click here to view Bus Surveillance Solution ) .HDD MDVR also use for most of the truck applications. It may need to restore more than 20 days video when the trucks are dispatch to do goods transportation across difference places. SD card MDVR can be use for Taxi, small Van, Mini School bus, or Car which can be finish their task in a short time. The SD card MDVR with a smaller size than HDD MDVR so it could be an advantage for these vehicles with few space to do MDVR installation.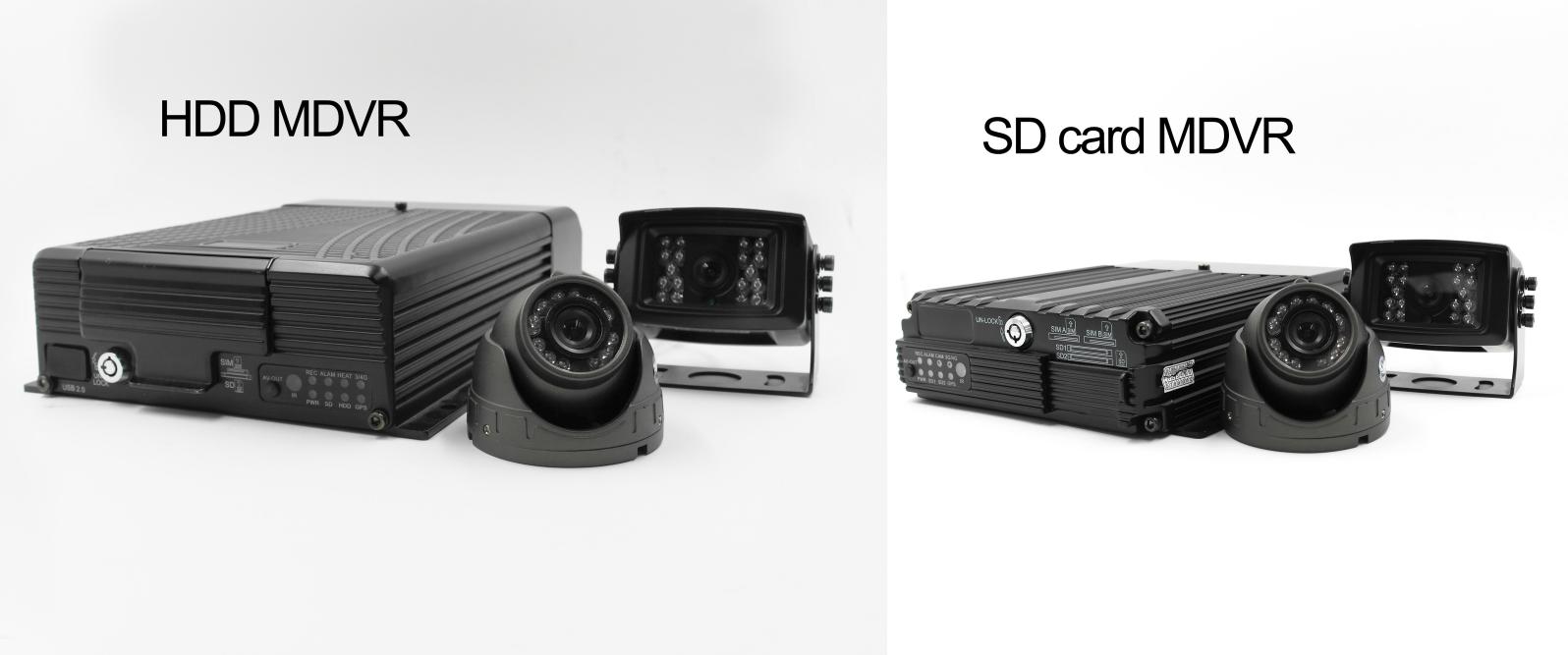 4. What's the cost difference for HDD MDVR & SD card MDVR ?
Price is not the most important but also a key factor for buyer. The price difference for SD card MDVR and HDD MDVR could be around 25%. We also have to thing about the cost difference of SD card and hard disk for a MDVR. HDD MDVR will be more and more popular when the cost of HDD / SSD decrease from the market.Don't forget that we have SSD MDVR JH0 model with waterproof function IP67 in hand size olny. So you can choose JH0 model if you need a small size MDVR but can support a large SSD memory, click here learn more about JH0.

JH16 HDD MDVR can be also your choice if you don't want to pay the high cost of SSD. JH16 HDD MDVR with waterproof function IP67 which allow user to use 1pc 2.5" HDD as memory medium which may cost less than SSD.

JH16 HDD MDVR with 2 pcs HDD slots which can be use for train project or these vehicle need more than 8 channels for example double deck bus. JH16 MDVR support waterproof function IP67. Click here learn more about JH16.

Now, click here to view SD card MDVR, and click here to view HDD MDVR.