1. Overview
ICARVISIONS' JS2AN-HD (click here to JS2AN-HD Product Page) is an SD card MDVR with the video telematics system. Video telematics combines video equipment with vehicle analytics to provide a more holistic view. Not only does it capture vehicle location and sensor data, it also records everything happening in and around a vehicle, including driver behavior, nearby vehicles, and the environment.
The MDVR is perfect to improve the safety of the driver of the vehicle as well as that outside of it. It is with high resolution that supports 4 channels 1080P AHD cameras and 1 channel 1080P IP camera. The built-in 2 SD card slots allow the storage to be up to 512GB (256GB each). This device is suitable for variable vehicle use, able to evaluate video footage with fleet data to gain a better understanding of incidents, and even can be used as proof for insurance claims or legal processes.

JS2AN-HD MDVR
2. Key features
(1) Integrated with AI function
It goes wiMostdents occur because of human error.
With advanced algorithm code applied in the cameras, JS2AN-HD can be integrated with Advanced Driver Assist System (ADAS), Driver Status Monitoring (DSM), and Blind Spot Detection (BSD) system, doing a great help in managing the driver behavior and mitigating risk, providing an extra layer of protection.
ICARVISIONS Anti-speeding technology: Driver Status Monitoring
ICARVISIONS and Anti-speeding technology: ADAS

Anti-speeding technology - The Blind Spot Detection
(2) GPS, 4G, and Wi-Fi are available
GPS tracking is a valuable contributor to fleet management, allowing users to track their fleets at any time. The 4G gives live video streaming and data can be downloaded automatically with Wi-Fi available.
(3) Support H.265 compression format
Adopting the advanced technology, H.265 has better performance regarding bit-stream, coding quality, etc. So, the MDVR can have a better relationship between time delay and algorithm complexity, achieving better optimizations.
(4) 8 seconds delay power-off
The onboard UPS can protect the data for 8 seconds if MDVR loses power completely, preventing data loss and file destruction from instant powered-off.
(5) 6 axis G-Sensor
The MDVR is integrated with a built-in 6-axis sensor (3-axis accelerometer and 3-axis gyroscopes) for motion detection, effectively detecting crashes, harsh braking, acceleration, and cornering.
(6) Loop Recording

The MDVR will auto overwrites the existing recordings when it reaches full capacity, it can delete the first video file to make room for the latest file, making sure that the device never misses a minute of your drive.
(7) Lockable storage

SD cards are securely locked and need a key to open, preventing data stolen and ensuring safety.
JS2AN-HD can be installed on in a wide range of vehicles like buses, taxis, trucks, oil tanks, coaches, etc.

3. Here is an example of the solution.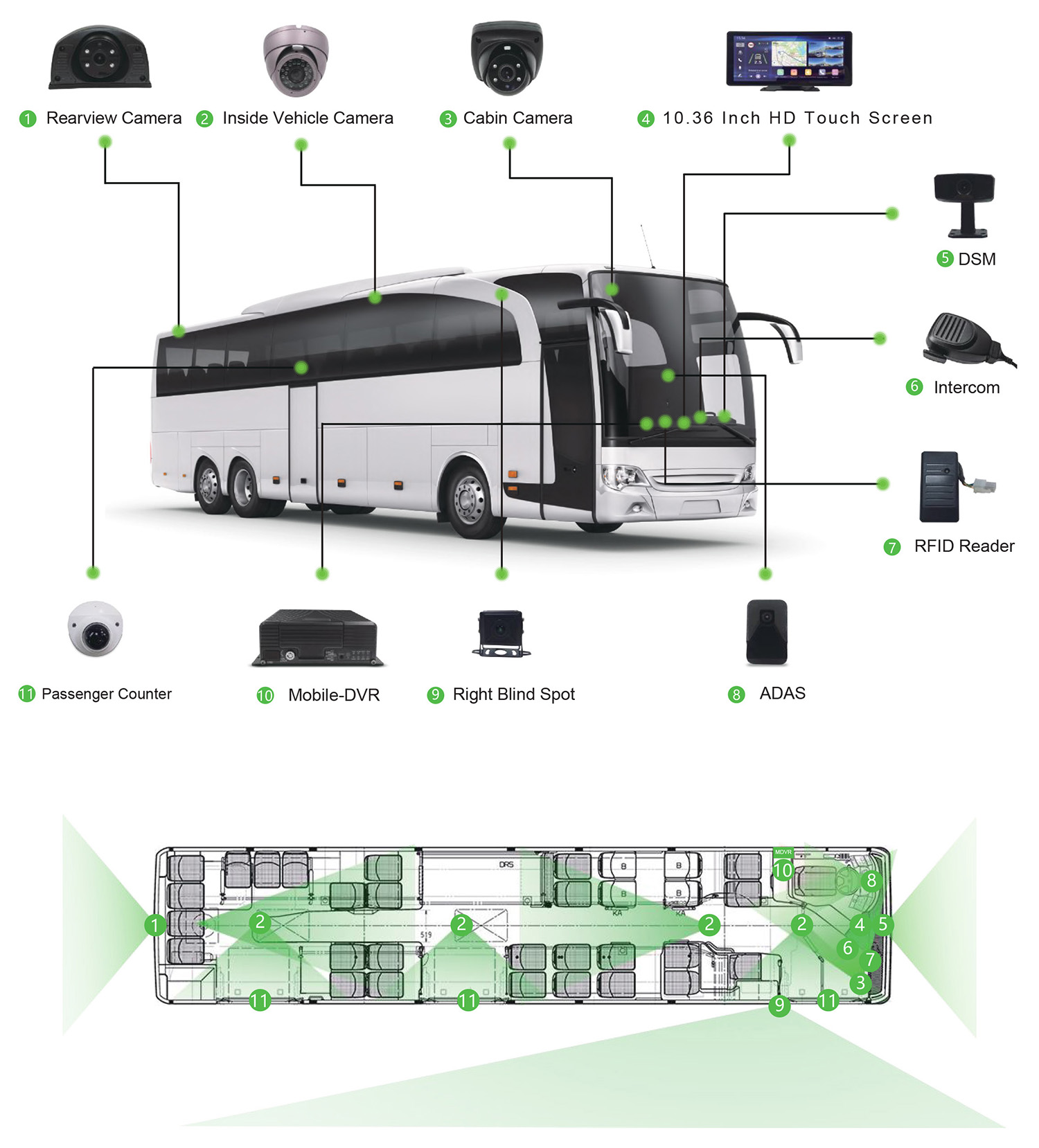 Public Bus Solution
(1) Cameras Recommended
Support D-WDR

1080P AHD

6mm lens

Size: 105*68*43mm

Support DC 12V±5%
Support D-WDR

1080P AHD

6mm lens

IR LED 3535*2 pcs

Size: 80*86.5*37.5mm

With audio and speaker
1080P AHD

2.8/3.6mm lens optional

IR LED Φ5*24PCS

With audio

Size: 94 x 76 mm

waterproof IP67
1080P AHD

2.8/3.6mm lens optional

IR LED Φ5*18pcs
(2) Intelligent Vehicle Management Software (IVMS)
The Intelligent Vehicle Management Software (IVMS) which includes a PC client, web client, and mobile phone client, is a free platform that enables you to manage your MDVR devices remotely. It's exclusively designed for all your access control needs including map monitoring, track playback real-time monitoring, video playback, etc. Various reports like mileage, speed, alarm, and driver behavior can be generated to be reviewed.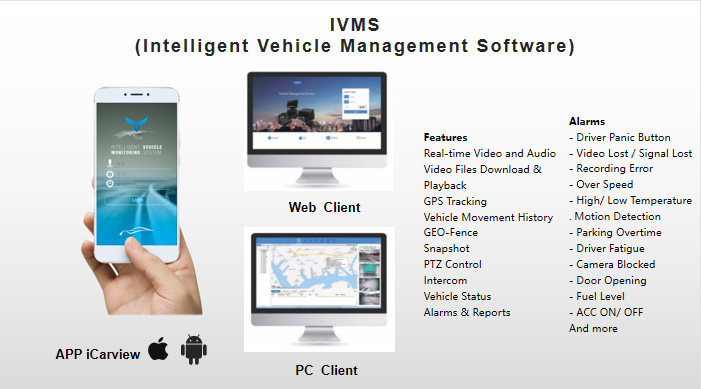 Intelligent Vehicle Management Software (IVMS)