What is video telematics and what is telematics used for? Find out how video telematics from ICARVISIONS allows you to better manage your fleet.
What you'll find in this article:
1. What is Video Telematics?
Video telematics is a technology that integrates cameras and analytics with fleet tracking.
It's technology that monitors and collects a wide range of data from a connected vehicle, like vehicle location (via GPS technology), engine diagnostics, fuel efficiency, odometer readings, speed, brake use, idling time, harsh acceleration, and impact. Typically, all this data is visualized on a software platform, which fleet operators use to manage their resources.
Video telematics combines video equipment with vehicle analytics to provide a more holistic view. Not only does it capture vehicle location and sensor data, it also records everything happening in and around a vehicle, including driver behavior, nearby vehicles, and the environment. Companies can use video telematics as a tool to record collision evidence, for driver risk management, or security.
2. Main components of video telematics
today's modern video telematics solutions typically share these basic components:
(1) Video telematics core device: Mobile DVR or Dashcam, they are embedded with telematics technology, which recording and transmission video footage, GPS, and data;
(2) DSM Camera mounted on the dashboard, used to Driver Status Monitoring;
(3) ADAS Camera mounted on the windshield, used to Advanced Driving Assistance Systems;
(4) An interior cameras to record the driver, cabin and passenger;
(5) BSD Camera mounted at the side of the cabin, used to Blind Spot Detection;
(6) Additional cameras around the vehicle for side views, include Rearview Camera, used to monitoring objects behind the vehicle;
(7) A software platform that processes and analyzes the data;
(8) An end-user application.
Advanced telematics solutions support multiple cameras inside and around the vehicle. Their software tracks data and automatically initiates video capture for every road event. Video data is constantly uploaded via a wireless network to provide fleet managers with real-time alerts and two-way communication with their drivers.
3. How does video telematics work?
Video telematics combines vehicle data and driving data to give you a comprehensive view of your fleets.
Multiple cameras like driver-facing, road-facing, or cargo-facing, get installed into the fleets. These cameras transfer data to a cloud. This data gets analyzed and presented to the user on our fleet management platform.
Click here to learn Intelligent Vehicle Monitoring System (IVMS)
Multiple camera options are available, including:
(1) Advanced Driver Assistance System-ADAS (ROAD-FACING)
Created with the intention of reducing accidents, advanced driver assistance systems can give you a complete view of the roads and surrounding traffic.
Road-facing Mobile DVR or DashCams record a view of the road in front of the vehicle to document factors contributing to an accident, such as another vehicle swerving in front of the operating vehicle. Often affixed to the dashboard or windshield.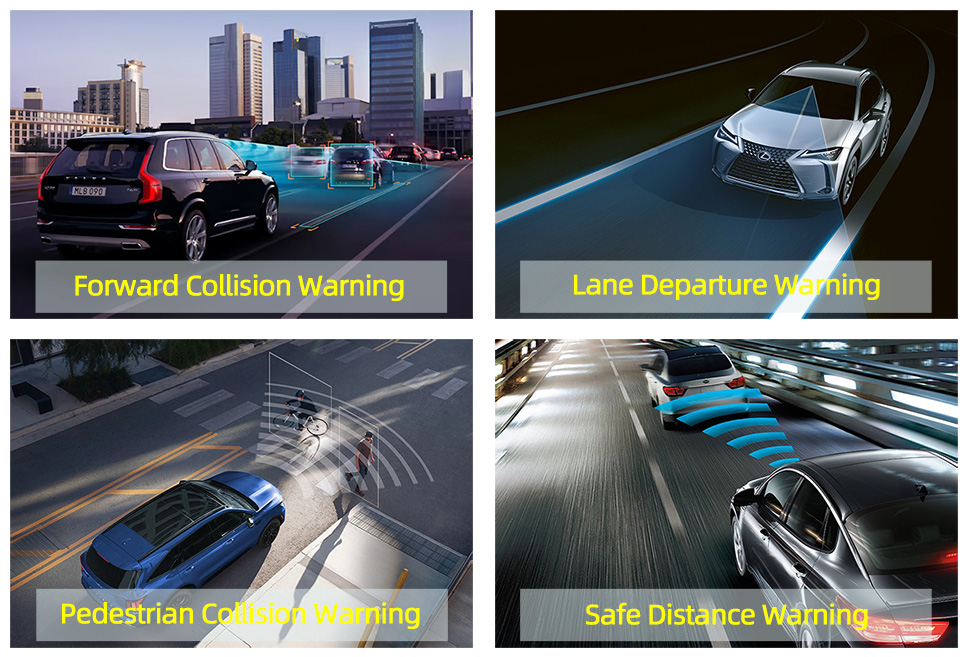 The Advanced Driving Assistance Systems (ADAS) mainly include: Forward Collision Warning, Lane Departure Warning, Pedestrian Collision Warning, Safe Distance Warning, etc. (In 2019, as many as 1,738 people were killed on UK roads.)
Click here to learn more Advanced Driving Assistance System (ADAS)
Please refer to the video:
(2) Driver Status Monitoring-DSM (DRIVER-FACING)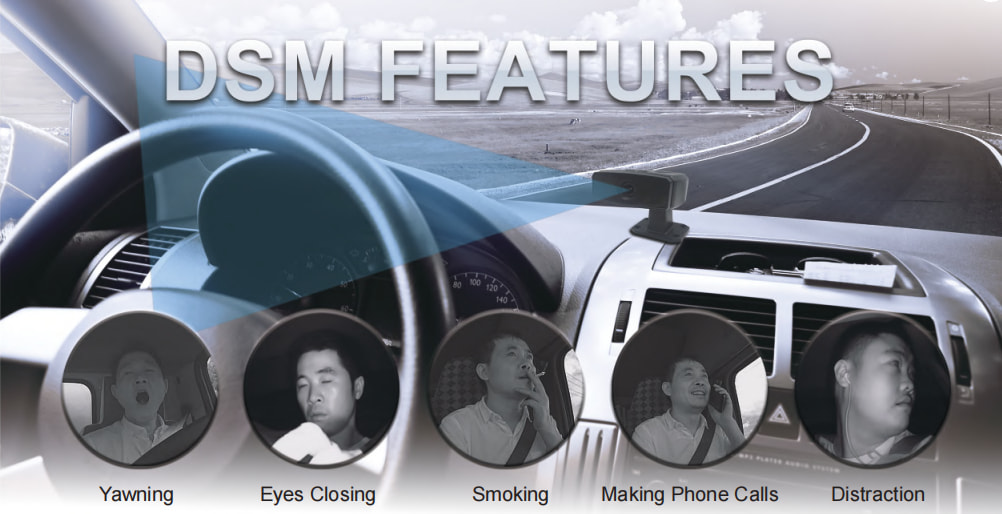 Safer drivers mean safer fleets. With a Driver Status Monitoring system, you get to know how well your drivers are performing. Slow down, pause, and look at driving violations.
Driver-facing cameras record the cab interior to document driver activities before, during and after an event. The Driver Status Monitoring system is used to capture an image of the driver's face, it detects yawning, eyes closing, smoking, making phone calls, distraction, No Seatbelt. It alerts the driver of the potential danger by giving a real-time sound warning when the driver has above abnormal behaviours, which can reduce the accidents to a certain extent.
Click here to learn more Driver Status Monitoring (DSM)
Please refer to the video:
(3) Blind Spot Detection-BSD (CABIN SIDE FACING)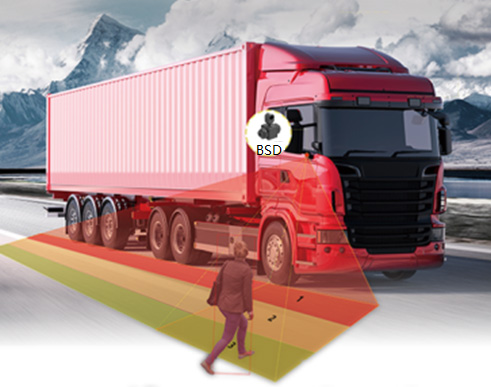 Commercial vehicles are big and often suffer from very poor visibility, despite being generously equipped with mirrors. Almost invariably, the driver cannot see important areas beside the vehicle. The Mobile DVR with such AI functionality enable the Blind Spot Detection using cameras mounted at the side of the cabin to monitor the detection zone for people. The system warns the driver if people is approaching, thereby assisting the driver to avoid hitting the people.
Click here learn more Blind Spot Detection
Please refer to the video:
(4) MULTIPLE cameras VIEW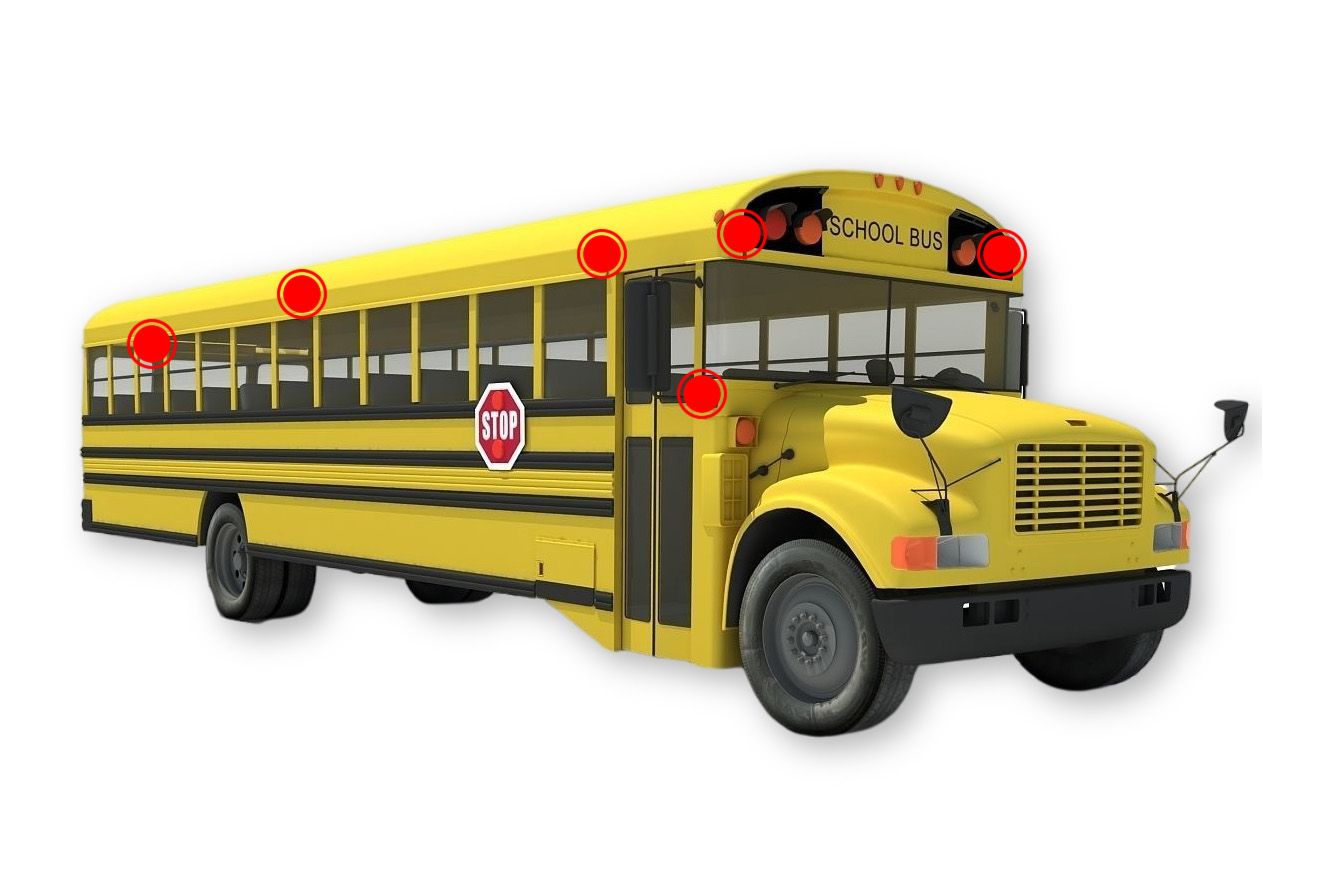 ICARVISIONS can integrate as many as sixteen cameras into one solution. Multiple cameras can capture video of the front, sides, rear and interior of a vehicle in almost any combination, useful for accident documentation, driver/cargo/passenger security, or navigating close spaces.
4. Benefits of video telematics
In the case of a collision, video telematics can help provide the answers to who, what, where, when, and why.
Telematics technology plays an important role in lower operational expenses, driving behavior, vehicle routes, fleet efficiency, and safety on the road.
(1) Enhance Driver Behaviour
Identify, analyse and take meaningful interventions to achieve road safety improvements and ultimately save lives.
Video telematics has been shown to significantly improve road safety, providing greater insight into driver behaviour.
The real value of video telematics is the ability to measure and analyse driver behaviour, so meaningful interventions can be taken to reduce accidents and reward and encourage more responsible driving. By observing and recording how vehicles are being driven, it is possible to understand driver performance through our IoT platform and identify areas of improvement. This creates a clear opportunity to assess and improve driver safety using targeted engagement.
(2) Targeted Risk Reduction
Understanding risk within your fleet operation helps you shape an effective road safety strategy and achieve ongoing success.
What we have come to realise is that a significant proportion of road collisions are preventable, so it is critical to understand where risk exists within a fleet operation and take appropriate steps to minimise its impact. Video telematics makes fleets a lot safer, a study of more than 10,000 crashes of buses and heavy trucks estimated that fleet video telematics reduce crashes by 35 percent.
(3) Lower operational expenses
Exonerate drivers and reduce the costs associated with collisions.
Frequently, road accidents end up in protracted legal wrangling over claims. Video footage protects drivers from being unfairly blamed and saves fleets millions in legal fees, liability, and damage to their reputations.
There is proven value from making video telematic an important part of any corporate safety strategy and driver training programme. With live and historical driver and vehicle data, supported by video evidence, it is possible to identify fleet risk and ensure staff become more responsible drivers. This means an organisation can target continuous improvement with a tailored safety initiative across a fleet.
5. There are some Video Telematics solutions from ICARVISIONS
(1) High Speed Train
Introduction to our Telematics and Mobile NVR solution for high speed train: Anti-Vibration CCTV Mobile NVR powered by Ai H.265 with access to telematics portals with the free license.
(2) Gas Station
Dual HDDs, 16 channels HD With Ai-powered Mobile-DVR, it can provide you with unprecedented features most CCTV DVR can't do.
In this video we will demonstrate the latest telematics solution for Gas Station - Convenience Store.
(3) Airport Shuttle
The telematics solution for the airport shuttle, customized Ai functions for the airport transportation between terminals with latest 1080P H.265 Mobile DVR from ICARVISIONS.
(4) Cold Chain Vehicle
Introduce the ICARVISIONS hard drive 1080P MDVR, ADAS, and DSM Cold-Chain vehicle telematics solution with IVMS.
(5) Garbage Truck
ICARVISIONS' s video telematics solution for Garbage truck with powerful Ai IP67 waterproofed and dustproof DVR with driver behaviour monitoring system, supports by GPS, 4G and Wi-Fi. Streaming H.265 1080P video.
(6) Ride-Hailing
In this video we will demonstrate the Ride-Hailing telematics solution.
The 1080P DASHCAM with ADAS, GPS, 4G and Wi-Fi built-in provides the best all-in-one solution for ride-hailing vehicle and fleet management.
(7) School Bus
Ai enabled School Bus surveillance solution with telematics MDVR, the 1080P 8 channels MDVR solution provides the gamut of CCTV protection for School buses with driver & student attendance checks.
Our goal: keep school children SAFE & give PEACE of MIND to parents & school.
(8) Law enforcement
Law enforcement with Telematics & MDVR Solution by ICARVISIONS, delivers the best 1080P footage and real-time video to the command centre and keep all records safe.
(9) Fuel Tanker
ICARVISIONS's unique and experienced approach to Fuel Tanker and IoT with Video Telematics, user can interact with your fleet for fuel level monitoring, GPS tracking, video streaming and more.
(10) Cargo and Truck
Cargo and Truck have high demands on the CCTV market, and we are proud to present this award-winning Telematics monitoring solution.
(11) Bus
Introduce the leading Video Telematics Solution for Bus, Full 1080P 4G H.265, Intercom, Panic button, ADAS+DSM, BSD and panoramic view.
(12) Taxi
Introduce the taxi Video Telematics solution and Mobile DVR for ICARVISIONS. With Ai enhancement and Android smart applications, there are lots of you can achieve by our taxi surveillance solution and Full 1080P Mobile DVR and telematics system.
(13) Dump Truck
Introducing ICAR'S innovative Video Telematics solution for Dump truck monitoring with Blind spot detection and Container detection.
6. Conclusion
The growing benefits of telematics include lower operational costs, an increase in fuel efficiency, productivity and help increase safety. Video telematics in specific is helping businesses improve the way their fleets operate.
Please leave message if you have any questions about Video telematics solutions from ICARVISIONS. we will give your reply as soon as possible.
Don't hesitate share this article to any of your friends if you like it.