What is the JI7A Dash Cam?
JI7A (Click here to learn JI7A Product Page) is an advanced Dash Cam with a built-in high-performance AI algorithm Chipset to assist safe driving, such as lane departure warning, safe distance warning, forward collision warning, and pedestrian collision warning (ADAS-Advanced Driver Assist System). Meanwhile, it can detect improperdriving behavior, such as smoking, using mobile phones, distraction, and fatigue (DSM-Driver Status Monitoring). Dash Cam can alert the driver in real time of dangerous behaviors and upload the alarm video and data to the IVMS platform to generate a report to evaluate driving performance and enhance safe driving. Moreover, face recognition can identify the correct driver to protect the safety of passengers in the vehicle and assets.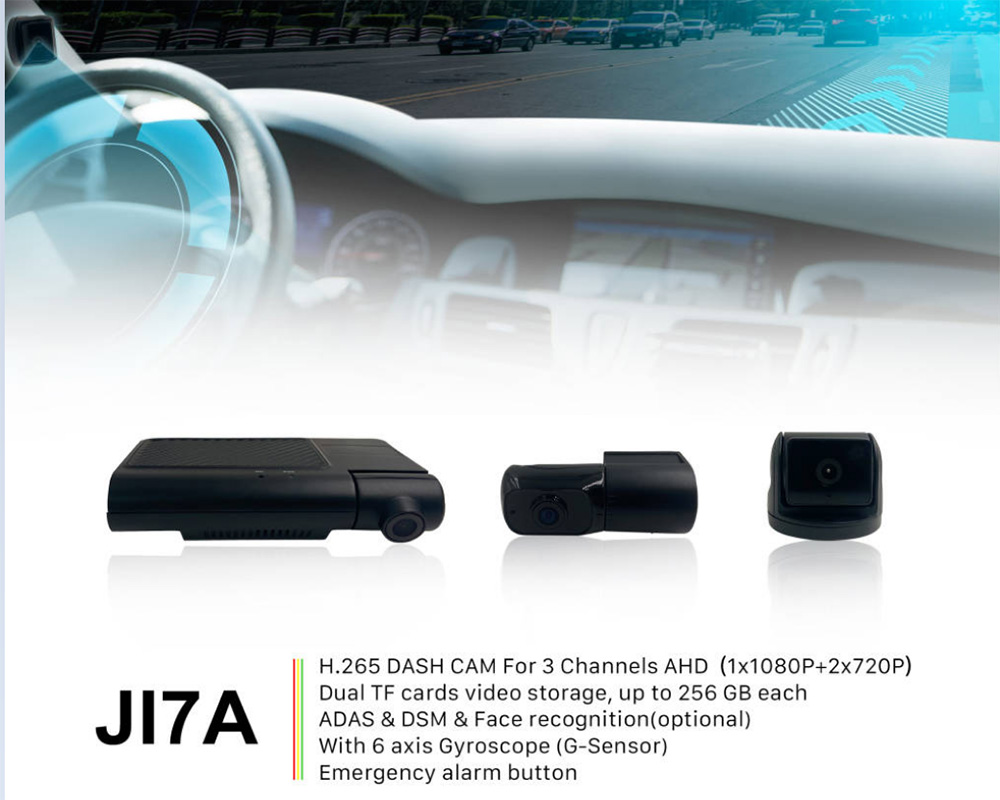 What kits are available for customer ordering of the Dash Cam?
There are two order kits for customers:
Order kits 1,
JI7A + JA-MC933, the 2-channel camera solution.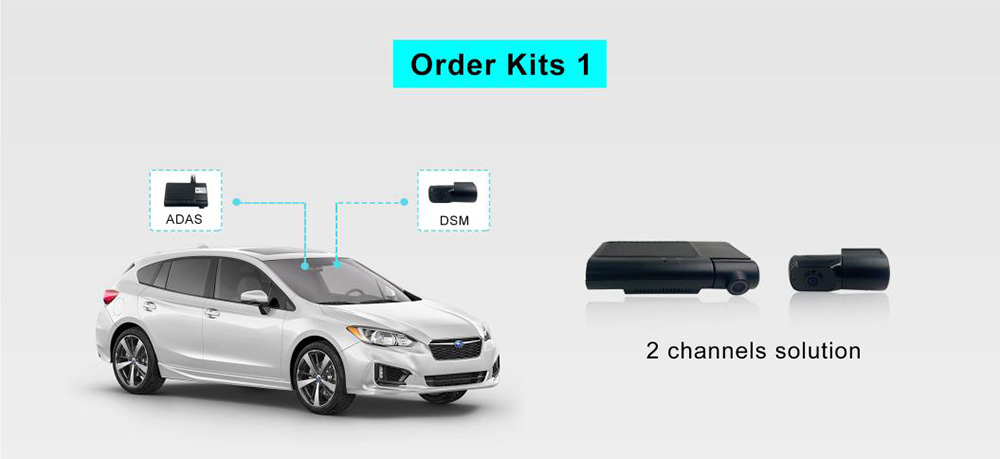 JI7A is with a 1080P front-view camera, and JA-MC933 is a 720P in-cab camera. This kit can be with an AI algorithm optional, JI7A would be with the ADAS AI algorithm, and JA-MC933 can work as a DSM camera.
Order Kit 2,
JI7A + JA-MC933 + 1 * 720P AHD camera, the 3-channel camera solution.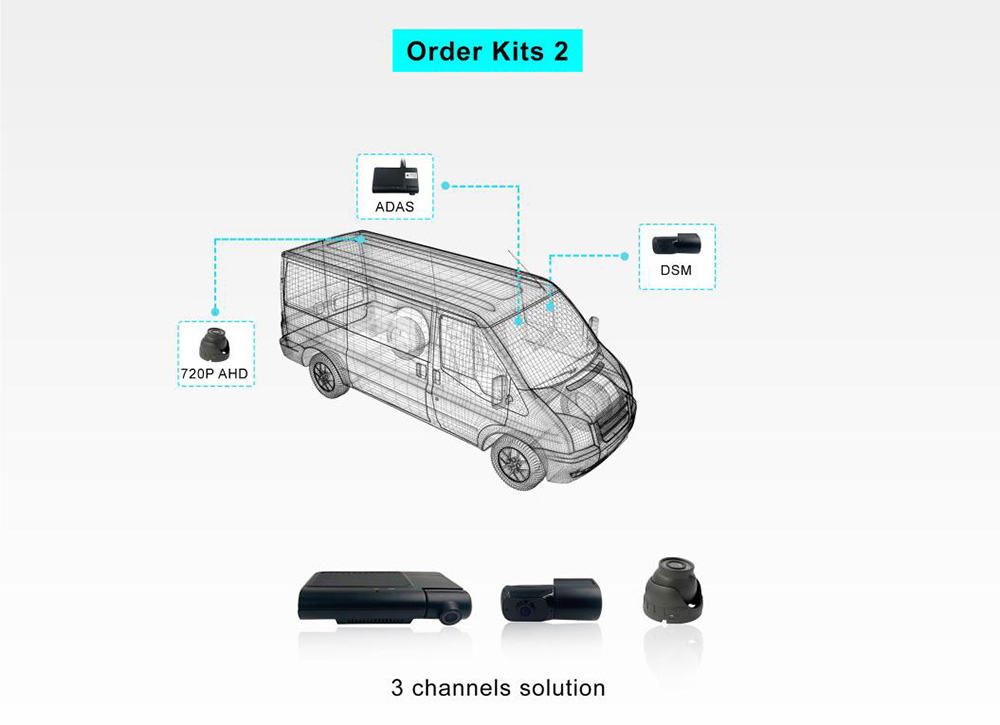 Based on the two-channel solution, the 3rd channel camera would be connected to the kits with a converter cable. The 3rd channel 720P camera model is not fixed, and customers can choose the suitable one to work with.
Dash Cam and Accessories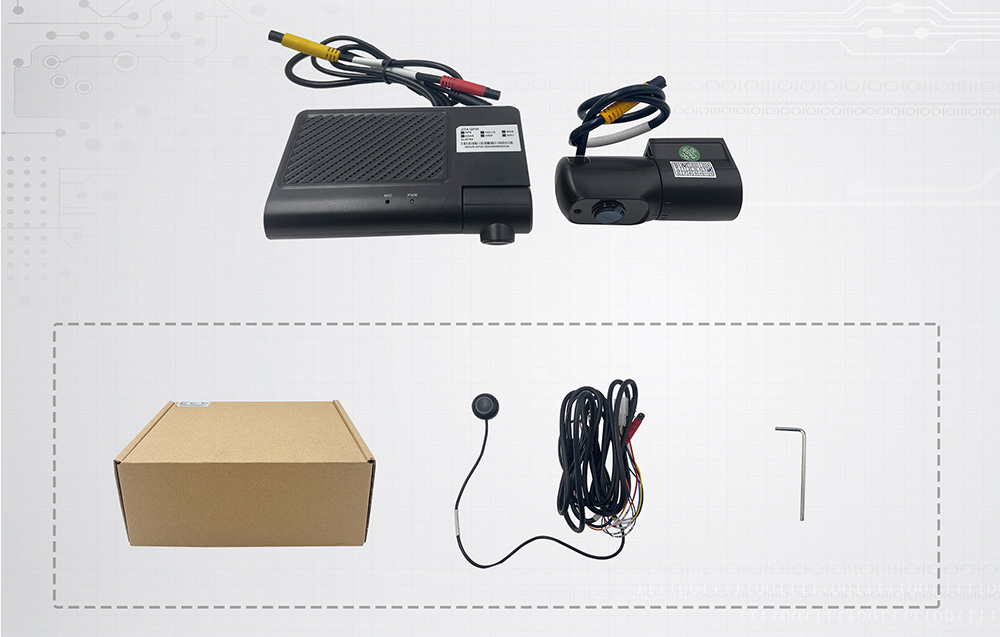 Features of the JI7A Dash Cam
The outstanding features are as below:
More portable. JI7A is in a handful size, and the mini size will avoid the vision block to the driver and improve safety.

Hidden antenna design to save installation time, the installation could be finished in 10~ 15 minutes.

6-axis G-Sensor to detect the alarm of rapid acceleration, harsh braking, crash, and sharp cornering.

Support analog intercom with a platform with built-in MIC & speaker, no need to connect external intercom device.

External GPS mouse design to provide better GPS signal to avoid interference to the GPS signal from the recorder circuit.

AI algorithm upgrades with face recognition function and support remote upgrade AI algorithm available.

Pre-storage of the data on the TF card to improve its utilization and increase the life span of the TF card.

Dual-streams, both bitrate and resolution of support main-stream and sub-stream are available to be set up.

Independent 4G module to provide a better signal. The 4G module can be chosen based on countries and network frequency and is available to offer live seamless video footage of the vehicles.

Support 2TF cards, with 256M storage capacity per TF card, and provide long-time video recording.

Built-in WIFI module supports freely downloading the video or data whenever it connects to the hot spot.
2022 Dashcam supporting ADAS and DSM with a new price
JI7A is suitable for online car-hailing, taxis, minivans, private cars, etc.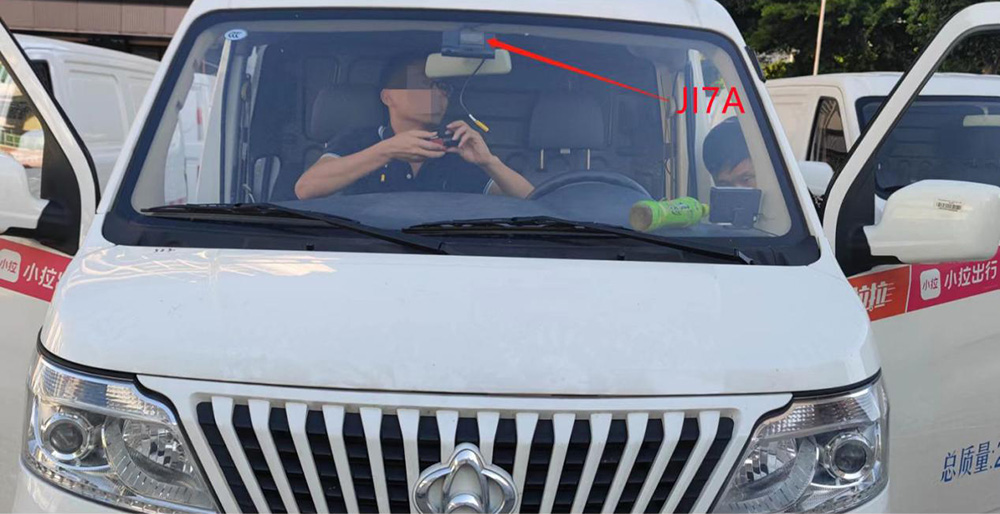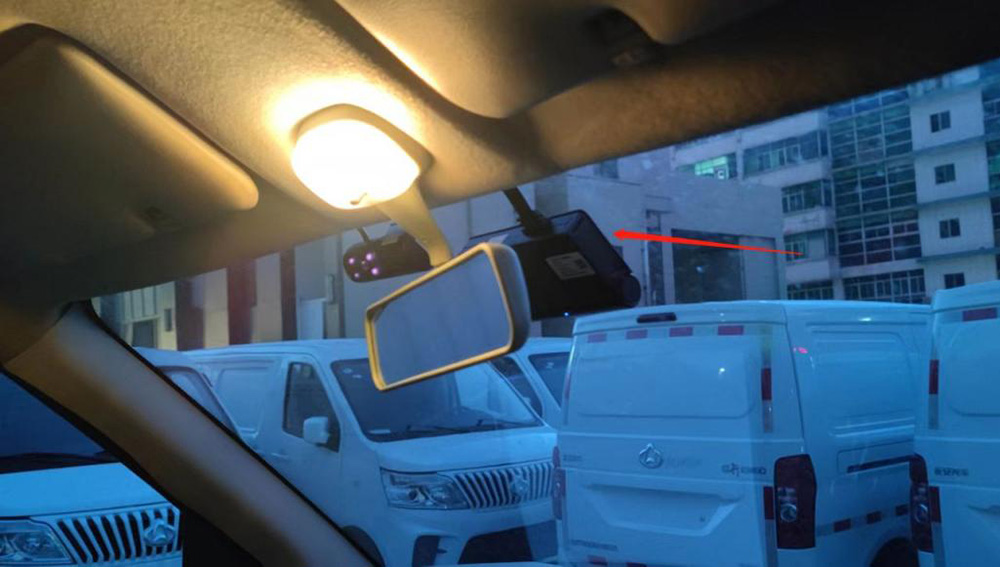 IVMS(Intelligent Vehicle Management Software) is powerful to manage the Dash Cam and provide real-time video and audio, GPS tracking, GEO-fence, PTZ control, and alarms and reports. There is a phone App as well, customers can have real-time monitoring and tracking of the vehicle as well. Alarm reports can be generated from the platform to be reviewed and aim to tutor drivers to reduce road accidents.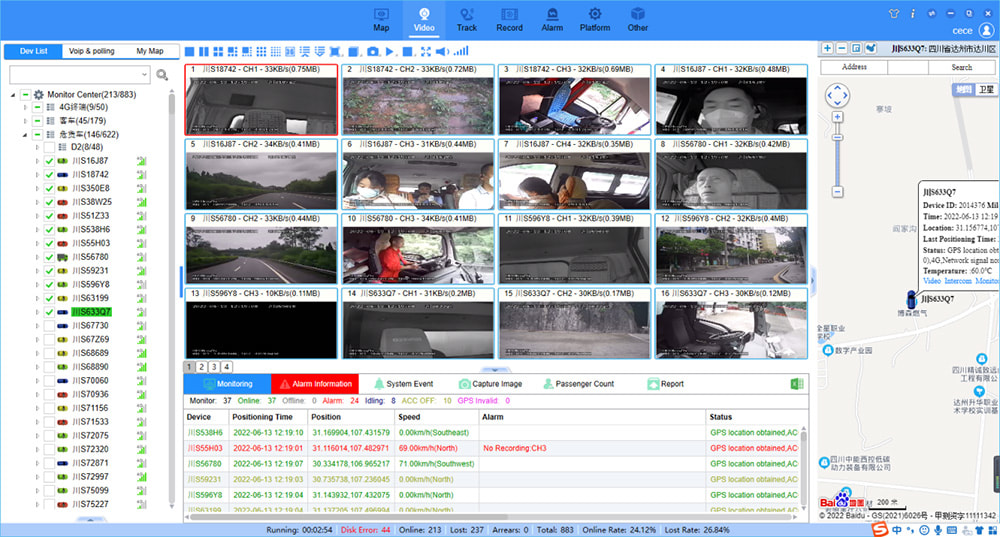 Real-time surveillance video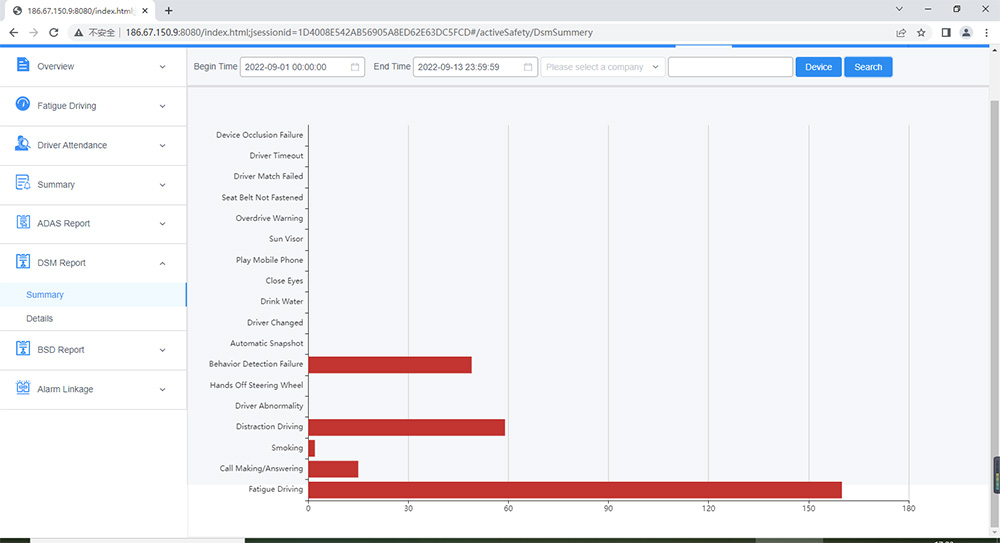 DSM Report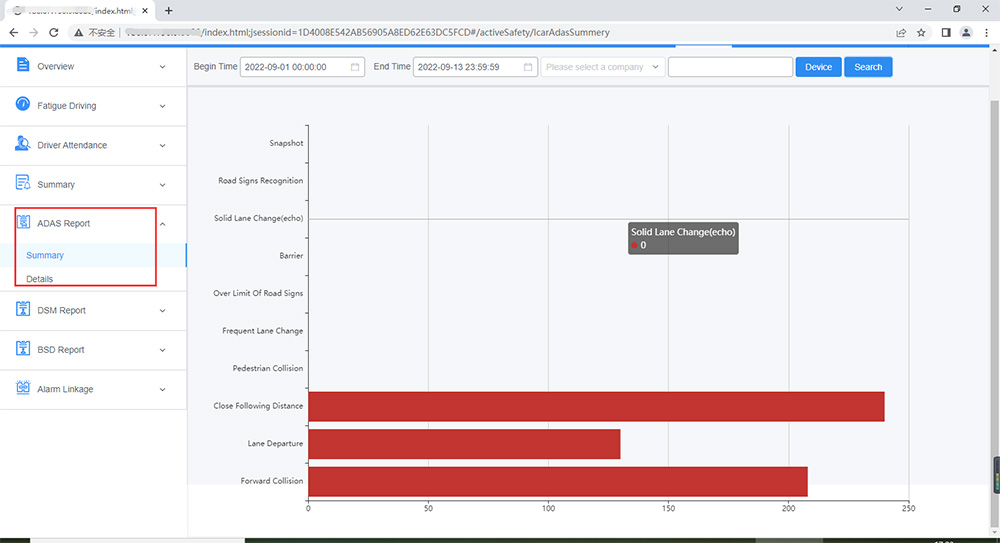 ADAS Report