If you have ever tried to gain an insight into China's MDVR industry, you probably have knowledge about ICARVISIONS and it's JT1, the touch screen MDVR. JT1 is running in Android system and the solution is perfect for taxi surveillance and fleet management.
We call JT1 a mobile DVR because it is an all-in-one solution that can support peripherals such as cameras and sensors, accept solid state drive (SSD) for local recording and has platform for fleet management, unlike similar products from other producers which are just a android tablet. JT1 covers all basic features a Linux MDVR has, such as GPS tracking and video surveillance, and is far more powerful than any GPS navigation system.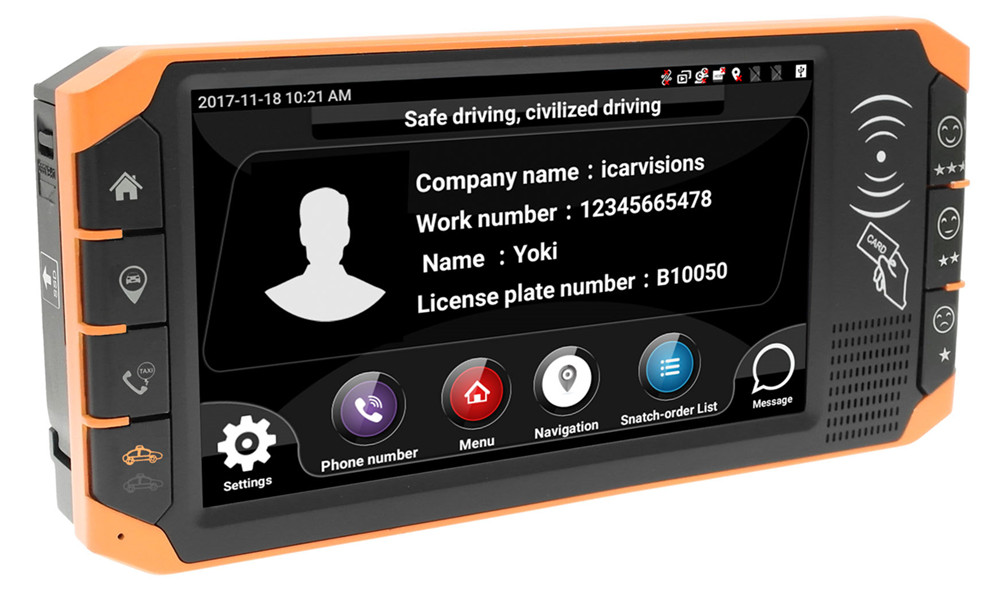 But still here are 7 things that you might not know about this touch-screen MDVR.
1. Video/audio input. JT1 supports 2 channels of 1080P AHD video input and can be extended to 4 channels of 1080P AHD. The standard package includes 1 dual lens camera that face the front road and inside the cab respectively. The audio input can also be expanded from 2 channels to 4 channels at customized options, just like the video input.
2. Wi-Fi. The built-in Wi-Fi can not only be used as a mobile hotspot, but also connect to a Wi-Fi network.
3. Bluetooth. Internal Bluetooth module can support Bluetooth OBD.
4. Local storage. The MDVR has slots to accept a 2.5 inch SSD and 2 SD cards. The SSD capacity is unlimited and recommended max capacity of the SD card is 128GB each. One of the SD cards is for backup recording and the other is for offline navigation.
5. Navigation. JT1 supports intelligent navigation, local autonomous navigation and network center navigation. It has a user-friendly destination search mode, a variety of path planning, real-time voice prompts, so that drivers can quickly and easily reach the destination.
6. Peripheral devices integration. 1) I/O communication, supports 3 channels input and 2 channels output. It should be noted that I/O signal is triggered by high/low voltage levels. 2) RS232/RS485 communication, 3 channels input each. To integrate whatever peripherals to the touch screen MDVR, we should make sure that these external devices, whether digital or analog type, should be able to communicate via RS232/RS485 protocols.
7. Fleet management software. JT1 has is compatible with ICARVISIONS' regular fleet management platform IVMS. In addition, a specialized taxi fleet management platform is also available for this MDVR model. Now comes the question, how many vehicles can this platform support? Maximum 20,000, and one key factor need to be taken into consideration is the server hardware configuration. So the more practical approach is to select the most suitable server configuration according to your fleet size.
Have more questions? Feel free to let us know.