For most countries, taxi remain a vital part for city transportation and the global investment are continuing to increase on this sector. As we understand the modern taxi industry are facing many challenges and we want to introduce the all-in-one solution.
Unlike many other vehicle types, taxi has limited demands on camera channels as we think 2 or 3 cameras will be good enough and provide safety in terms of footage coverage. For taxi, we have special designed DVR-JT1(Click here to learn more about JT1), this is touch screen DVR support up to 4 channels cameras, up to 1080P AHD and IPC, and ICARVISIONS also designed a dual lens camera set for taxi, considering the special needs for this industry, the front camera allow driver has wide angle views with 130 degrees, both cameras can perfectly mount on windshield of car.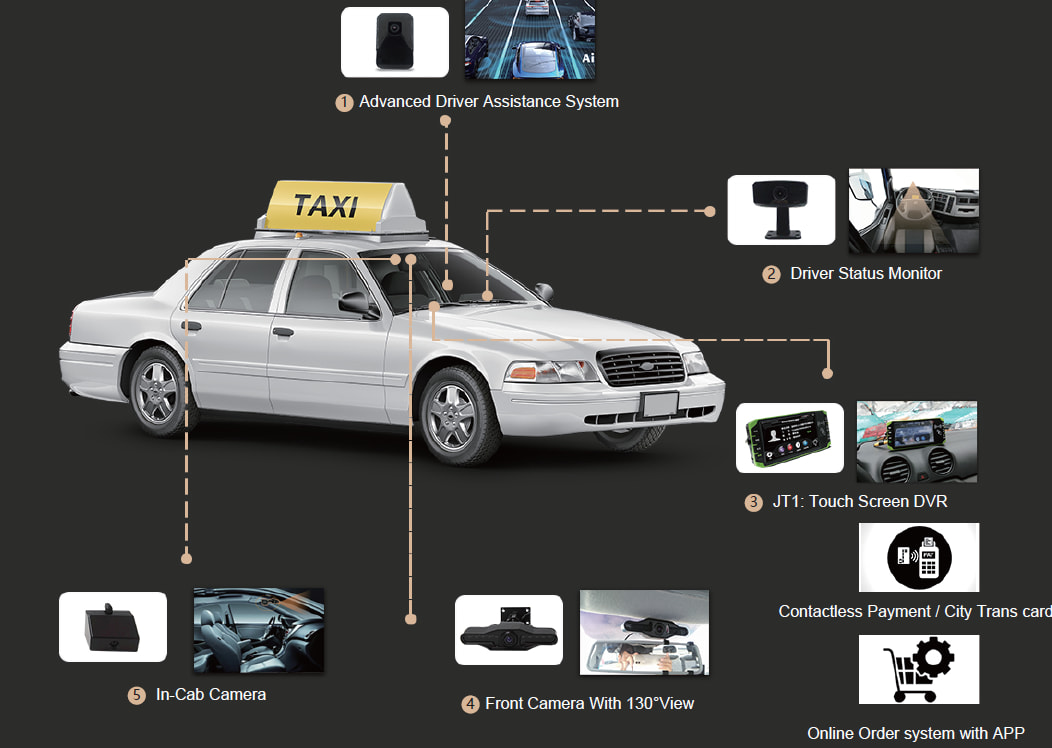 And what's special about this JT1, is this device comes with built-in Android system supporting various Apps, like online order system, fleet dispatch management, calling center app and navigation app. Another feature with most competitive power is the JT1 has built-in contactless card reading system, which supports customer to use credit card or city bus card for quick payment (to use this function, customer must complete the integration with the local banking system).
A comprehensive guide for Taxi Surveillance and Mobile DVR
Today, the Ai plays an important role in telematics industry, and it can enhance safety of driver and passenger greatly. And for JT1, we also provide customer with options to choose ADAS and DSM which are supporting camera for driver cab, one is facing front road and another one is facing driver, ADAS will run detection at any objects in the front road like front vehicle, pedestrian, traffic signal and obstacle, where DSM will run detection mainly on driver, and analysis any prohibited behaviors. Both ADAS and DSM will trigger alarm and send snapshot or footage clip to customer's server and keep central monitoring office informed. Those function are powered by our strong Ai algorithm built-in Mobile DVR.
DSM (JA-MC921)
Yawning Detection

Eyes Closing Detection
Smoking Detection
Making Phone Calls Detection
Distraction Detection
Driver Absence Detection
Camera Blocked Detection
Wearing Glasses Detection
Apart from ADAS (Advanced Driving Assistance Systems) and DSM (Driver State Monitoring), JT1 also have many surprising features that it will optimize the level of taxi service. Advertising display management, as we understand that advertising on board can help increase the revenue of taxi industry, and the taxi advertising display mainly located at top of car or back of front seats, and our JT1 can manage those display via customized app and even enable the advertisement to engage between customers. Based on this function, ICARVISIONS also offer touch screen tablet 1.01 inches model which can mount on back of front seat.
For JT1, this DVR device will share ICAR's server and telematics serving structure, and for taxi fleet, we only have special section for fleet management including taxi orders, driver data and route planning. User can also access the Client via web portal and mobile phone.