Market Background
Nowadays, Taxi service become one of the most commonly tools for our daily travel, it's very convenient to ask & reserve a Taxi through mobile app. Meanwhile, we have to think how to make sure the driver and passengers safety, prevent the car accident in advance? How to obtain real time traffic information and travel data with the most effective way?
With a growth demands in the Taxi monitoring & surveillance market, it's very critical to have a taxi surveillance system - Mobile Video Digital Recorder(Mobile DVR / NVR) for supervising the driver and passenger behavior, such as denying passengers, over speed, refuse to charge and careless driving behavior. Someone said "The drivers are scared of the passengers but also the passengers are scared of the drivers." obviously their worries are based on this reason/logic, the only way to make peace must be widely deployed this system.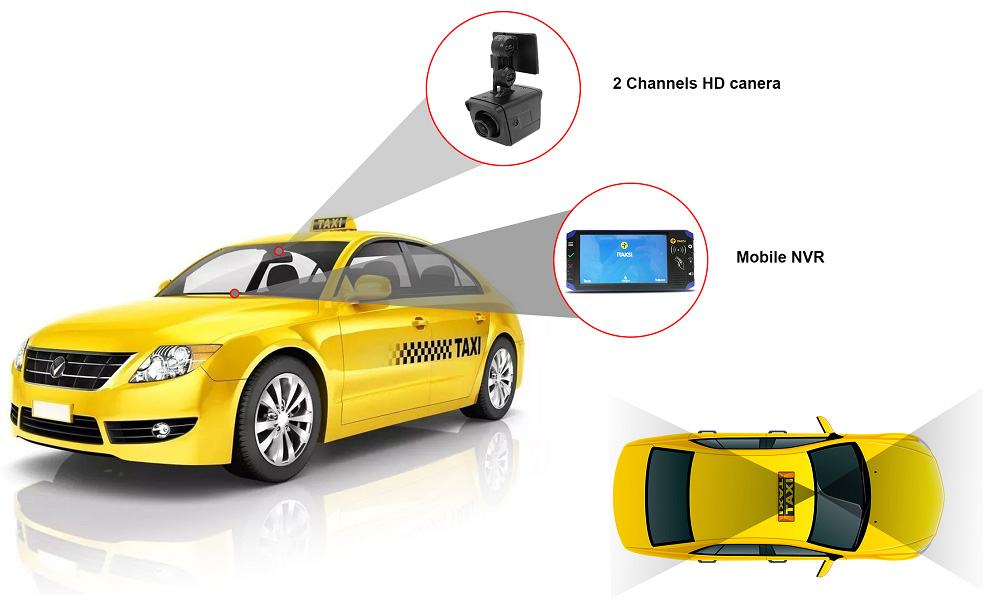 Why need a Taxi surveillance system?
Protect drivers: Driving a Taxi comes with some serious risks, and many drivers experience some form of assault, robbery and violence every day on the job, help to deter unruly passengers from acting out of line, transport intoxicated passengers, report incidents of theft and violence in the cabs.

Monitor driver behavior: Driving behaviors includes speeding, drink-driving, driving while fatigued, and not wearing seat belts, hard braking, sharp turns, quick lane changes and mobile phones conversations while driving, all of these actions can put the passengers and drivers at risk of getting into an accident.

Prevent violence and robbery: Violence is often a leading cause of taxi driver deaths, along with motor vehicle crashes. Whether the result of alcohol, or many other factors, violent confrontations can and do occur between cab passengers and drivers.

Provide visual evidence: In cases where violent confrontations or robberies do take place, in-cab security cameras can provide valuable video evidence for criminal investigations.
In order to avoid such terrible things, ask your cab company to equip your taxi with safety measures. For example, install and maintain security cameras and post decals showing the taxi has cameras on the passenger windows or doors. A camera system can make riders think twice before acting afoul.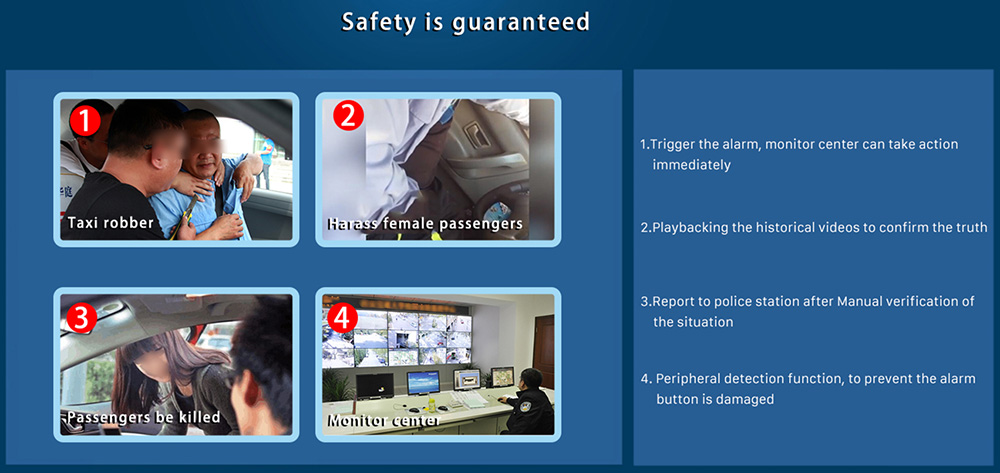 Installation
Mobile NVR can be equipped easily through 3M tape, the driver can easily reach it, such as to start the navigation, to pay, to do everything.

The camera can be installed in windshiled using 3M tape, it has 2 views for recording front road view and cab inside to achieve views of passengers as well as the driver.

It works together with the current Taximeter, panic button, Canbus, and related sensors.
Part of real installation cases are shown below.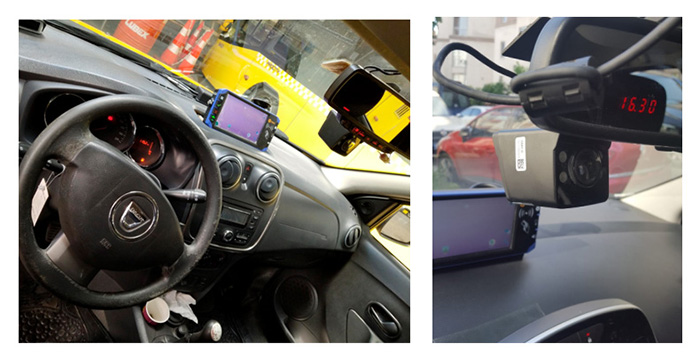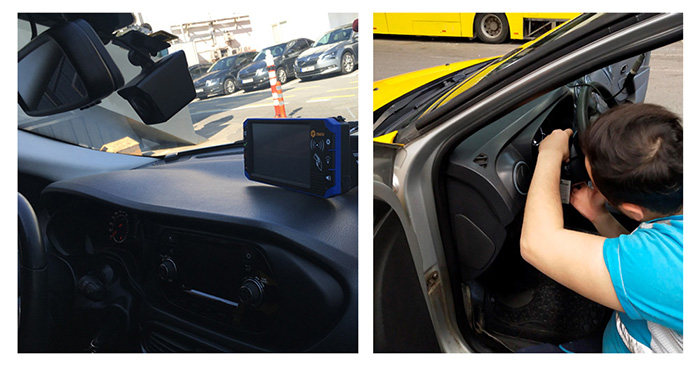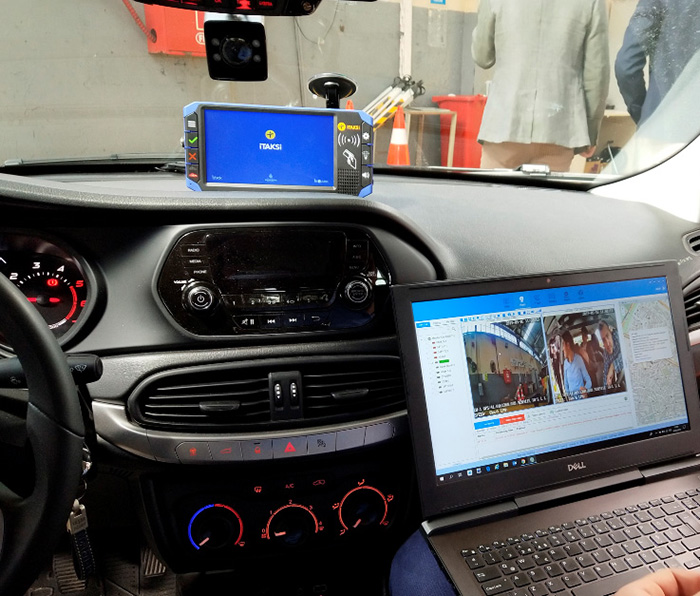 Product description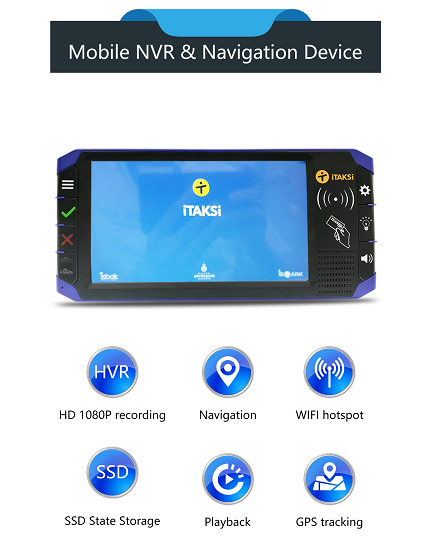 Features:
Support 1 SIM card

2 channels of 1080P IP Camera inputs

Support Wi-Fi hotspot, auto-downloaded via Wi-Fi for quick and wireless video retrieva

Internal GPS&Glonass module, supports 2 statelites at the same time

Internal 4G and WiFi module

Internal RFID and NFC card module, PSAM Card slot

Continues recording: SSD up to 2TB and 256GB SD Card for data storage

Android smart touch screen with on-board navigation, message notification from center, telephone,live video, order list, payment record, and able to integrate with other accessories such as fare meter, LED advertisement panel,POS machine, driver panic button, service evaluator, Status LED displayer for extended functions.

On board UPS 8~20 seconds delay power-off for data protection

Certificate: CE, EMC, LVD, EMARK,ROHS, EN50155

9V~20V wide voltage power supply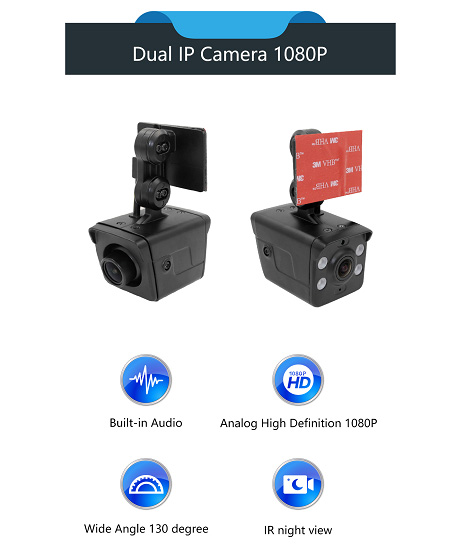 Features:
1080 dual lens IP Camera

IR-LED

Supports real WDR

Low power consumption

Dual IP Camera 2.1&2.8mm lens, with wide angle view 130°&110°

It supports glass paste installation at the rear-view mirror, which is convenient and will not influence driver driving

The inside camera is with IR led and audio function that can record clearly anything in the car, including the driver and passengers

The outside view can record anything from the front of the Taxi and can provide evidence if something happened

Certificate: CE, EMC, LVD, EMARK,ROHS, EN50155

Camera's audio compression standard is G.711ALAW/ G.711ULAW

"halogen free" camera cable
System Accessories
Taxi monitoring system automatically records the GPS locations and inside&outside video of a Taxi traveling in an urban network, captures the violator's face and plate number in high resolution, enables them to keep their focus on their safe journey, large quantities of real-time travel data can be obtained.
Having such powerful surveillance system, the management department and monitor center can locate all Taxis in real time, see what happened on the Taxi and behaviors of the drivers and passengers.
Additionally, identify other issues and get the evidence you need to resolve problems quickly and easily. Whether it's driver safety issues,passenger discipline problems, vandalism or bullying.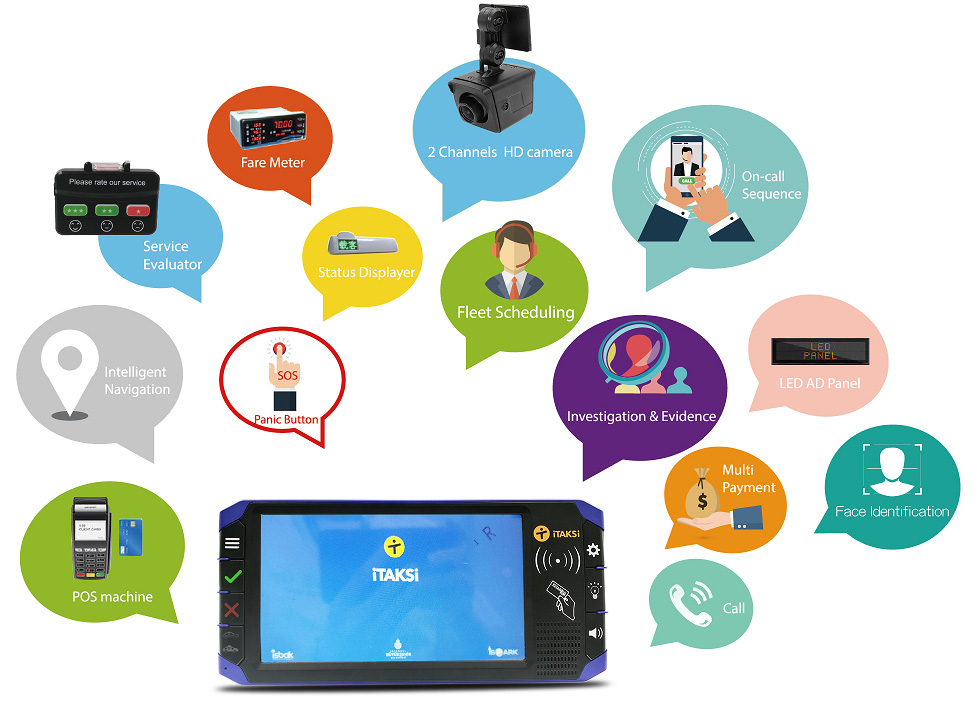 The main accessories for Taxi project
Through the sensor and RS485 & RS232 ports, a lot of additional features can be customized, that will be favorable for global customers.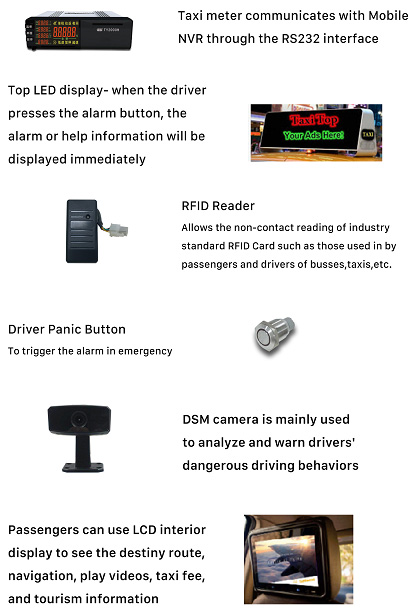 Related functions can be intergrated to Taxi system, such as: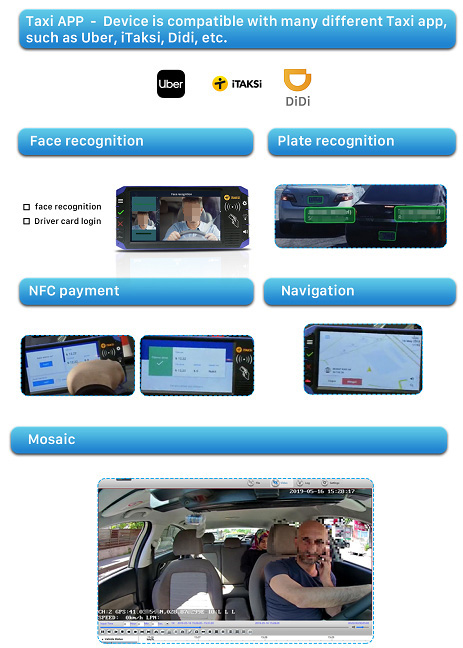 Software functions
Intelligent Vehicle Monitoring System (IVMS) is a strong Fleet Tracking software used for monitoring and reviewing footage, the customer can easily and effectively maximize uptime and efficiency while enhancing the useful life of their assets.
When the device starts to work, all video and audio start to record automatically synchronized to GPS coordinates and time stamped.
When occur, the driver can press easily panic button, the real-time alerts will be sent to monitor center, the managment can immediately view/see an accident and determine the best course of action while completing with GPS tracking, users will know eactly where the vehicle is at all times, it equips you with undeniable evidence for incident investigation.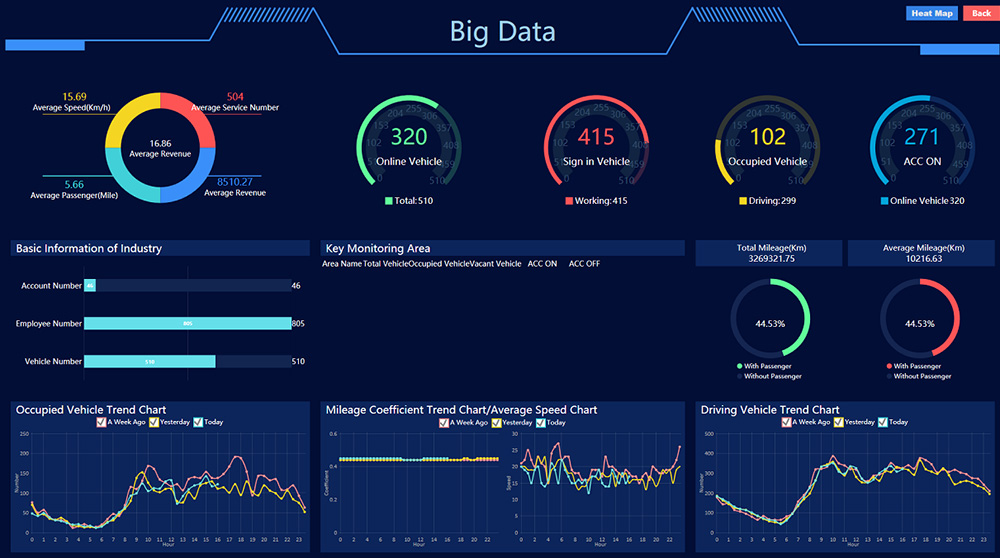 Web platform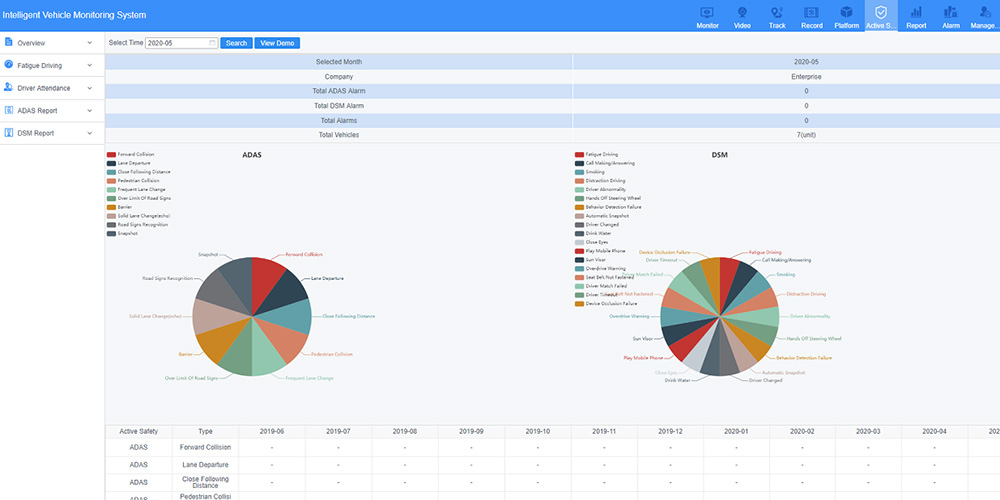 DSM - Driver behivors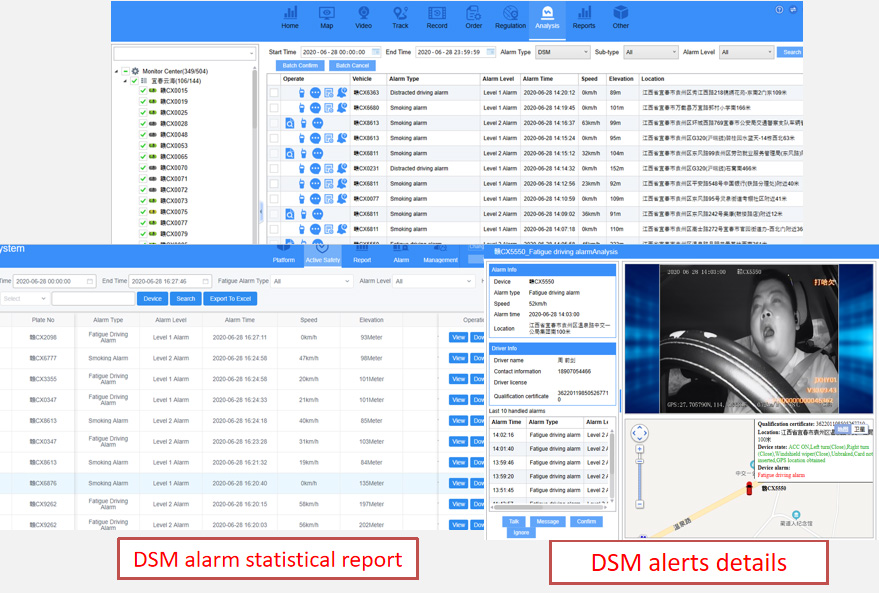 G-fence Alarm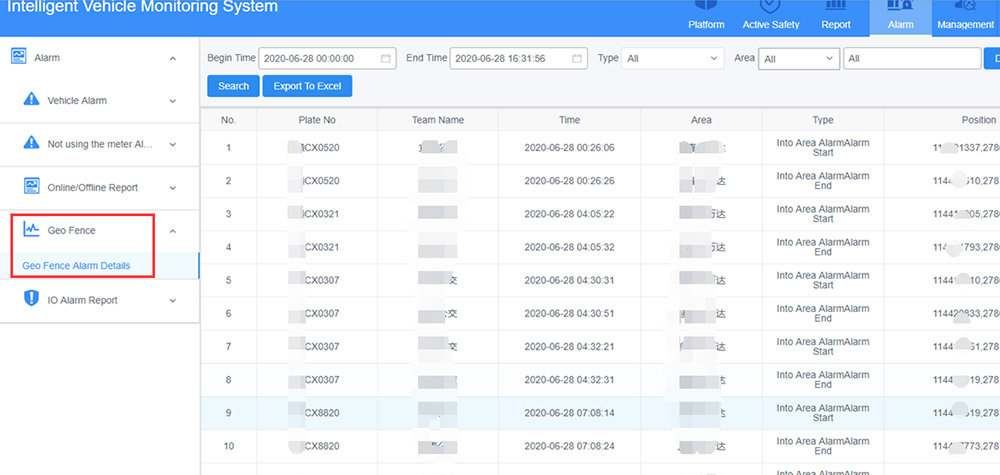 Alarm linkage