Taxi is one of the most commonly used of transportation in our daily travel, and everyone has a taken taxi experience. With the development of technology, it's very convenient to call a taxi through the Mobile phone app. Due to the particularity of taxi operation, there will be a lot of bad phenomena, such as drivers refusing to take the bus, charging without meter, overcharging for the detour, conflicts between drivers and passengers, traffic accidents and so on. How can we balance the safety and interests of drivers and passengers while managing the taxi fleet effectively? Icarvisions's 3rd gen of intelligent MOBILE DVR JT1 is a good solution to solve this problem. The following is a detailed introduction to this product.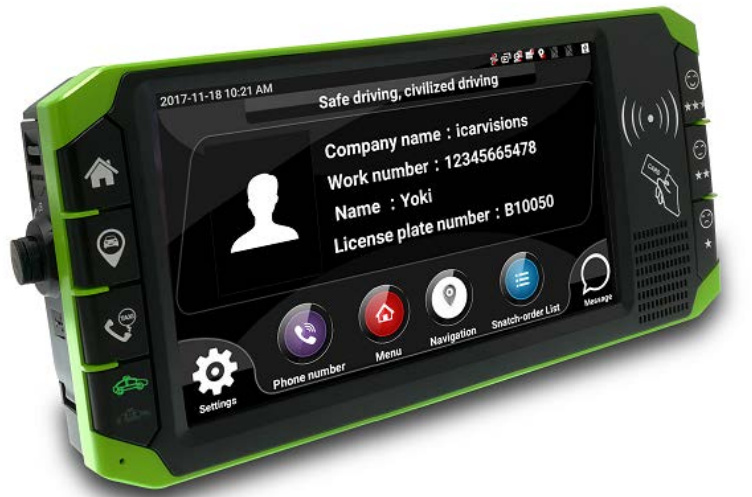 1. Firsts of all, let's introduce the functions of the MOBILE DVR in detail.
This powerful touch screen MOBILE DVR is perfect for taxi surveillance and fleet management. It's running on Android system, including lost of functions such as real-time video, recording, GPS tracking, network communication, on-board navigation, message notification, telephone, order list, payment record, etc. It can integrate with various accessories such as fare meter, LED advertisement panel, POS machine, driver panic button, service evaluation, speaker, LED displayer for extended functions.
Features:
Support 3G/4G network

2 channels of 720P AHD video inputs, can be extended to 4 channels

1 SD card, up to 256 GB

Support Wi-Fi hotspot

Support Face recognition

Support driver facial login system

Internal GPS, 3G / 4G,Bluetooth module (support Bluetooth headset / OBD)

Support RFID card-reader for driver ID card verification

With service evaluation button

Support on-board navigation, message notification from the centre, telephone, live video, order list, payment record, and able to integrate with other accessories such as fare meter, LED advertisement panel, POS machine, driver panic button, service evaluation, Status LED displayer for extended functions.

Multiple alarm reports and business reports

Support uninterrupted Audio recording, the small file size for download

The on-board power-off delay for data protection

9V~36V wide voltage power supply
2. Why do we need to install this MOBILE DVR?
(1) First of all, we need to protect drivers. Drivers often encounter various attacks, robberies and violence in their work. We need to help them deal with these bad situations and protect their life safety.
(2) Secondly, monitor the driver's behaviours, including speeding, drunk driving, fatigue driving, not wearing a seat belt, hard braking, sharp turns, rapid lane changes, and talking on the phone while driving. All these behaviours will put passengers and drivers at risk.
(3) Prevention of violence and robbery. In addition to traffic accidents, violence is also a major cause of death for taxi drivers, such as violent clashes between passengers and taxi drivers.
To avoid the above terrible phenomenon, taxi companies need to equip taxis with an effective security device, such as MOBILE DVR and cameras. At the same time, It's can also retain evidence, restore the facts, assist the police to solve the case.
3. The following picture is the whole taxi video surveillance solution.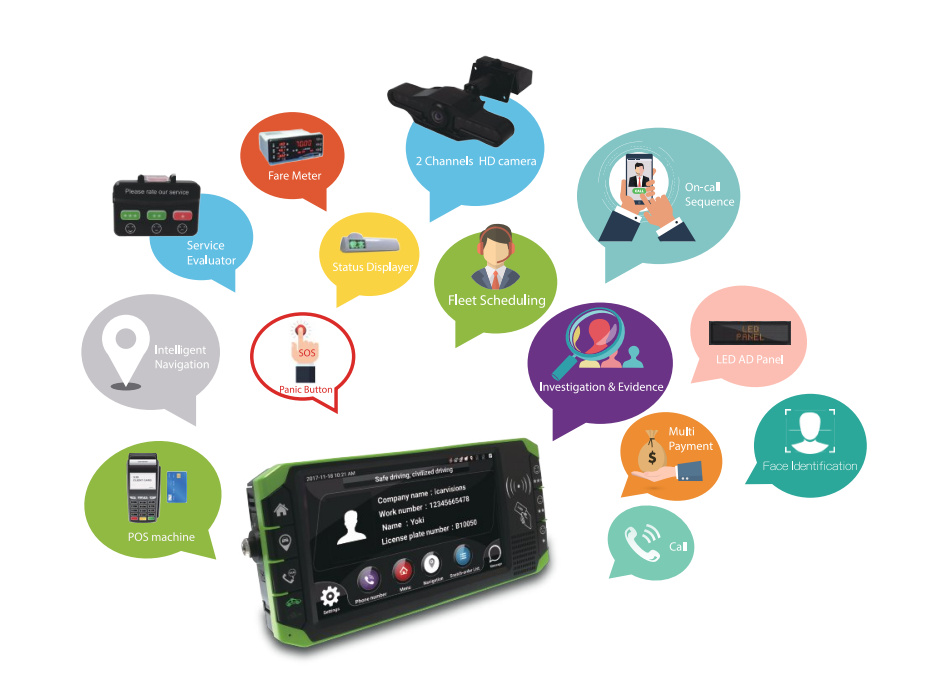 4. Introduction for the taxi management software platform.
Intelligent Vehicle Monitoring System (IVMS) is a powerful background management software platform, which allows taxi companies to easily and effectively manage their large fleets and improve efficiency.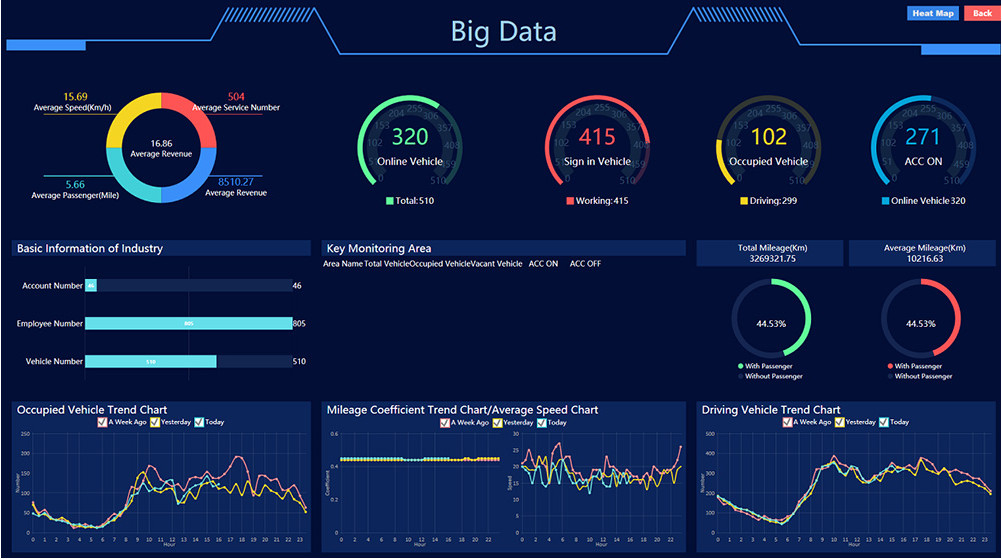 When the device starts to work, all video and audio start to record automatically synchronized to GPS coordinates and time-stamped.
When the accident happened, the driver can press panic button easily, the real-time alerts will be sent to monitor centre, and the taxi company can immediately view the accident, locate the vehicle's specific location and determine the best solution at once.
5. Cooperation case sharing.
This is a Turkey government taxi project that we undertook, and the total number is more than 11000pcs.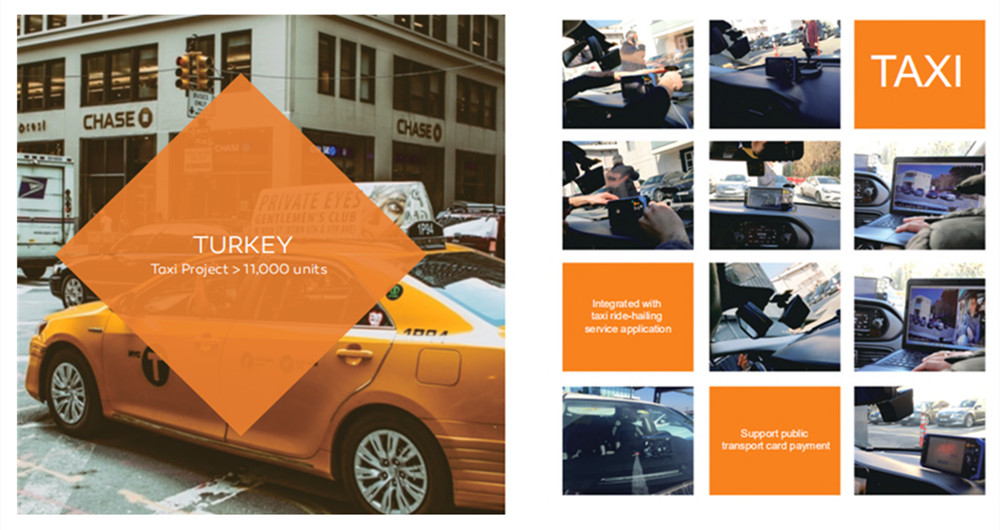 With the development of the times, people pay more and more attention to safety issues, the demand for safety products is also increasing. Our company will continue to optimize products, to provide more and better products for the market!