1. Background of the safety of Taxi drivers
The Taxi drivers' safety always raises great attention in public, why? Because we always heard the reports of robbery or even safety threats of Taxi drivers.
However, once you understand the working conditions of Taxi drivers, you will fully understand the reason why it happens. Taxi drivers always work alone, and they earn a living by inviting total strangers into a vehicle, not to mentioned work at night and sometimes even in high-crime areas or far away from the centre of the city. That's what the public considers highly risky.
To decrease the risk and protect the safety of taxi drivers is very important, and install with a Mobile DVR is to be crucial. Our mobile DVR JT1 is designed to ensure the safety of taxi drivers.
2. How does Mobile DVR JT1 ensure the safety of taxi drivers?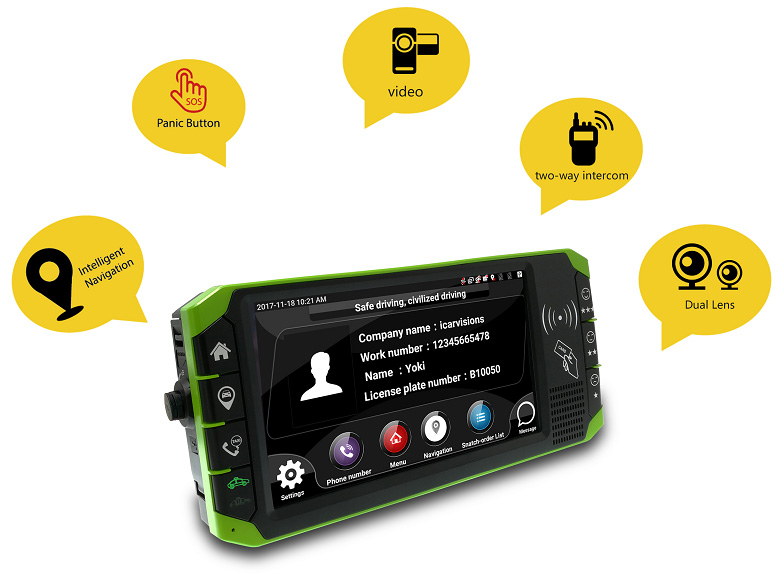 (1) GPS location with map, once the Taxi drivers need any help, the fleet management centre can quickly locate the position of the drivers follow the GPS location to offer the help in the first place.
(2) Automatic recording of the video. The non-stop video recording during the driving provides evidence if any accident happens.
(3) Two-way intercom for communication with fleeting management centre. Taxi drivers can easily contact the fleet management centre by the push-to-talk two-way intercom during driving, it is much safer than unlock a phone and make a phone call, it greatly enhances the safe driving of Taxi drivers.
(4) Dual-lens cameras easily capture the video in the cab and also the front of the view. JT1 supports dual-lens cameras, and there is no footage missing out of the front view and in-cab of the Taxi.
(5) To alarm by the panic button at the tip of your finger. One second to send out the alarm with a panic button at life-threatening conditions immediately and efficiently, which obtain the golden time to save lives. Panic alarms are useful and convenient devices that every Taxi driver should have in their cabs.
3. Brief introduction of JT1
A comprehensive guide for Taxi Surveillance and Mobile DVR
Main Features:
Support 3G/4G network

2 channels of 720P AHD video inputs, can be extended to 4 channels

1 SD card, up to 256 GB

Support Wi-Fi hotspot

Support Face recognition

Support driver facial login system

Support ADAS / DSM(optional)(Learn more: Why we need AI-MDVR with ADAS & DSM for vehicle Surveillance?)

Internal GPS, 3G / 4G,Bluetooth module (support Bluetooth headset / OBD)

Support RFID card-reader for driver ID card verification

With service evaluation button

Support on-board navigation, message notification from centre, telephone, live video, order list, payment record, and able to integrate with other accessories such as fare meter, LED advertisement panel, POS machine, driver panic button, service evaluator, Status LED displayer for extended functions.

Support driver facial login system

Multiple alarm reports and business reports

Support uninterrupted Audio recording, the small file size for download

On-board power-off delay for data protection

9V~36V wide voltage power supply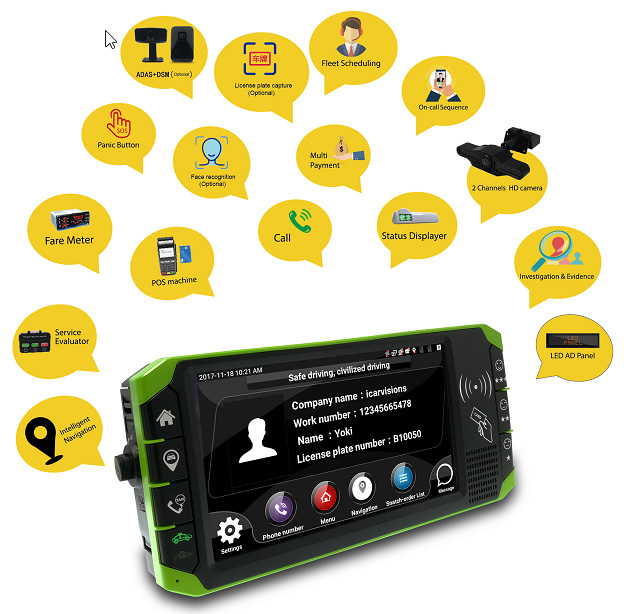 JT1 aims to reduce risks and keep taxi drivers safe from robbery, violence, and life threats. Except for this, it is also used for cab fleet management, for more information about Mobile DVR JT1, please click JT1 to find it or you can call us directly at 0086-755-86019299 to know more.
Please leave message if you have any questions. we will give your reply as soon as possible.
Kind regards
Candy Yan
Email: candy@icarvisions.com