In recent years, the term of artificial intelligence appears in media reports quite frequently, since the birth of artificial intelligence, its theory and technology have become increasingly mature. Due to the rapid development of artificial intelligence, it has brought tremendous changes and influences on people's lives. Like these years on the vehicle security market, traditional video surveillance can no longer fully meet users' requirements. More and more automotive projects have begun to introduce artificial intelligence, especially regarding taxi safety projects. Today we will talk about the MDVR + Ai for Taxi security.
What devices are included in the MDVR+AI for a taxi system?
Here as ICARVISIONS's MDVR+AI system as an example, they have various of mobile DVRs, like 4CH SD card MDVR, 4CH /8CH HDD MDVR, and 16CH HDD MDVR, etc., which can be used for different vehicle projects; And their AI set includes three devices: ADAS, DSM, and AI box. The different devices will work for a different purpose. Below will make more introductions to this complete system.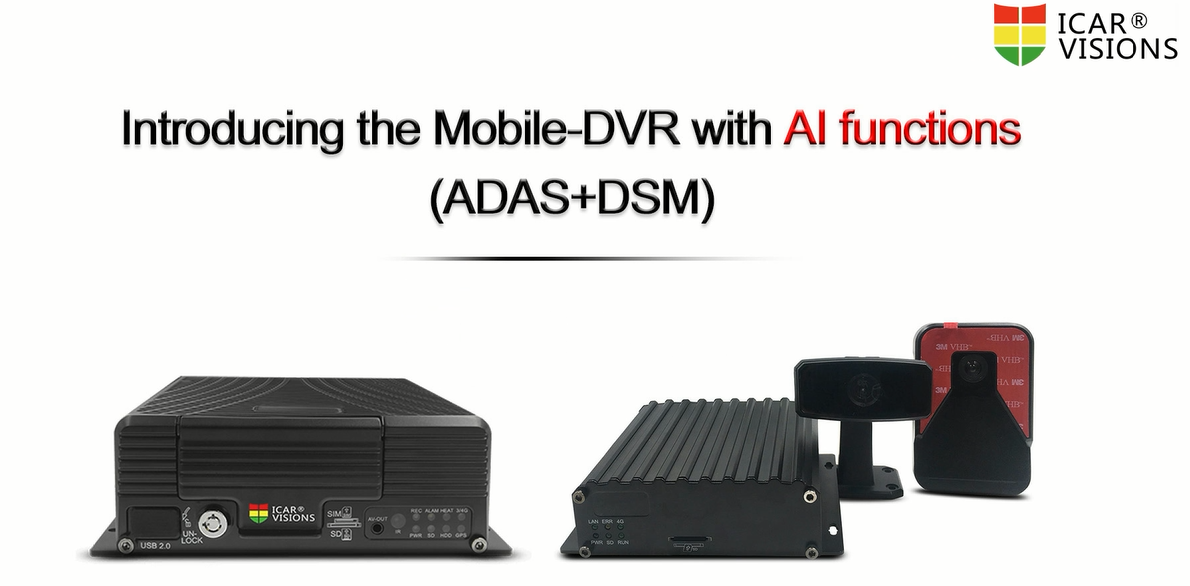 What is the MDVR used for in the MDVR+AI for a taxi Security System?
Mobile DVR in this system mainly uses to record videos onto a hard drive, receive and transmit real-time data like GPS tracking, video, and alarm data from cameras and AI set to the platform over 3G/4G for end monitoring office.
On Taxi video surveillance system, users normally will install maximum 4 cameras to record road, internal cab and vehicle rear images, so as ICARVISIONS company JH4-HD-GFW V2 model as an example (Click here to view JH4-HD-GFW V2), this 4CH 1080P HDD MDVR with a 4TB hard drive can maximize support one-month recording with 4 cameras working at 8 hours per day.
What is the AI system used for in the MDVR+AI for a taxi security system?
In ICARVISIONS, our Artificial Intelligent named as JAB-G-A, it includes a front-view dangerous driving warning system based on a monocular camera (ADAS), an anti-fatigue driving warning system based on face visual recognition technology (DSM) and an independent data processing and analyzing of the visual recognition algorithm box (AI box). More introductions are following in below: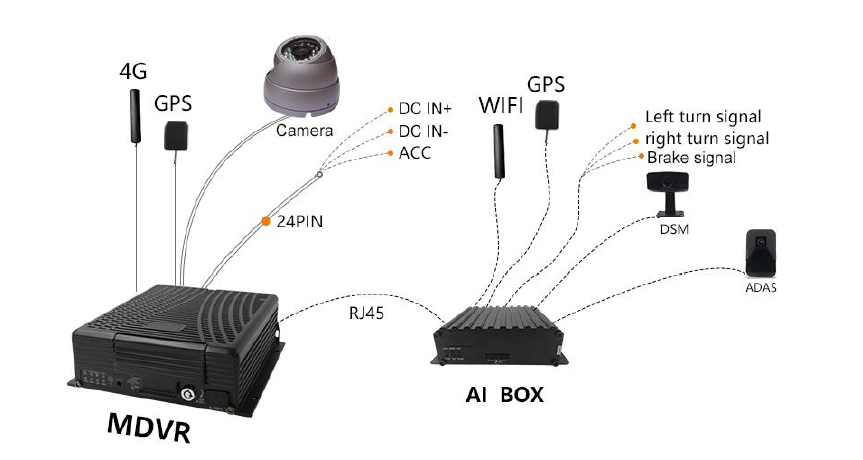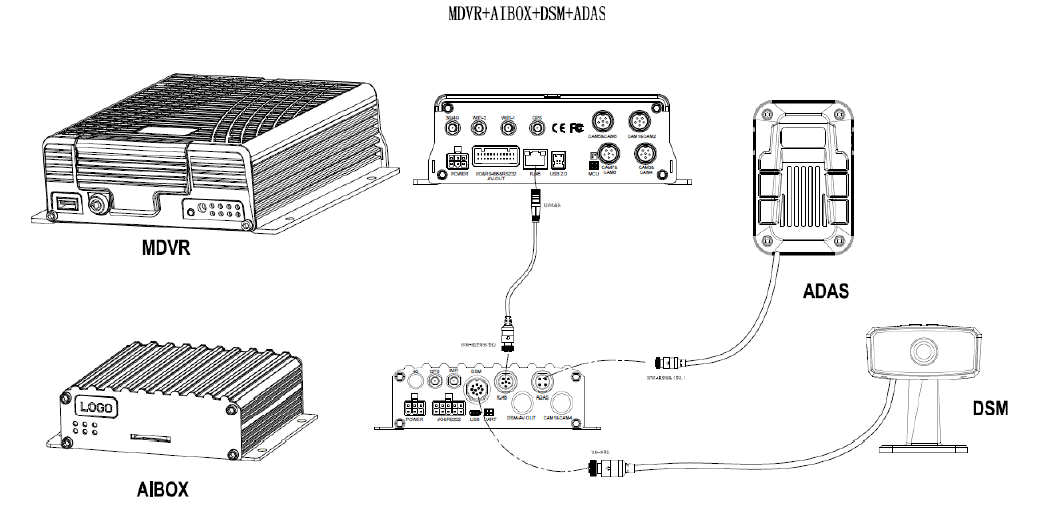 Advanced Driver Assistance System (ADAS), it is mainly used to detect complex driving situations for drivers and provide early warnings in time to reduce driving risks, like front car collision warning, distance monitoring and warning, lane departure warning, and pedestrian detection.
The Driver Status Monitor (DSM), it is mainly used to detect and warn the driver's improper driving status, like eye closing, yawning, smoking, making phone calls, distraction, etc. By analyzing the driver's fatigue state and distracted state in real-time recognizing, it can promptly alert the driver for careful driving.
Artificial Intelligent Box, it is mainly used to connect the video input from ADAS, DSM, and Mobile DVRs for data processing and intelligent algorithm analysis. When the AI Box receives and analysis any warning data from ADAS or DSM, it will automatically transmit the warning signal to MDVR over RJ45 port, and MDVR then will upload the warning message to the Intelligent Vehicle Management System platform (IVMS) over 3G/4G, so the end-users can get the real-time status about the vehicle and driver situation.
Through the collected warning data of the driver and making-in-depth driving behaviour analysis, this whole MDVR+AI system can reduce the traffic accident rate, improve the operational efficiency of the fleet, lower the claim rate for the insurance company and ease the burden of the government supervision department.
For the ICARVISIONS, their AI set is still under research and development, so more functions to be expected. Readers can have a look at below demo video to know more about their MDVR +Ai system:
Introducing the Mobile DVR with AI (ADAS+DSM)
By applying the MDVR+AI system for a taxi, the benefits for drivers and government are tremendous. Other vehicles like buses, trucks, online car-hailing, etc. are also quite suitable to install such mobile DVR and artificial intelligent security systems for a better and secure driving environment. In the future, more and more advanced AI technology will be integrated into people's lives, creating more welfare and social security for humanity. This will be the general trend of technological development in recent years.