China on June 6 issued 5G licenses to four major telecommunication carriers in the country, China Telecom, China Mobile, China Unicom and China Radio and Television. It means that these carriers can start rolling out 5G applications. Worldwide, forerunners like the U.S., South Korea and Japan also launched 5G networks earlier.
Though generally considered as the new generation cellular network technology, 5G is more than technological evolution and faster speed. The low latency- response time faster than a blink of eye- will make almost anything possible, particularly Internet of vehicles.

As a device for vehicle monitoring and fleet management, mobile DVR will play a greater part with the development of 5G.
Mobile DVR and on-board video surveillance
On-board video surveillance is one of the most fundamental features of mobile DVR. In the 3G and 4G era, a significant number of users prefer to have basic local recording only, due to the low speed and high cost of data traffic. For those users who prefer to upload video to cloud server, it usually relies on Wi-Fi network, which means this can only be done when vehicles come back to the station. In 5G era, great changes are expected to take place. Super high data transmission speed and reduced data costs will enable the cloud storage of videos anywhere any time. Thus Wi-Fi function on MDVR is likely to be unnecessary and large storage capacity HDD is no longer required.
MDVR and fleet management
With the reduced lag time in the 5G era, fleet management functions, including vehicle telematics, driver management, speed management, fuel management, asset management and health and safety management will be enhanced. All data from the mobile DVR will be truly synchronized with control center without any delay. The performance of ICARVISIONS seal-developed fleet management IVMS, which is capable of supporting up to 100,000, will see huge boost in the next generation high-speed network.
MDVR and Internet of vehicles
ADAS/DSM
ADAS and DSM are become increasingly popular as an active defense system installed in the vehicle to improve driving safety. The functions mainly involve forward collision warning, pedestrian collision warning, lane departure warning, drive behavior monitoring and etc. It's by far a very important tool for unilateral information exchange for vehicle to vehicle and vehicle to people. Looking forward to 5G era, such information would be further integrated with the Internet, and contribute to further development bilateral information exchange.
MDVR + ADAS + DSM all in one solution from ICARVISIONS
All AI algorithm are built in one MDVR, highly integrated and user-friendly.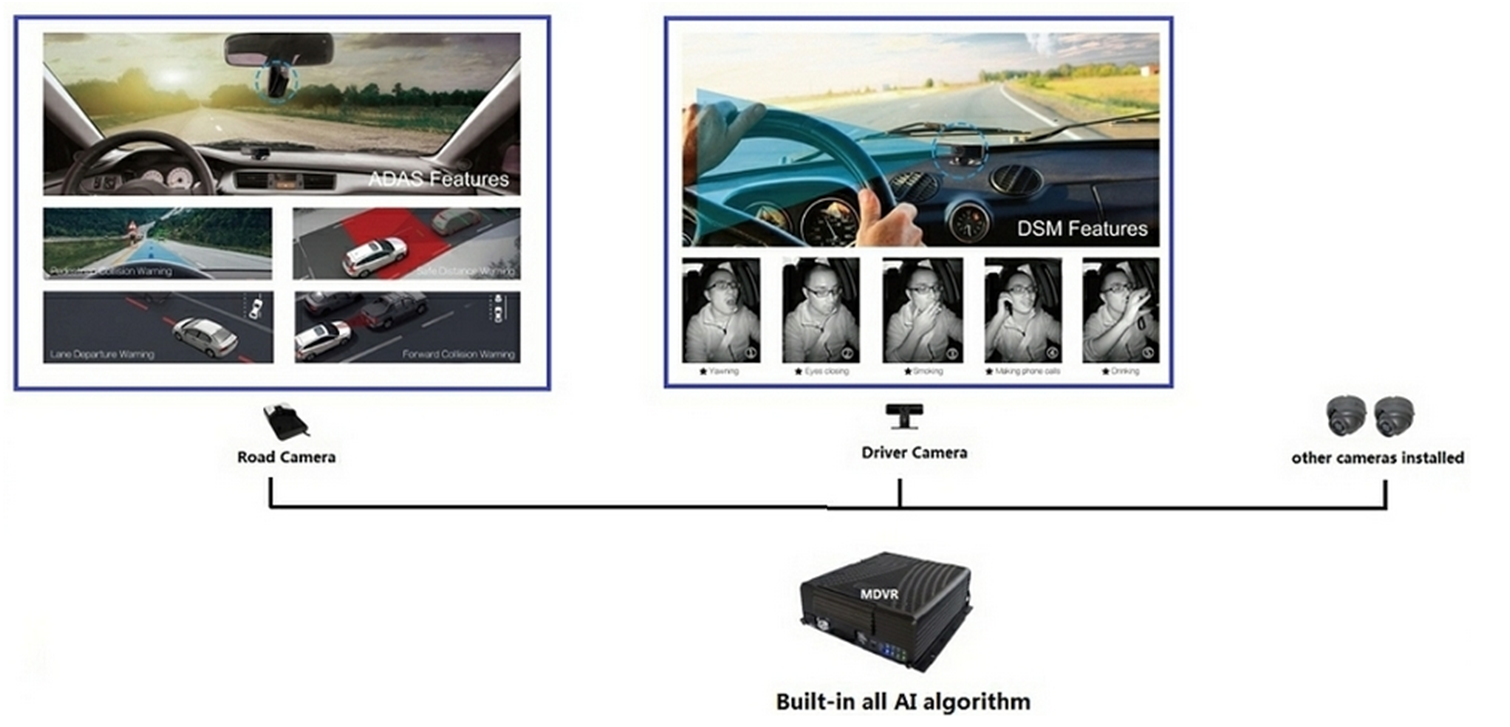 What's more to expect?
The mobile DVR based Internet of vehicle solution in the 5G era is beyond our imagination. Intelligent on-board diagnosis and vehicle maintenance, life service, personalized navigation and multilateral information exchange between vehicles and people are expected to come true in the future.
Mobile DVR and AI, unmanned driving
AI and unmanned driving have gained substantial progress over the past years with the lead of tech giants worldwide, and great leap forward is expected with the coming of the 5G. Mobile DVR as an integrated solution is very likely to absorb the most cutting-edge technologies and make the road safer, especially in the public transportation sector.
Safety is paramount on the road, and connected vehicles are safest when they are cellular, as was put by GSMA in one of their most recent article. Looking forward, ICARVISONS will continue to provide quality products and high-standard service in the 5G era, bringing all the vehicles safely to the destination.
For further information of MDVR solution, feel free to contact ICARVISIONS team today!