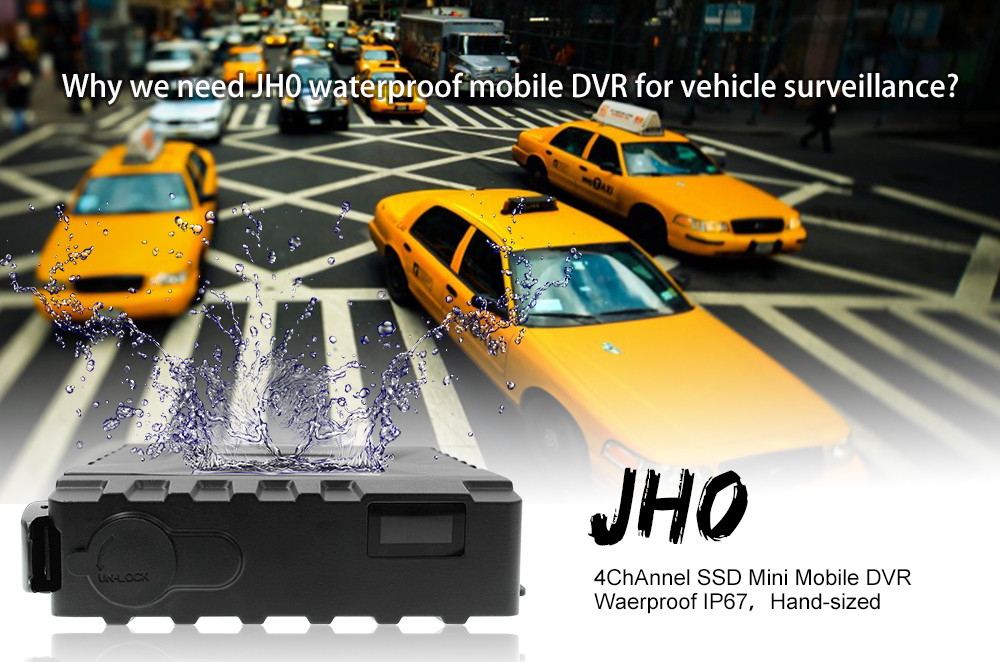 About ICARVISIONS
ICARVISIONS is one of the leading vehicle surveillance solutions providers in China. We have our own R&D, production and sales departments.
Let's share with you our mini size SSD waterproof mobile DVR JH0 model
Why we need JH0 waterproof mobile DVR for vehicle surveillance?
1. JH0 mobile DVR with IP67 waterproof function.
When accident happened the location of the vehicle is unexpected. The situation surrounded could be complicated. Therefore, the waterproof function of JH0 mobile DVR is particularly important. JH0 mobile DVR can protect the SSD well even in the water. so the video data in SSD can be protected with a secure way.
2. JH0 mobile DVR support SSD with unlimited capacity
Over video data storage for a mobile DVR could be a troublesome problem. iCarVisions JH0 mobile DVR can support large capacity of SSD without limited. You can use 2TB or 4TB SSD. We recommend the 2.5'' / 7mm Samsung SSD 860 Evo MLC or Sandisk SSD Processor TLC & Fash SLC. What's more, solid state drive can support both horizontal and vertical installation of mobile DVR.
3. JH0 mobile DVR with a perfect design in a compact size.
iCarVisions JH0 MDVR designed in a very compact size. It has a metal casing for good heat dissipation and protection from external force. This size occupies a negligible space in the vehicle for installation.
4. JH0 mobile DVR support 4 channels 960p AHD camera and 1 channel IPC 1080p resolution.
iCarVisions JH0 mobile DVR can supports not only 4 channels 960p AHD cameras but also 1 channel 1080p resolution IPC. There are also multiple switching modes, such as 2 channels 960H and 2 channels AHD 960p. it can support also 4 channels 960H and 1 channel 1080p IPC at the same time. You don't need to worry about the power supply of the camera, because JH0 mobile DVR supports PoE power supply 12V for the camera directly.
5. JH0 mobile DVR support 6 sensors, RS232, RS485.
ICarVisions JH0 mobile DVR with multi-interface such as RS232, RS485 and 6 sensors which allow users to do integration of external devices. For example analog push to talk over cellular, panic button, temperature sensor, RFID reader and fireproof box etc.
We can also integrate other external devices according to customer's difference demand.
6. JH0 mobile DVR support Wi-Fi,GPS,3G, 4G.
iCarVisions JH0 mobile DVR can support Wi-Fi, GPS,3G or 4G in a compact sized device.
Superb quality and exquisite workmanship of JH0 mobile DVR can show from every detail when it compared to most of these normal DVRs from the market.
Just contact us please if you interested in more of our products.