More and more buses will install vehicle camera systems for security and safety reason, while due to the car recorders are most installed beyond drivers' field of view, so how could the drivers get known the recorder working status in time? Based on Icarvisions more than ten years of professional experiences in this market, this problem could be solved by using an LED control panel.
There are lots of different LED panels or LED indicators choices in the market, so let's use our ICARvisions owned integrated LED control panel as a reference here: There are 7 indicator lights in two lines, respectively are:
PWR: Power light. It will long bright when MDVRgets power.
REC: Recording light. It will bright when all channels video recording is normal. Even one channel is not recording, and then the light will be out. (Not include if any channel set to close recording.)
HDD: Hard Disk Light. It will be long bright when hard disk existed and flashed when DVR writes data and users read data. (It's normal for HDD light on; there are problems if this light goes out. )
ALM: Alarm Light. When there is an alarm signal from DVR it will light on. Those alarms include IO Linkage Alarm, Speed Alarm, G-sensor Alarm, Temperature alarm, HDD error alarm.
V-LOSS: Video lost light. This light will be long bright if any channel video lost. (Not include if any channel set to close the record.)
ERP: Error light. This light will be long bright when the system has errors. (It's normal for this light off; But when it is on then there is an error.)
IR: this is only used to get the signal from MDVR Remote Control.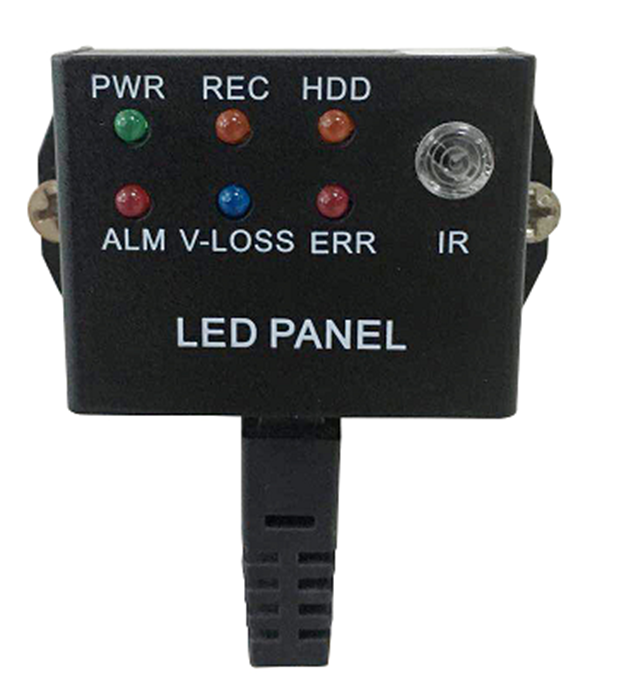 Each indicator's meaning can also customize to represent different meanings besides above-listed details. We ICARvisions are quite strong to offer customized service.
Then how to set up this LED panel with MDVRs? That's very easy, the LED panel standard extended cable is about 5 meters long, and at the end of this extended cable there is a small joining tool which could plug into the MDVR's24PIN alarm IO cable, and users only need to set up the MDVR by following below steps:
1. Go to MDVR's"Setup-Menu" and find "Peripherals", log in;
2. Click the "Serial" and open "COM02" by choosing "Control Panel"
3. Saving above settings then done.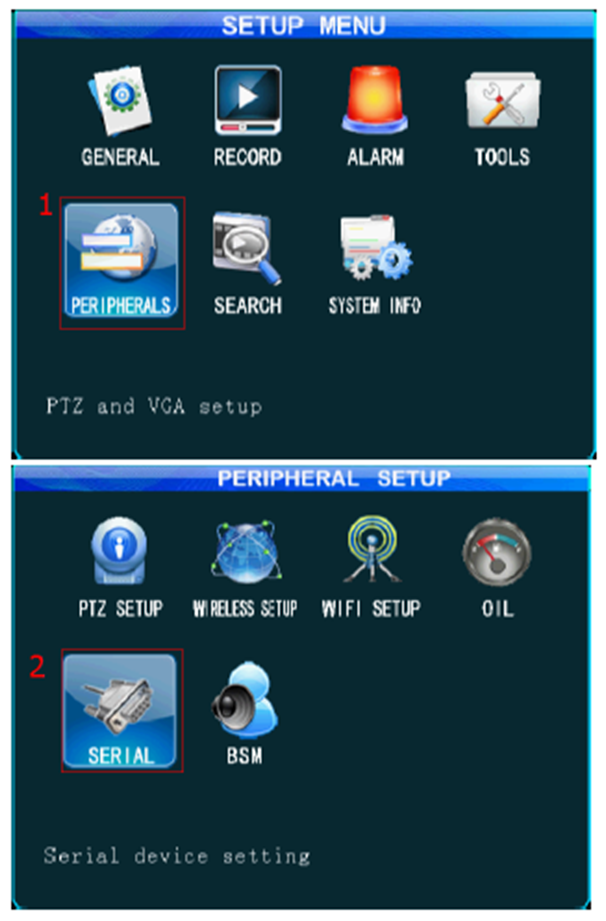 After above all settings, then installers could install the MDVR at any position on the vehicles, and just need to display the LED control panel within the driver's field of view, so everything is working well now!