As a consumer, it's easy to find a Mobile DVR in the Market, but in the majority of cases, the price is the only factor that the customers will pay attention to. For this reason, I would like to share some tips to find a proper AHD Mobile DVR supplier to remain competitive and prosper.
Detailed information is as follows:
1. Company strength
ICARVISIONS has dedicated to Mobile DVR industry for more than years, and become a top mobile surveillance solution provider in China with a cutting edge team of more than 200 employees, including 92 developers to support the software and hardware development. ICAR has own factory to produce many different Mobile DVR models, such as AHD Mobile DVR 1080P, Waterproof Mobile DVR, SSD Mobile DVR, SD Card Mobile DVR, Dual HDD Mobile DVR, Touch Screen Andriod Mobile NVR, ADAS, AI system, etc.
2. The platform
The platform IVMS is designed and developed to meet all of the vehicle surveillance requirements, it supports to run 10,000 vehicles online at the same time.
IVMS are developed for the mass market to meet the needs of as many companies as possible. Since the functionality is always updating, this is why you need a strong software team and that must be ICARVIONS.
An example of 8650 vehicles online, you deserve such a powerful platform IVMS to manage and monitor your fleet.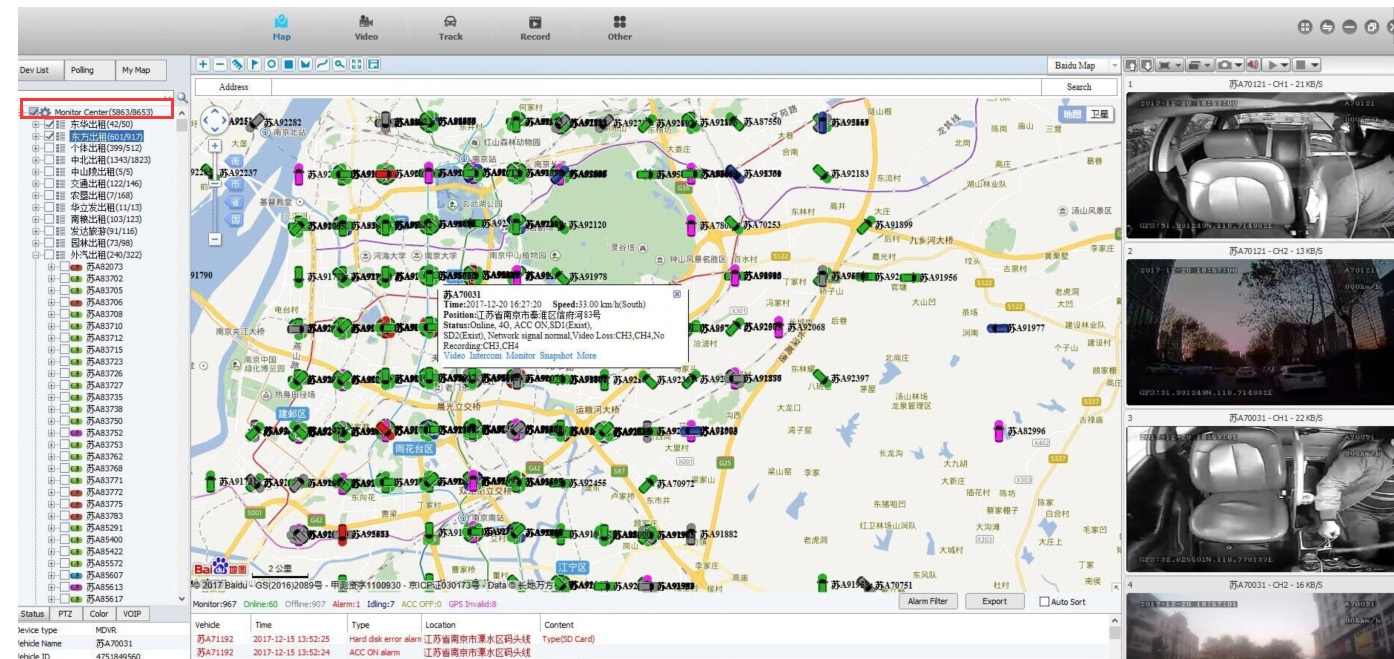 3. The warranty
1. ICARVISIONS warrants that all Mobile DVR supplied shall comply with the industry standards in the People's Republic of China and offer a period of 15 months from date of first purchase or MDVR, and for 12 months from date of first purchase of other products such as cameras, external sensors, etc.
2. At ICARVISIONS, when a quality problem which falls under ICARVISIONS's responsibility in Product
manufacture, the repair of the defective Products and shipping fees from ICARVISIONS to the original BUYER, however, this warranty will not apply to any faulty Product proven to be damaged by shipping, improper use, storage, dis-assembly, maintenance or force majeure BUYER / USER.
4. Benefits of an AHD Mobile DVR system
It's important to note the many benefits offered by an AHD Mobile DVR monitoring system. It can effectively monitor the situation in the car (passengers, staff and driver) to check whether the driver has violated regulations and rules. It can effectively improve the quality of service, improve economic benefits, not only can surveillance cameras deter criminals and help law enforcement quickly catch any would-be thieves, but these systems can also improve the accountability of your employees, help you monitor productivity and sometimes even reduce your insurance premiums.
ICARVISIONS can help you to customize an AHD Mobile DVR with the reasonable price, high quality and brilliant after-sales support. While the up-front costs of installing a video surveillance system can seem a little steep, the long-term payoff and the peace of mind may well be worth the expense. You deserve a better AHD Mobile DVR solution, welcome to contact ICAR Sales team.
Please leave message if you have any questions. we will give your reply as soon as possible.