Mobile DVR solutions are rugged Digital Video Recorder systems that are built specifically for transit or transportation based video surveillance. The solutions today offer a full set of features equal to any professional security camera system with additional attributes for vehicle installation. Intelligent recording options, search methods, playback modes and especially export abilities are well covered. Additionally a range of models including 4 channel, 8 channel, 16 channel and other combinations are available.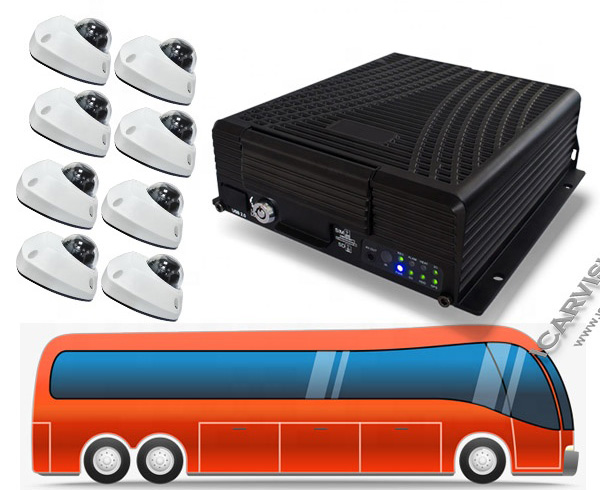 Mobile DVR System provides dozens of attributes that make them a purpose-built solution for mobile surveillance, video security and tracking. Features from embedded G-sensors to add-on GPS modules allow a full range of functions including real-time tracking on mapping systems. These Digital Video Recorders include optimized design for anti-vibration and anti-shock resistance that usually has a special mounting bracket. From locking cable connections to low voltage power inputs these DVRs are fully constructed for mobile applications likes cars, trucks, buses, taxi, police cars to trains, boats or even aircraft. Local to Remote Monitoring is also highly impressive with local monitor outputs, Remote Client, Web Browser, Mapping, IVMS and Mobile Viewing on Android or iPhone.
The mobile DVR system is designed and will be deployed for the following purposes:
Protect drivers – Bus drivers must put a lot of faith in their passengers acting appropriately. Unfortunately, one never knows what type of riders will step onto the bus on any given day. The presence of bus security cameras can help in deterring and investigating unacceptable behaviour and aggressive outbursts directed towards drivers.
Enhance passenger safety – Users of the bus system want to be confident that their mode of transportation is a safe one. Bus video surveillance cameras give riders the assurance that authorities are doing everything in their power to provide a high level of security.
Prevent theft – Bus security cameras monitor bus activity and act as preventative measure against acts of theft between riders.
Enforce rider regulations – Bus rules and regulations are easier to enforce with the second set of eyes. It's common for buses to feature signs which mention the presence of video surveillance. Riders who know they're under watch are more likely to follow rules, pay bus fares, and obey driver orders.
Deter violence – The unpredictable nature of bus passengers throughout the day can at times lead to violent incidents. Such an incident could stem from an argument between riders, or a passenger under the influence of alcohol or drugs losing composure. Surveillance cameras can monitor for such unsavoury activity, enabling operators to alert authorities should an incident break out.
Liability - City buses need to take serious action to protect themselves from false liability claims and suits, such as those that involve passengers claiming they slipped and fell when in actuality the camera footage shows otherwise.
How does the whole system work?

The whole mobile DVR system is consist of a vehicle terminal part, wireless transmission part and management centre part.
The vehicle terminal includes MDVR, cameras installed in bus, to capture the view from the driver side, passenger area, rear view etc. According to different needs, there are other options for various monitoring like Intercom, LCD display, fatigue driving sensor and panic button etc. The vehicle monitoring system can transfer all the data via 3G / 4G at real-time and automatically via WIFI when WIFI signal is available.
The wireless transmission includes wireless 3G/4G network to transfer audio, video data, alarm information, GPS positioning data and other control information.
The management centre uses centralized and distributed system to allow users monitor the vehicles via real-time video, GPS position & alarm functions. Authorized users can review the vehicle information and download the information after installing the Client software in a PC or Smartphone.