As a class-leading Mobile DVR producer in the industry, ICARVISIONS provides various mobile DVR systems that can be installed in all types of vehicles for GPS tracking, in-car video surveillance and fleet management. Whether for 4CH SD card MDVR or 8CH HDD MDVR, GPS, 3G/4G and WiFi are optional.And today we are gonna explore the benefits of the WiFi functionality on a MDVR.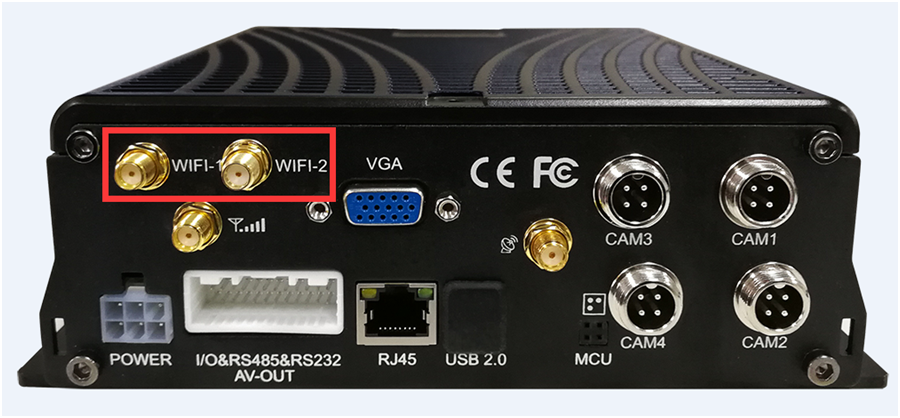 Let's first figure out the WiFi related components.
1) Built-in WiFi module. It's the core component embedded in a communication board inside the MDVR that allow the MDVR to have WiFi reception.
2) WiFi antenna. WiFi antenna is an external part connected to the MDVR for WiFi signal reception.
There are two WiFi connectors at the rear panel of ICARVISOINS mobile DVRs for stronger reception. How fast can the download speed reach? We got the chance to test certain AP devices and the maximum speed read 33M/s, which can steadily accept four MDVRs simultaneously at 9-10M/S each.
What are the benefits of WiFi on a MDVR?
The benefits of MDVR WiFi functionality primarily result from automatic downloading video files from the MDVR to the server. Fleet operators can benefit from this feature in several aspects:
1) Saving labor costs. They no longer need to get video files or other data from the MDVR manually;
2) Enhancing data security. Data are automatically uploaded to the server for backup;
3) Save data traffic costs. No 3G/4G data traffic will be required for the data backup as WiFi plays the key role in data transmission from MDVR to server.
In addition, users can also bridge the MDVR WiFi network to 3G/4G to allow a hotspot, providing Internet access for other on-board mobile devices.
General settings of MDVR WiFi functionality
WiFi connection settings. The purpose is to connect MDVR to a WiFi network.
Step 1: Device number settings(the Dev-Num means the device number).
Login MDVR system, default Username: admin Password: 888888 and click the icon GENERAL-> Vehicle Info ->DEV-NUM, fill in digits (for example: 10089). Click SAVE.
Step 2: Network settings
Click the icon Network: a. SERVER address settings, fill in the external static IP 58.60.170.165b. Control port settings, port defaults 6608
Step 3:WiFi settings
Click icon (PREIPHERALS -> WIFI SETUP); WIFI-Mode: INTERNAL; ENABLE:ON; WIFI HotSpot: Support for multiple hotspots; IPADDR,NETMASK,GATEWAY which are set to the wireless router's LAN IP;SSID and Encryption mode ect.; Input your wireless router's SSID and Encryption mode ect. Click SAVE after all values are filled.
Step 4: Status checking
Go to the SYSTEM INFO page. a. WIFI-M: must beEXIST;b. WIFI-sign: must be above-75Db;c. Center-L must be showing: LINK SUCCESS.
WiFi automatic downloading settings
Automatic video downloading from a MDVR to the server is largely based on the above settings.
You just need to go one step further: to finish settings on ICARVISIOSN fleet management platform IVMS and serversoftware.
This primarily involves settings in the admin WEB system: to add IVMS client account and add devices (MDVRs); and then at the IVMS client system, finish the download site, download server, download plan settings.
The last step is to check the download status: Click " WIFI Config ", then click "Download Status", wait 2-3 minutes it will automatic download.
Bridge MDVR WiFi network to 3G/4G to allow a hotspot
A wireless router will be required to enable this functionality, and the settings is mainly about the WiFi router settings.
The router WAN port should be at static IP mode.
1) WAN IP should be the same as MDVR location IP. Eg. you can setup WAN IP 192.168.0. 123;
2) The WAN Gateway IP of router: 192.168.0.112;
3) All DNS of router: 210.21.196.6. This can be found at the second page of System Info.
4) Otherparameters of the router should be set as per the specific router.
5) Connect the router WAN port to MDVR RJ45 port.
Make sure MDVR 3G/4G dialing is successful before the hotspot can work perfectly.
Need assistance on WiFi settings for a ICARVISIONS MDVR or planing to buy a sample today? Don't hesitate to contact our team!