As one of the top 3 original manufacturers of car mobile DVR in mainland China, Icarvisions mainly provides various video surveillance solutions, like car mobile DVR, vehicle cameras and vehicle management platform for all kinds of vehicles including ship, tram, trains and metro. In this article, I would like to introduce one of our most popular models, 4ch 1080P HDD mobile DVR-JH4-HD(V2) for you. I'm sure it can be a highlight option for your vehicle surveillance need.
1.Photos and a brief introduction of JH4-HD(V2)
JH4-HD(V2) is HDD mobile DVR that supports 4ch 1080P AHD input+1ch 1080P IPC, it also supports one piece of 2TB hard drive for storage, with GPS, 3G/4G and WIFI optional, ideal for monitoring on bus, coach, truck, and trailer etc.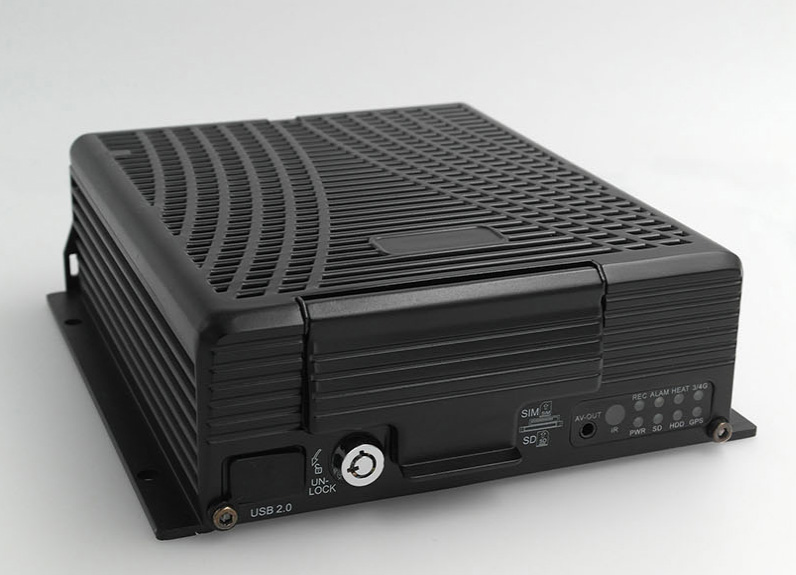 2.Product Features
Super anti-vibration adopts patent technology and high reliability of imported materials on the hard drive to provide anti-vibration and anti-shock under acceleration of 40G (MIL-STD-810G standard).
Onboard 8 seconds power-off delay for data protection.
2 WIFI Antennas and built-in 5.8GHz achieving a downloading speed up to 3Mb/s.
Ultra-wide voltage input: the use of ultra-wide voltage design, no need for external power supply, it can adapt to connect +8 V ~ +36V of the various vehicle batteries voltage, suitable and applying immediately for a variety of vehicle types.
Ultra-low power consumption: only 9W consumption including hard disk power, standby power less than 6W, effectively reduce the burden on the battery, and more safety to other equipment inside the vehicle.
Ultra-small size: equipment designed with less occupancy space, easy to install, capable to be carried out in the car dashboard for embedded installation.
Separate hard drive tray: the hard drive tray is designed with individual removable mechanism for better operation and maintenance. Moreover, supports hard disk Mirror feature for superior data reliability.
Extensive expansion: provides a variety of interfaces, feature extendable via universal interface port for connecting a variety of devices (such as panic buttons, oil sensors, wireless routers and fatigue sensors etc.), to achieve ultimate expansion features and applications.
Multi-function: it provides a comprehensive video surveillance functions, a variety of video query, information display and management functions (status of traffic, power, temperature, GPS information, speed, stream statistics and other real-time display and record), rich alarm including power failure alarm, video loss alarm, over speed alarm, manual alarm, cross-border alarm). Moreover, the car key switch can act as a switch on video recording or initiate a pre-set time delay recording before the system shut down.
3.What we have but others may not?
*Hard drive automatic heating start-up in cold weather
*Japan imported capacitor for power delay to protect data
*Anti-vibration and anti-shock meet MIL-STD-810 514.6C standard
*Customized screw to protect the device from being removed
*Two AV output interfaces for different angles of installation
*Both MDVR design and case materials are good for cooling
*Two wifi antennas
*Built-in POE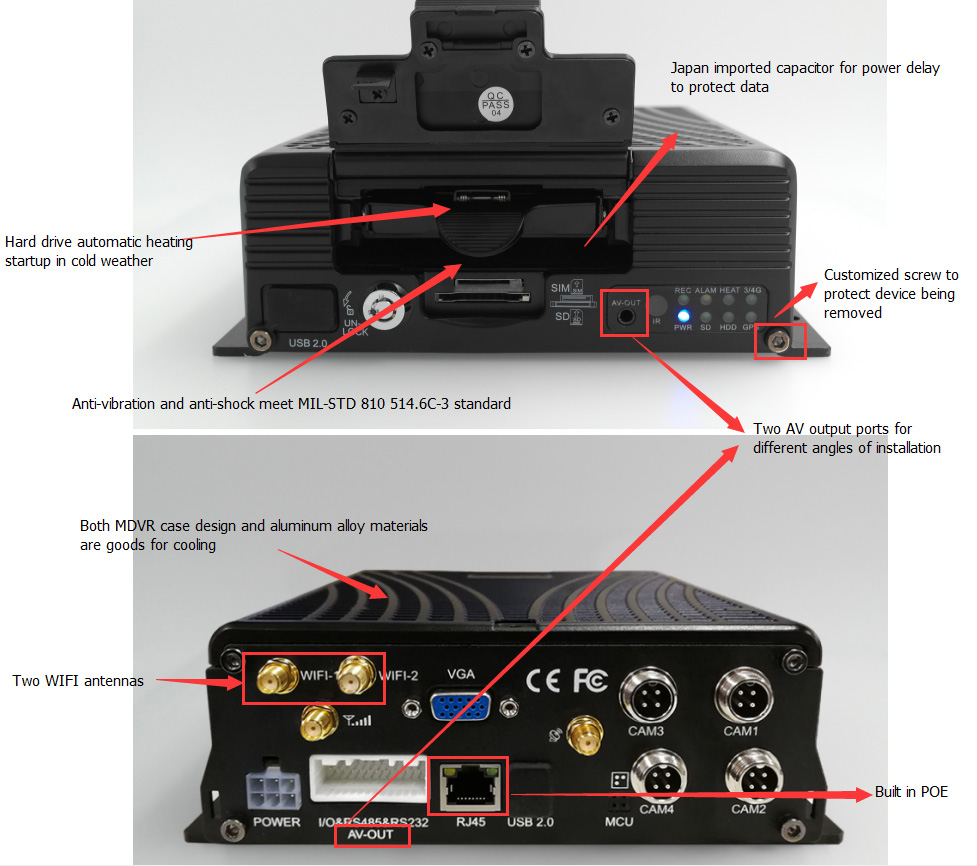 4.What certificates it has passed?
It has passed the following certificates and standards
E-mark(E9), ROHSCE, FCC
US MIL-STD-810G standard for vibration & shock
ISO7637-2 international electromagnetic compatibility vehicle standard
IEC60950 safety of information technology equipment standard
EN50155 Railways Applications Electronic Equipment Used on Rolling Stock