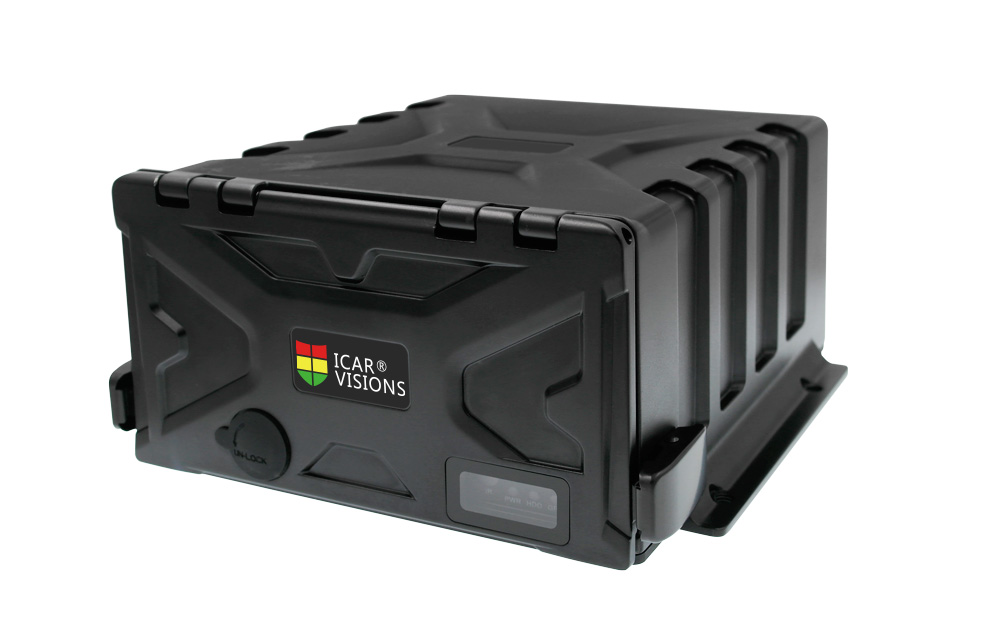 Mobile DVR Model: JH16-GWN (GPS+3G)
Product Features:
16 x 720P AHD Video input, support 960P AHD camera

Waterproof & Dustproof IP67

Accept HDD/SSD up to 2* 2 TB Storage, and 1 SD card (up to 128GB) for backup(at 3G/4G/Wi-Fi model option)

Internal G-Sensor, with GPS, 3G

Anti-Vibration and Anti-Shock ( MIL-STD-810G standard)

Hard drive automatic heating startup in cold weather

Operating temperature -40℃ ~ +80℃

24V-36V wide voltage power supply

Product Specification
Model

JH16-GWN



System

Language

English / Chinese

Operation Interface

Graphical User Interface(OSD menu)

Password Security

2 Levels: Administrator & User

Video

Video Input

Supports 16 channels 720P AHD camera Video input

Supports 16 channels CIF/HD1/D1/960H camera Video input

Supports 8-CH 720P AHD + 8-CH CIF/HD1/D1/960H analog mixing Video input

Video Output

2 Channels (Front Panel 3.5mm Jack, Rear Panel on 9pin AV-OUT Port)

Video Display

Single picture, 1~16 pictures

Signal System

PAL / NTSC ( PAL@400 frame 720P/sec; NTSC@480 frame 720P/sec )

Image Compression

H.264 Main profile

Audio

Audio Input

16 Channels

Audio Output

2 Channels (Front Panel 3.5mm Jack, Rear Panel on 9pin AV-OUT Port)

Record Format

Synchronized A/V recording

Recording & Storage

Image Resolution

CIF / HD1 / D1 / 960H / 720Poptional

Video Coding

ISO14496-10 Industry Standard

Video Bit Rate

CIF: 1536Kbps ~ 128Kbps,

HD1/D1: 2048Kbps ~ 400Kbps,

960H: 2048Kbps ~ 400Kbps,

720P: 4096Kbps ~ 400Kbps

Select from 8 Levels of Video Image Quality ranging from 1(Highest) to 8(Lowest)

Audio Bit Rate

40Kbps

Storage

Up to 2*2TB HDD/SSD and 1 SD card for backup(at 3G/4G/WIFI model option)

Alarm

Alarm Input

8 Channels, Select Trigger for either less than 1VDC or greater than 5VDC

Alarm Output

2 Channel, 12V output

Communication Ports

RS485

1 Port for PTZ control or Data Device usage

RS232

2 Port for communication or data usage

CAN

1 Port,CAN-H and CAN-L

RJ45 Network

1 Port of RJ45, For connection to LAN or testing etc

USB

2 ports. The front one is USB 3.0 to download video files & upgrade firmware; the rear panel one is USB 2.0 to connect with external device.

Wireless Communication*

3G*

3G (HSUPA / HSDPA / WCDMA / EVDO / TD-SCDMA) optional Internal module

4G*

4G (TDD-LTE / FDD-LTE) optional module to match local cellular carrier

Wi-Fi*

Internal Wi-Fi 802.11b/g/n ( 2.4 / 5.8 Ghz) optional

GPS*

Int'l Standard GPS

Internal GPS module. Real-time geographic coordinates, speed information

G-Sensor

Internal G-Sensor

Supports 3 Axis Motion Detection with user set ranges, for X, Y and Z coordinates

Software

PC Playback

A/V, GPS, Mapview, Speed, G-Sensor, etc. files available for playback on PC. Limited playback is also available on MDVR

IVMS

Wireless (require Wi-Fi or cellular Option) real-time A/V monitoring, GPS, alarms, etc.

Software Upgrade

Local or Remotely

Upgrade through the front USB3.0 or remotely via IVMS platform

Voltage Input

+24V~+36V

24~36VDC Please check operational voltage of vehicle prior to the installation of the MDVR and its accessories to prevent possible damage

Voltage Output

12V

12V (+/-0.2V) , Max 3A

ACC Detection

≤4V

Power-off

≥6V

Power-on

Video Input Resistance

75Ω

75Ω

Video Output Voltage

2Vp-p

2VP-P CVBS output analog signal, screen input requires 75Ω resistance

I / O Port

<1V

Low voltage trigger

>5V

High voltage trigger

Operational Temperature

-40℃~80℃

Install in well ventilated area, protected from moisture, heat, dust and vibration

Dimensions

203x208x93.5mm



Product Description

Mobile DVR / Car DVR (with 3G, 4G, GPS, Wi-Fi) for vehicle real time monitoring, applied with Car Cameras used for vehicle monitoring in bus, taxi, school bus, truck, police car, tour bus, tanker truck, escort car etc. Operated with Client Software IVMS (Intelligent Vehicle Management Software) to realize fleet management online, and achieve a full range of car monitoring functions such as real time video & audio monitoring, GPS, car tracking, GEO-Fence, voice intercom, car temperature, alarms customized , driving route record, PTZ control, fuel volume detection, video search and download, generating reports, etc. APP <icarview> is available for mobile phones in Android and iOS system.
Order model
with 3G / 4G, GPS, WiFi modules optional, according to different demands.

GPS: For map, location and route tracking

3G / 4G: For real-time video and monitoring

Wi-Fi: For automatically downloading video file
| | |
| --- | --- |
| Order Model | Description ( Module optional ) |
Our rugged, high quality mobile DVRs are ideal for monitoring a wide range of vehicles:
It's designed for various vehicles management, and widely used in buses, coaches, car, construction machinery, taxis, lorries, fire trucks, ambulances, passenger vehicles, etc.

Spec Sheet Download